Artists boycott British Art Show after Manchester gallery censorship row
By Ian Youngs
Entertainment & arts reporter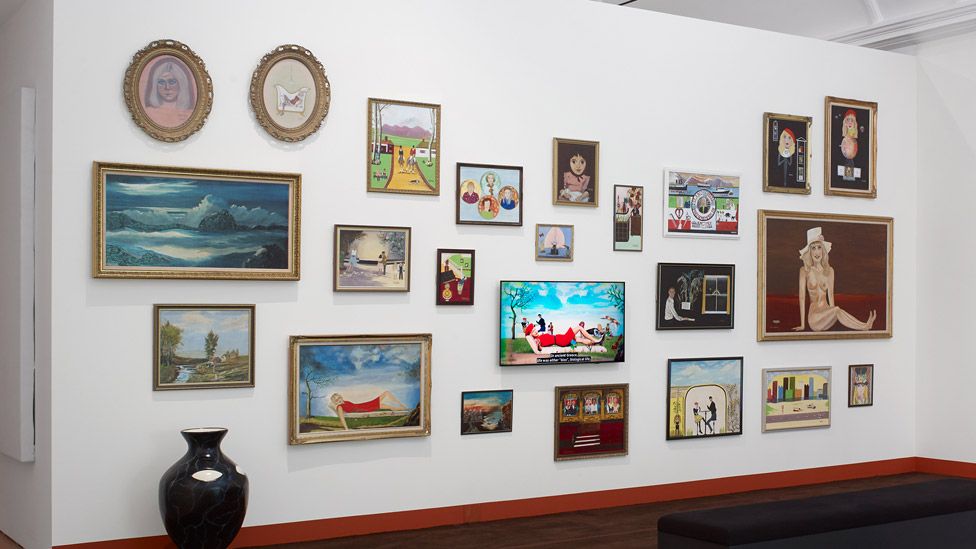 A major exhibition featuring the cream of current British artists has opened in Manchester despite a boycott by more than half of them, including a number of Turner Prize winners and nominees.
The British Art Show is being staged at four venues across the city.
But 26 artists have pulled out in protest after accusations of censorship at a controversial 2021 exhibition at one of the galleries, the Whitworth.
They are also unhappy about reports its director was being "forced out".
Signs at the British Art Show, which is held every five years, say artists have taken "multiple positions of resistance" following "the external pressure to silence calls for Palestinian solidarity in 2021".
Those boycotting include Tai Shani, Oscar Murillo and Helen Cammock, three artists who shared the Turner Prize in 2019, and Heather Phillipson and Sin Wai Kin, who are nominated for the award this year.
Nineteen artists are still taking part, with some referencing the furore, such as Hardeep Pandhal, whose work is titled Headlines (Withdrawn Artist Reluctantly Participates In Exhibition).
"A number of artists have chosen to withdraw, and there were some very involved conversations around those tactics, and there were many different views," Hammad Nasar, one of the show's curators, said.
He said they had "made space for that withdrawal to be noticed" by highlighting it in the exhibition.
Mr Nasar added: "I'm a firm believer that the exhibition is a place where we have an opportunity to hold space, to give voice to issues. We want to use that space, and there are artists who have done that - who have done that directly, who have done that playfully, who have alluded to it."
The row dates back to last summer's exhibition at the Whitworth by investigative human rights group Forensic Architecture, which displayed a statement accusing Israeli police of "ethnic cleansing", and said Palestinians were engaged in a struggle against "apartheid and colonisation".
Several groups, including UK Lawyers for Israel, complained that the statement was "factually incorrect and dangerously one-sided".
The statement was removed, but when Forensic Architecture threatened to close the exhibition as a result, the statement was reinstated with the addition of what the Whitworth described as "a space which gives voice to different perspectives".
In February, the Guardian reported that Alistair Hudson, director of the Whitworth, had been "asked to leave" by the University of Manchester, which owns the gallery, after "a series of complaints" by UK Lawyers for Israel.
That sparked protests from those who accused the university of succumbing to pressure, and stifling artistic expression.
Jonathan Turner, chief executive of UK Lawyers for Israel, said: "There was no external pressure to silence calls for Palestinian solidarity.
"There were objections to false allegations regarding Israel in an introductory statement to the Forensic Architecture exhibition, and to the gallery director's false claim made to the university's vice-chancellor that the accuracy of this statement had been checked."
Earlier this month, a statement was issued on behalf of the 26 artists withdrawing from the British Art Show. It said they were "appalled by the University of Manchester's attempt to force the Whitworth director to resign" and the "lack of clarity on his employment status, which further hinders the space for those who stand for academic and artistic freedom".
The university has denied asking Mr Hudson to leave. He is still in position as director of the Whitworth as well as the city council-owned Manchester Art Gallery. He declined to comment.
The university denied suppressing artistic and academic freedoms and said it had not "bowed to external pressures as has been suggested".
It added: "Indeed, the university went to great lengths to ensure that the exhibition in question proceeded uncensored and remained opened for the full period that had been planned."
The British Art Show tours to several UK cities. Its ninth iteration has already visited Aberdeen and Wolverhampton, and will conclude its tour in Plymouth.
Brian Cass, senior curator of Hayward Gallery Touring, which runs the show, said: "We recognise, acknowledge and support that a number of artists have felt that the power of withdrawal is an effective action.
"We also support how other artists have taken positions in response to certain media reports."