Don McLean pulls out of Texas gun convention
By Mark Savage
BBC Music Correspondent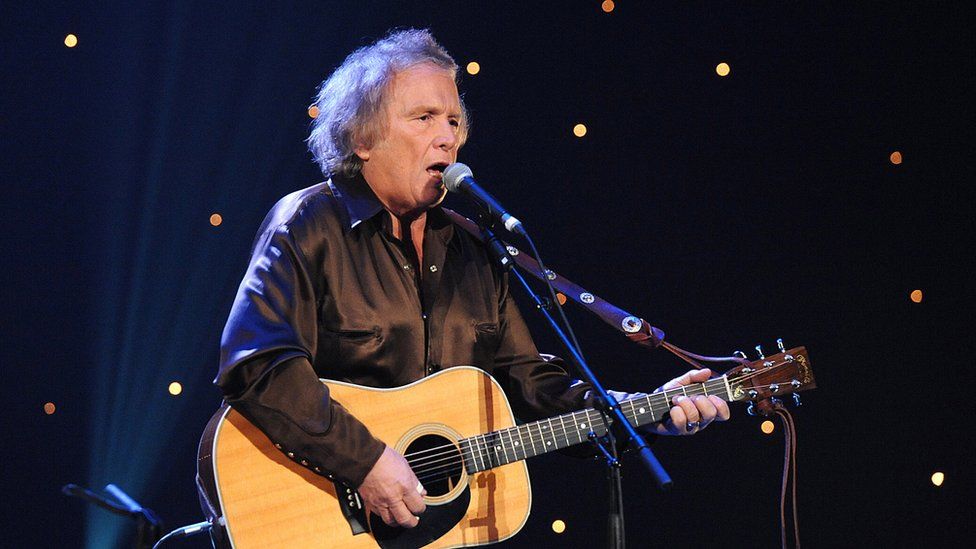 American Pie singer Don McLean has pulled out of this weekend's National Rifle Association annual meeting in Texas, following Tuesday's tragic shooting at a school in the state.
"I have decided it would be disrespectful and hurtful for me to perform," McLean said in a statement.
"I'm sure all the folks planning to attend this event are shocked and sickened by these events as well."
Nineteen children and two adults were killed in the tragedy.
A gunman opened fire at Robb Elementary School - which teaches children aged seven to 10 - in the city of Uvalde before he was killed by law enforcement, officials said.
Authorities have not revealed any motivation behind the incident, but say the suspect was acting alone.
There have been calls for the NRA to cancel its event, which is being headlined by former president Donald Trump in Houston - about a four-hour drive from Ulvade.
The three-day rally is set to "showcase over 14 acres of the latest guns and gear," according to its official website.
Trump confirmed he would still appear at the conference, in a post on his Truth Social platform. Other high-profile Republicans, including Texas senator Ted Cruz and the state's governor, Greg Abbott, are also due to speak.
While McLean has pulled out, musicians including Lee Greenwood, Larry Gatlin, former Restless Heart lead singer Larry Stewart and Danielle Peck are still scheduled to perform.
Tuesday's incident was the America's deadliest mass shooting so far this year, but it was far from being the first. According to the Gun Violence Archive, the US has seen 212 mass shootings in the last 145 days.
Soon after the incident, a number of US celebrities reacted to the shooting, with many condemning the government for not imposing proper gun control laws.
Singer Olivia Rodrigo called for "stricter gun control laws" during a concert at the Greek Theater in Los Angeles.
"I wish we would never have to worry about our safety or our lives at places that are dedicated to our learning and growing," she said. "I'm so heartbroken that this is the reality that we're living in - and we need stricter gun control laws in America."
Taylor Swift said she was "filled with rage and grief" by the "ways in which we, as a nation, have become conditioned to unfathomable and unbearable heartbreak."
Actor and Uvalde native Matthew McConaughey urged Americans to reassess their values in a lengthy statement.
"We have tragically proven that we are failing to be responsible for the rights our freedoms grant us," he said, without specifically mentioning guns.
"This is an epidemic we can control, and whichever side of the aisle we may stand on, we all know we can do better. Action must be taken so that no parent has to experience what the parents in Uvalde and the others before have endured."
McLean is unlikely to join calls for greater regulation of firearms in the US. Before his appearance at this weekend's conference, he had given an interview to the NRA website, talking about his favourite weapons.
"I am a collector of early western movies," he said. "This led from one thing to another: A love of western history, then western film history, horsemanship (I've ridden for 30 years) and guns of the West.
"My favourite was always the single-action Colt and my favourite rifle was the Winchester Saddle Ring Carbine."