Ghosts: How the spirited British sitcom found a new haunt in the US
By Ian Youngs
Entertainment & arts reporter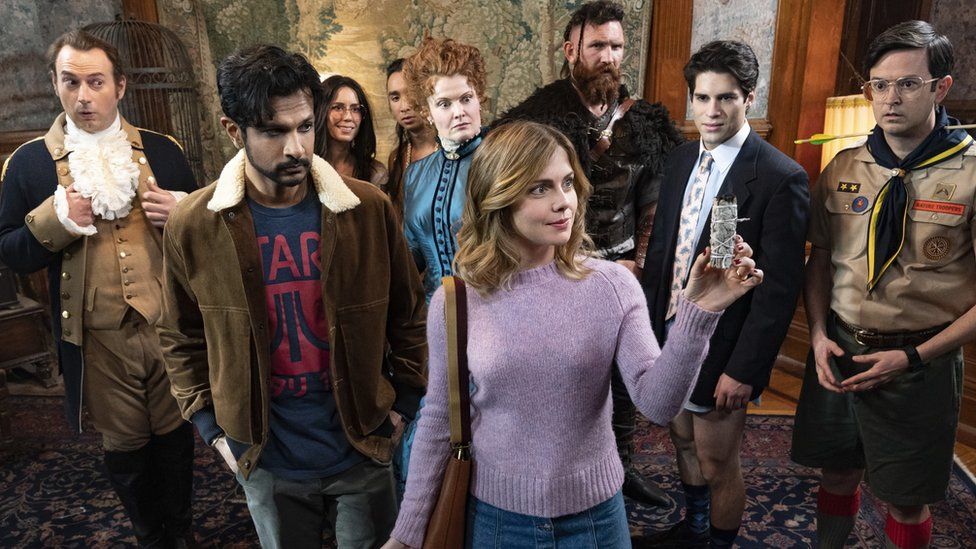 TV comedy Ghosts has become one of the most popular new sitcoms on both sides of the Atlantic, after a US remake of the beloved BBC original became a hit. The makers of both versions discuss how they leave viewers in high spirits.
Since it started in 2019, BBC One's Ghosts has been a rare thing in the age of streaming choice and splintered viewing - a sitcom that the whole family can enjoy together.
And since the US version of the show launched earlier this year, it has become an even rarer thing - a successful American remake of a British sitcom.
The history of cross-Atlantic comedy remakes is littered with short-lived flops, but Ghosts has become the most successful translation since The Office and Veep (based on The Thick Of It).
The first season of the CBS adaptation ended last month as the top-rated new series on US TV, according to the network, as well as the number one comedy on streaming service Paramount+.
Joe Wiseman, one of the lead writers and producers of the US version, says the first time he watched the BBC original, he "loved it right away".
"You could just tell immediately that it was a unique show, a unique premise," he says. "And it was just so funny."
The British series was created by the team behind Horrible Histories. "Behind the idea was just asking, 'what can we come up with that means we get to dress up and be silly, and in a haunted house?'" Mathew Baynton, one of the team, explained backstage at the recent BBC Comedy Festival in Newcastle.
However, the team initially dismissed the concept, not thinking there would be much potential for humour in spirits who can't really touch anything, go anywhere, and don't, since they're already dead, have much to worry about.
But then they realised having very different personalities from different historical eras who cannot escape each other, and are stuck together in a sort of cheerful purgatory for eternity, could actually be very funny.
The characters in the British original include caveman Robin, trouserless Tory MP Julian, a self-important Army officer known as The Captain, needy Georgian noblewoman Kitty, and affable scout leader Pat. They are joined in their crumbling stately home by a young (alive) couple - one of whom can see their phantom housemates.
Ben Willbond, who plays The Captain, says: "It's basically this largely dysfunctional but very close family living together - arguing, resolving their differences, getting on, ultimately staying as entrenched as they ever were, but learning a little bit about themselves every week."
Baynton, who also plays hopelessly romantic poet Thomas, describes the show as "a really warm embrace of a family sitcom".
Willbond adds: "It's such a such a lovely feeling. When people talk to me about it, that's one of the first things they say, every time, 'oh, I can sit down with my kids'."
The real secret, Baynton believes, is it shows that "we can all get on, however much we disagree - if we're really stuck with each other and we look each other in the eye, we can get on".
He adds: "I feel as though that's probably why it's working both sides of the pond. People are reassured and craving something that says, 'it's all right, we can get along'.
"There's such an endless howl of anger and bile that people are directing at each other every day. So I guess it's a tonic to that. I think that's what the idea happened to have, kind of by accident."
Joe Port, who runs the US version with Wiseman, echoes that their series is "a very feelgood show, just like the British one is".
"It's got this feelgood sort of warm hug feel, while also being hard funny," he says on Zoom from Los Angeles.
Some of the US characters have been clearly borrowed from the British version, like scout leader Pete and the upper-class Hetty.
Others are similar but different - a Viking instead of a caveman, and a trouserless Wall Street "finance bro" instead of a Tory MP. "That was also a funny guy to have be pantsless," says Port.
A few are unique to the US, like a Native American, who was "the number one character that we had to have in the show", Port says. There is also a 1960s hippy called Flower and 1920s jazz singer Alberta.
When it began, the reception from US TV critics was mixed but generally warm, with TV Line calling it "a wonderful surprise" and Variety saying it's "charming enough to merit sticking around", although The Hollywood Reporter said it "could use an infusion of zaniness to live up to its Beetlejuice-y aspirations".
Port and Wiseman have also worked on the US version of The Office and a remake of The IT Crowd. Port recalls how Greg Daniels, who took The Office from Slough to Scranton, initially followed the British formula before taking it in new directions.
"I guess if there was any guidance, it was sort of seeing how Greg had adapted The Office," he says.
With Ghosts, "we didn't want to fix what wasn't broken", he continues. "But once that premise was up and running, we departed and were able to chart our own path for the most part."
The question with TV remakes is normally, why bother if the original is so good?
With Ghosts, the reason is clearer than most, because each country has a different history and a different set of historical characters who could be hanging around in the afterlife.
There are no other international versions of Ghosts yet, according to BBC Studios, whose LA arm co-produces the US version. But it can't be long before more countries find some happy phantoms in their own old houses.
"It just felt like there was a reason to adopt this one," Wiseman says. "It was seen as very portable. And it seems like there should be many different versions of Ghosts all over the world, as far as I'm concerned."
The UK Ghosts is available to stream on BBC iPlayer, with a fourth series coming soon. The US Ghosts can be streamed on Paramount+ in the US.