This is Us stars bid farewell with final flashbacks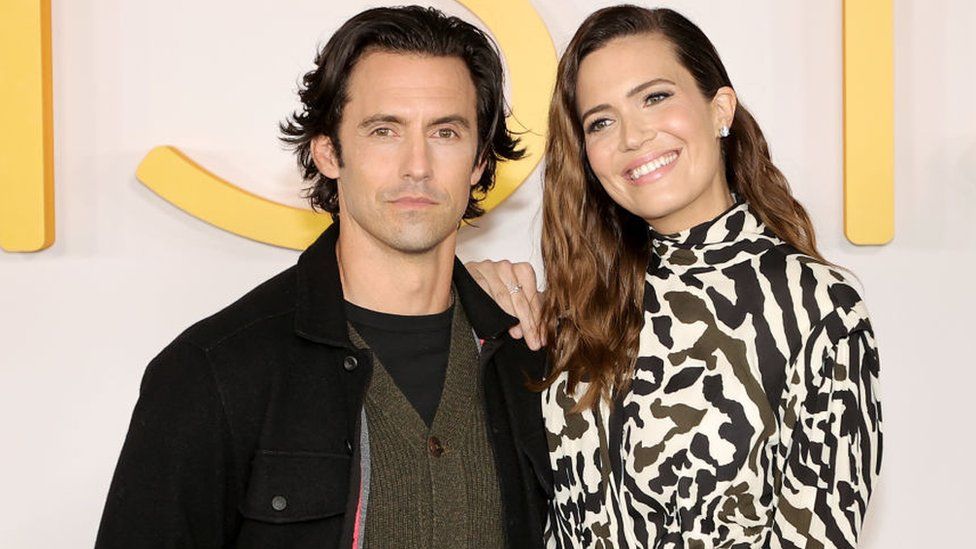 The creator and stars of the Emmy-winning NBC show This Is Us have said farewell after six seasons, calling it "the trip of a lifetime".
The Pearson family drama, created by Dan Fogelman, starred Mandy Moore, Milo Ventimiglia and Chrissy Metz, alongside Sterling K Brown and Justin Hartley.
It ran for six years before coming to an end for viewers on both sides of the Atlantic this week.
Fogelman said on Tuesday that making the final episode was "bittersweet".
Ahead of the final episode, which aired in the US on Tuesday before being made available to UK audiences on Wednesday via Amazon Prime Video, the director tweeted: "I hope tonight satisfies and leaves you thinking, and feeling, and even smiling.
"I hope it makes you feel as full as your response to the show has made us feel, all these years."
He added: "Thank you for taking this train ride with us. It's been the trip of a lifetime."
'The human spirit endures'
The critically-acclaimed show has had multiple Emmy nominations, and won two prizes at the Screen Actors Guild Awards in 2018 and 2019 for best ensemble cast in a drama.
The finale focused on Brown's character Randall and his siblings Kate (Metz) and Kevin (Hartley), as they continued to come to terms with a family tragedy.
It featured flashback scenes, filmed three or four years ago with the original child actors (Lonnie Chavis, Parker Bates, and Mackenzie Hancsicsak), of the Pearsons all sharing a lazy weekend together.
"I always wanted and always had planned for the final episode of the series to revolve around the epilogue of the continuing story of the family, rather than the moment, and for us to be able to live heavily in a really normal day in the life of a family, long before anything had befallen them like this," Fogelman told Variety.
"It felt important to me to go out making the show about how the human condition and the human spirit kind of endures and moves forward."
In his review, IndieWire's Ben Travers noted how, after years of "twists", the show had ended by "cherishing the little things" such as "measured reflection and honest conversations".
"The 106th episode embraces what has historically been the show's strongest attribute: highlighting the little moments that crystallise the value of a loving family," he wrote.
"At its worst, This Is Us was a well-acted, slightly corny family drama. But at its best, it was something truly transcendent - a show that could fold time in on itself in ways both simple and complex."
The Daily Beast's Emma Fraser said: "Wrapping up a 100-plus episode run is no easy task, particularly in an era in which network shows like This Is Us are becoming a thing of the past.
"Fogelman and the extended ensemble (shout-out to the casting team) can rest easy as they have stuck the landing."
Actor Brown posted on Twitter this week to tell his on-screen siblings (Metz and Hartley) that it had been an "absolute pleasure" to work with them all these years.
And in a joint Instagram post with Susan Kelechi Watson, who played his on-screen wife Beth, he added: "Thank you, from the bottom of our sweet R&B hearts for being on this journey with us and sharing yours in the process".
Metz said in a video post that she had been "forever changed" by her work as his sister Kate, while their on-screen brother Hartley shared a farewell picture.
Mandy Moore, who played their now mother Rebecca signed off, saying: "Take the risks. Make the big moves, even if they're small moves. Forge ahead with your lives in any and every direction that moves you. I'm asking you to be fearless."