Ricky Gervais defends 'taboo' comedy after backlash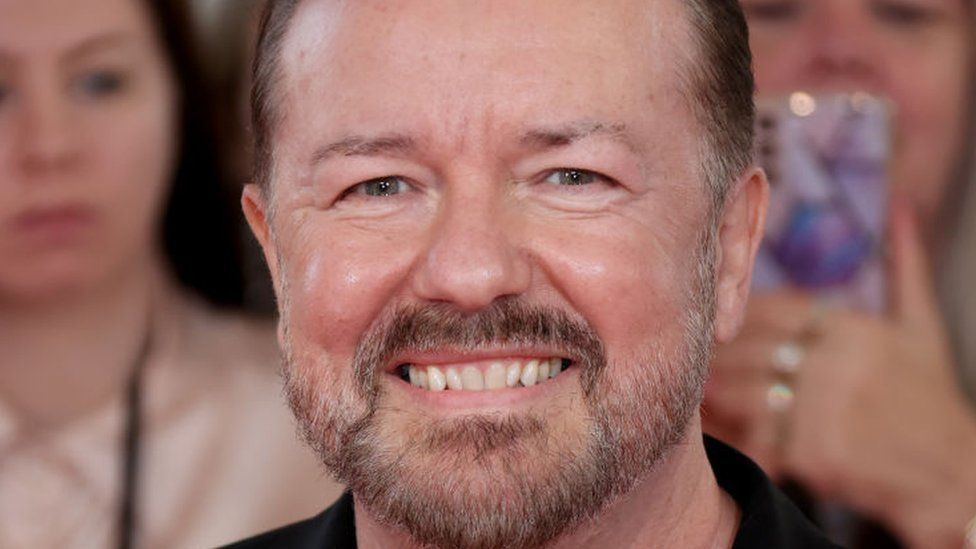 Ricky Gervais has defended making jokes about "taboo subjects" after his new Netflix special drew criticism.
In SuperNature, the stand-up comedian makes a string of what he describes as ironic and satirical jokes about trans people, female comedians and Aids.
US LGBT rights group Glaad labelled the show "dangerous", "anti-gay" and "anti trans" after its release on Tuesday.
However, Gervais told BBC One's The One Show on Tuesday that comedy is for "getting us over taboo subjects".
He said: "I think that's what comedy is for, really - to get us through stuff, and I deal in taboo subjects because I want to take the audience to a place it hasn't been before, even for a split second.
"Most offence comes from when people mistake the subject of a joke with the actual target."
He said audience members go through a mixture of emotions when hearing a near-the-knuckle joke. "It starts and they go, what's he going to say? I tell the joke. Phew, they laugh.
"It's like a parachute jump - it's scary, but then you land and it's all OK.
"I think that's what comedy is for - getting us over taboo subjects so they're not scary any more. So I deal with everything. And I think we second guess the audience too much."
However, Glaad took issue with his latest routine, with officials posting on the group's Twitter page: "It's full of graphic, dangerous, anti-trans rants masquerading as jokes. He also spouts anti-gay rhetoric an spreads inaccurate information about HIV."
They also said Netflix "refuses" to enforce its own policy that content "designed to incite hate or violence" is not allowed on its platform.
We watched the Ricky Gervais "comedy" special on Netflix so you don't have to. It's full of graphic, dangerous, anti-trans rants masquerading as jokes. He also spouts anti-gay rhetoric & spreads inaccurate information about HIV. 1/4

— GLAAD (@glaad) May 24, 2022
In his special, Gervais explained that for each joke, he momentarily takes whatever stance would make it funnier - "without prejudice" - and that the gags do not represent his actual views.
"In real life, of course I support trans rights," he said. "I support all human rights and trans rights are human rights.
"Live your best life, use your preferred pronouns, be the gender that you feel that you are," he said before adding a punchline about trans women. He also referred to Eddie Izzard, who has identified as being gender fluid and has requested she/her pronouns.
Gervais also said "it's mad to think that joking about something means you're anti-it".
On The One Show, Gervais referred to his darkly comic Netflix series After Life, saying some had questioned whether the audience can "take this".
"Of course they can," he continued. "Real life is much worse. These are just jokes. They don't mean anything. They're just for you to laugh for an hour or so. So that's why I deal in taboo subjects."
His comments come amid a broader debate around what is acceptable to joke about in a comedy.
Last year, some viewers and Netflix staff complained about a stand-up special by US comedian Dave Chappelle, which they said was transphobic.
Chappelle was attacked in stage earlier this month, with the man suspected of attacking him telling The New York Post he had found the parts of his routine about the LGBTQ+ community and the homelessness "triggering".
Jimmy Carr was heavily criticised earlier this year for part of another Netflix special that included material about the murders of hundreds of thousands of people from Europe's traveller communities in the Holocaust.
Earlier this month, the streaming giant reportedly told staff it supports "the artistic expression of the creators we choose to work with", and they could leave if they did not like it.
According to Variety, the company said in an internal document: "We program for a diversity of audiences and tastes; and we let viewers decide what's appropriate for them, versus having Netflix censor specific artists or voices.
"As employees we support the principle that Netflix offers a diversity of stories, even if we find some titles counter to our own personal values.
"Depending on your role, you may need to work on titles you perceive to be harmful. If you'd find it hard to support our content breadth, Netflix may not be the best place for you."