Wagatha Christie case: The possible outcomes as judgement to be published
By Paul Glynn
BBC News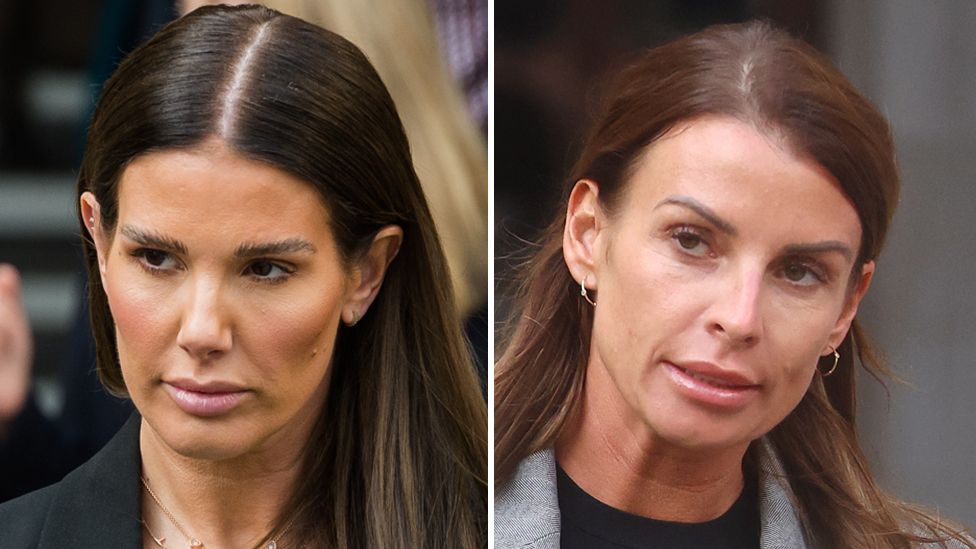 The judgment in the High Court libel case between Rebekah Vardy and Coleen Rooney will be published at midday on Friday, bringing the so-called Wagatha Christie trial to a close.
The judge, Mrs Justice Steyn, will deliver her written ruling following a high-profile two-week trial in May.
The trial came two years after Mrs Vardy sued Mrs Rooney for defamation.
Mrs Vardy denied a public accusation that she had leaked private information about Mrs Rooney to the tabloid press.
Here's a recap of how it came to this, who said what in court, and what the judgement might be.
The pair rose to fame as "Wags" - wives and girlfriends of England footballers - but fell out publicly after Mrs Rooney, the wife of former England captain Wayne, posted on social media in 2019 that she had conducted a "sting" operation to find out who had leaked stories from her private Instagram account to the Sun.
She posted a series of fake stories - about her return to TV, travelling to Mexico for a "gender selection" procedure, and the basement of her family home flooding. She says she restricted the number of followers who could access them to just one to see if they would still appear in the press, and they did.
"It's.......... Rebekah Vardy's account," she claimed at the conclusion of her investigation, in a post that quickly set social media alight.
Mrs Vardy, who is married to Mr Rooney's former international team-mate Jamie, denied the claim and brought the libel case, saying her reputation had been damaged; while Mrs Rooney defended herself on the grounds of truth and public interest.
Mrs Vardy said she had been left with "no choice" but to bring the case in order to "establish her innocence and vindicate her reputation", explaining: "I didn't give any information to a newspaper. I have been called a leak and it's not nice."
However, during a gruelling and at-times emotional three-day stint in the witness box, Mrs Vardy did confirm she had tried to leak one previous story, about footballer Danny Drinkwater being arrested for drink-driving, to the Sun. The court heard she had messaged her agent Caroline Watt, saying: "I want paying for this x."
While she said that was a one-off, Mrs Vardy later appeared to accept that Ms Watt had leaked genuine information from Mrs Rooney's private Instagram account - about her car being damaged - to a newspaper, but denied that it was "new" information.
Mrs Rooney, we learned, had been left "fuming" about a Sun article in January 2019 which she said wrongly reported she had been in a crash, when in reality a lorry had scraped the side of her car. She told the court she was "angry" and "annoyed" when the Sun printed information which "was untrue" and that private information was "getting out there".
At the time, when Mrs Rooney posted about her suspicion that someone she trusted had been leaking stories, Ms Watt texted Mrs Vardy saying: "It wasn't someone she trusted. It was me."
The defendant branded messages Mrs Vardy and Ms Watt had exchanged about her, which were read out in court, as "evil".
Her team argued that the fact the Sun published a fake story about gender selection, based on an Instagram post that could only have been read by Mrs Vardy's account, meant it was "more probable than not" that the claimant and her agent were the source.
In a series of theatrical displays, Mrs Rooney's barrister David Sherborne described Mrs Vardy's connection with her agent in relation to the leaks as "like hiring a hit man or woman". He said: "Just because you're not the person who gets their hands dirty, doesn't mean you're not equally responsible."
Ms Watt was deemed to be unfit to testify, and the Sun's journalists did not give evidence either.
The newspaper's Simon Boyle later told BBC Radio 4's The Media Show: "In terms of who gave us the story, we would never reveal it and we went to extraordinary lengths and extraordinary expense at the High Court, after being pushed by both sides to come to court and to hand over some documents and take the witness stand, that's not something we would ever do, and it would set a dreadful precedent for journalism across the board."
Previously in the courtroom, Mrs Vardy's team had said that if Ms Watt was the source of leaked stories, "that's not something that Mrs Vardy knew anything about" and she did not "approve of or authorise" her to do so.
They suggested it would have been "less damaging" if Mrs Rooney had simply removed her as a follower rather than posting the accusation, and that she had revelled in the publicity around it. But, she replied, she had "hated every minute" of the feud, and had never intended for it to end up in court, or for Mrs Vardy to receive abuse online. The post, she said, had been a "last resort" after years of personal story leaks.
At the start of the 10-day trial, Mr Sherborne argued there had been a "widespread and significant destruction or loss of evidence" ahead of the case.
The court heard that Ms Watt had lost her phone in "Davy Jones' locker", aka the North Sea, after it was hit by a wave before Mrs Rooney's team could see WhatsApp messages between her and a journalist that could have potentially helped her case.
The loss of Mrs Vardy's documents, Mr Sherborne claimed, "must be concealment". But her own barrister Hugh Tomlinson described the allegation as "completely baseless".
Things for the judge to consider
Mrs Justice Steyn must principally decide whether or not Mrs Rooney has proved that her original accusation - that Mrs Vardy was involved in leaking the stories in question - is true.
She may take into account to what extent Mrs Vardy had a propensity for leaking things to the press. The defence argued she was in the habit of passing on private information about people, which she denied, saying she was guilty of nothing more than "gossiping".
Mr Tomlinson said his client had nothing to hide and the case against her was based not on evidence, but on "conspiracy theories".
Mrs Rooney's barrister argued that his own client's evidence had been "clear, measured, unargued and reasonable".
The judge will also consider whether Mrs Rooney's public interest defence is sound. The defendant declared it was in the public interest to expose Mrs Vardy for portraying a "false image" as the "First Lady of Football" when she had been "secretly leaking information" about her peers.
Another thing for the judge to consider will be compensation. Mrs Vardy will be entitled to damages if she wins. Her barrister said she had suffered "public abuse and ridicule on a massive scale" and was therefore entitled to "substantial damages", while Mrs Rooney's team argued that, even if she wins, any such damages should be minimal to cover "what is left of her reputation".
Any damages will be a fraction of the legal fees, which combined have run into the millions, and whoever is unsuccessful will be expected to cover a chunk of the winner's costs.
Mrs Vardy will win her libel claim if the judge finds she was not knowingly leaking the information, and Mrs Rooney's public interest defence also fails. In that case, Mrs Vardy will have cleared her name and Mrs Rooney may be ordered to make an apology.
However, Mrs Vardy will lose if the judge decides the allegation in the famous "Wagatha" post was true, and she was involved in the leaking, or if Mrs Rooney's public interest defence succeeds.
Even if the judge decides Mrs Vardy wasn't the leaker, she could still lose if Mrs Justice Steyn accepts Mrs Rooney's defence that what she posted was something she reasonably believed at the time and was in the wider public interest.
But in the court of public opinion this scenario might feel more like a draw - with Mrs Vardy clearing her name of leaking stories yet ultimately losing her libel claim.