Stranger Things season four 'formulaic but fabulous', critics say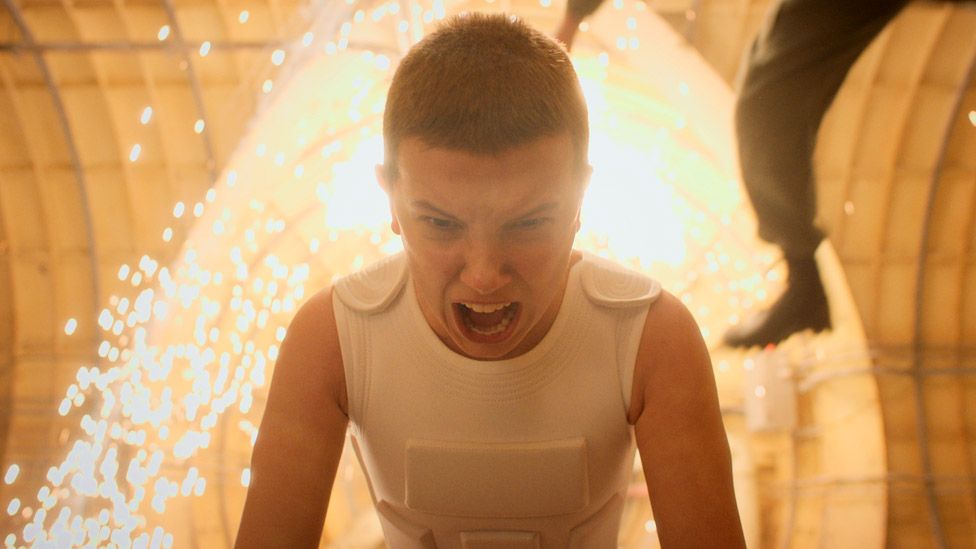 The new series of blockbuster Netflix show Strangers Things looks set to pick up where it left off in 2019, scaring fans and impressing critics.
The cult US supernatural TV drama stars Winona Ryder and Finn Wolfhard, as well as British actress Millie Bobby Brown.
Series four, out on Friday, resumes six months after season three's bloody finale at the Battle of Starcourt Mall.
The Times called it "a brilliantly dark return for a horror like no other".
In a four-star review, Alex O'Connell wrote: "If the first seasons of Stranger Things nodded to ET the Extra-Terrestrial and Stand by Me, this one (which comes in two 'volumes', with staggered releases) genuflects to A Nightmare on Elm Street."
Strangers Things has even cast Robert Englund, who played Freddy Krueger in the Nightmare on Elm Street films, in the new series.
The Independent offered the same four-star score, saying the new season is "formulaic, but who's complaining when the formula is this fabulous?"
Amanda Whiting wrote: "Some shows evolve over their long runs; others clutch to what made them hits in the first place.
"Stranger Things' flashy fourth season mostly does the latter, churning through Eighties pop-cultural references at a pace that makes me worry there'll be nothing in the tank for its final, fifth chapter."
Some critics pointed out the length of the new series, though. It clocks in at around 13 hours over nine episodes - with the finale running to two-and-a-half hours.
"The latest series of Netflix's hit sci-fi Eighties horror-homage is seriously long and almost too self-aware - but it's also irresistible," wrote Chris Bennion in a four-star review in The Telegraph.
"Stranger Things is a 1980s Americana theme park, and it is all the better when it embraces that fact."
But he offered a warning to parents about the show's newest demon, which uses people's worst nightmares as its most terrifying weapon. "Vecna's method of dispatching his victims is genuinely horrific," Bennion wrote.
The show first appeared in 2016 and by season four, Brown's Eleven aka Jane Hopper has moved from Hawkins, Indiana, to California with Will Byers (played by Noah Schnapp) and his mum Joyce (Ryder). But without her old psychokinetic powers, she soon finds herself being bullied.
Back in Hawkins, the fate of the town, it seems, rests on her old mystery-solving gang getting back together to stop the latest murderous mythical monster.
Empire offered another set of four-stars, with the magazine's critic Sophie Butcher labelling it the "most grown-up" and "most sinister Stranger Things season yet".
Yet now with nearly 20 key characters and a raft of plotlines, she suggested "we're verging on storyline overload" which, despite the length, "leaves little time for true character development".
"It may have more characters than it knows what to do with, but Stranger Things' most sinister season yet still knows how to send shivers up your spine," she added.
Its weaker points, she wrote, involve "every tired weed joke" in the California setting, but Stranger Things is at its strongest when its goes "back to Hawkins and what it does best".
The show creates a world "where the fantastical and the commonplace bleed into each other," suggested Phil Harrison in The Guardian.
"This ordinariness has always been one of the show's strengths - but, at times, it has felt as if we're simply watching a likable, slightly aimless teen drama with the supernatural elements spread thinly," he continued.
"Still, the characters remain nicely realised: the messiness of adolescence is causing Jane/Eleven to lose friends and Lucas (Caleb McLaughlin) to think of finding some new ones. But, as always, the Upside Down is waiting for a likely conduit."
BBC Culture's Amy Charles, meanwhile, decided the new series was "worth the wait", adding that it was "a fun, albeit terrifying adventure - and features its scariest monster yet".
Volume one of Stranger Things season four will be available on Netflix from Friday 27 May, followed by volume two on 1 July.