Måneskin's crazy rise to fame: 'We only slept in our own beds 10 times last year'
By Mark Savage
BBC Music Correspondent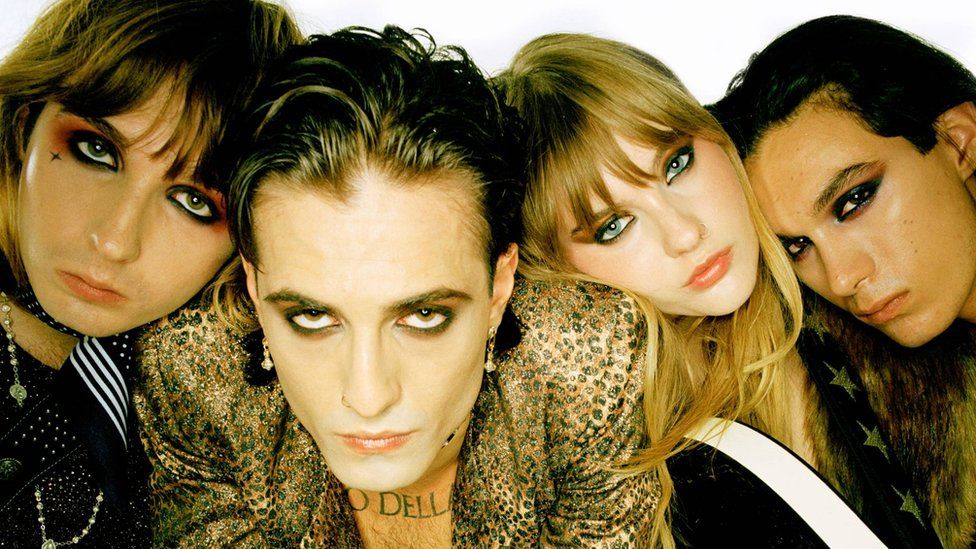 "I never believed in Friday 13th until today," says Måneskin's publicist, as the band arrive for our interview in Turin last week ahead of the Eurovision song contest.
The group are an hour late, after getting trapped in a lift. "We were trying to pull the doors apart for 30 minutes," explains singer Damiano David who, his bandmates reveal, suffers from a mild form of claustrophobia.
Damiano was already having a bad day. He hobbles into the room leaning on a crutch, after injuring his ankle on a video shoot.
As a result, the band were unable to rehearse a planned performance at Saturday's Eurovision Song Contest, where they debuted their new single, Supermodel, a year after winning the competition.
"I don't know if I'll be able to run about," says Damiano mournfully. "I'm just going to shuffle a bit."
After missing all three camera rehearsals, they make it on stage for the televised show - but instead of his usual hip-thrusting exuberance, Damiano stands rooted to the spot. He's clearly in pain, but his sense of mischief is undiminished.
Asked to give advice for this year's winner, he jokes: "Have fun and don't get close to the table," a sly reference to the controversy that arose last year when he was falsely accused of snorting cocaine in the Eurovision green room.
Since that night, when their song Zitti E Buoni (Shut Up And Behave) topped the leaderboard, the band have become global sensations, even breaking America, where they toured with the Rolling Stones and played Saturday Night Live.
Their single Beggin' - a scuzzed-up cover of the Frankie Valli classic - notched up one billion streams on Spotify; and they played tour dates in more than 30 countries.
"How many nights did we sleep in our own beds? I don't know," says bassist Victoria De Angelis. "I think maximum 10.
"But it's basically all we dreamt of in these past years while we were playing and doing music in Italy. So we're very happy about it."
We took the band, which also includes drummer Ethan Torchio and guitarist Thomas Raggi, on a tour of the highs and lows of the last 12 months, to see what it's like becoming global stars in the blink of an eye.
Damiano: "Before the show, I think that we were very stressed."
Victoria: "Stressed and excited."
Damiano: "It's just one shot. So you have to give everything you got, so that you come off the stage, like, panting.
Victoria: "We just tried to get lost in the music and enjoy it, as if it were our own gig."
Damiano: "And when we won... Well, it's all filmed. You can see it. Ethan saw God, people started crying immediately. And I was kidnapped by the Serbia contestant. Do you remember? They were cute."
Making the top 10 on both sides of the Atlantic
Unlike a lot of Eurovision winners, Måneskin haven't become known for just one track. In fact, their winning entry was eclipsed by the album track I Wanna Be Your Slave and an older cover of Beggin', both of which made the UK top 10 simultaneously.
Victoria: "It was very natural for us because we went to Eurovision with not just one song, but the whole project. So that's maybe why people then kept discovering our music and kept following us after that.
Damiano: "The success of Beggin' was very surprising because it happened with no promotion at all. It just went viral on Tik Tok and exploded globally. At the beginning we were kind of hacked off because we thought, 'Why is it a cover version that's streaming that much?' But then we saw the numbers and we were like, 'Okay. I might like it, I might like it!'"
The godfather of punk recorded a new version of I Wanna Be Your Slave in August 2021, after falling in love with the band.
Victoria: "Iconic! He's a legend, so it was insane. I still remember when they told us, we were like, 'Whaaaat?' And then he called us and said he was very happy that there was a band of young people playing this kind of music and that he liked that song, and he wanted to sing it together."
Thomas: "It was sick. We made a Zoom together on the computer as he was recording his vocals live."
Damiano: "Shirtless, burping in the mic."
Dedicating an MTV Award to their haters
When Måneskin won best rock act at the MTV Awards, Damanio dedicated the prize to people "who told us we are not going to make it with our music", adding, "I guess you were wrong".
Damiano: "It was not right at start [of our career], it was a point in the middle. Everything started well, and then all of a sudden, people started trying to stop us from doing what we thought was the best thing for us. That kind of music with that aesthetic, communicating that way and people weren't agreeing with us.But we kept believing in it and, at the end, they said we were right."
Ethan: "The people who criticised us in the past days now are struggling. And they're like, 'You're the best rock band ever, you're incredible, you're great.' But you never said that before we were famous, so we don't trust you."
Damiano: "Where are those people now? don't know. I think they're having tough nights because we made it. I think they have a lot of itches."
Coping with the sudden onset of fame
Damiano: "I think it's hard and every everybody reacts in a different way. I struggled a bit because I'm a home guy. and I'm very chilled and I don't really like to stay away from home for too long. But of course you have to deal with it and find some ways to to feel like you're at home, even if you're not. So I learned some tricks that helped me stay focused and healthy."
Ethan: "It helps that we are a four. There's always someone to talk to."
Writing their latest single, Supermodel
Damiano: "We wrote it when we were hanging out in LA. I think that, as a European, when you get there for the first time you really see the differences. And one thing that really interested was all these people in Hollywood going to the coolest parties, with the coolest clothes but at the end you see that they're struggling with it because you just have to show, show, show over and over and over. And they're like, super fake. You can see it when you talk to them. They just want to see if they can get something from you - and if not, end of the conversation. And I felt very bad about it because I'm very into connection and relationships. So I just wanted to make fun of this thing. I'm criticising it."
Victoria: "But there are of course also nice people in LA. If you meet the right people and you're with your friends then it's very cool."
Thomas: "So it's not about LA, it's about a certain type of person."
Damiano: "I know it's not our deepest song, but it's good fun."