Wagatha Christie case: What to know as the trial starts
By Colin Paterson
BBC News correspondent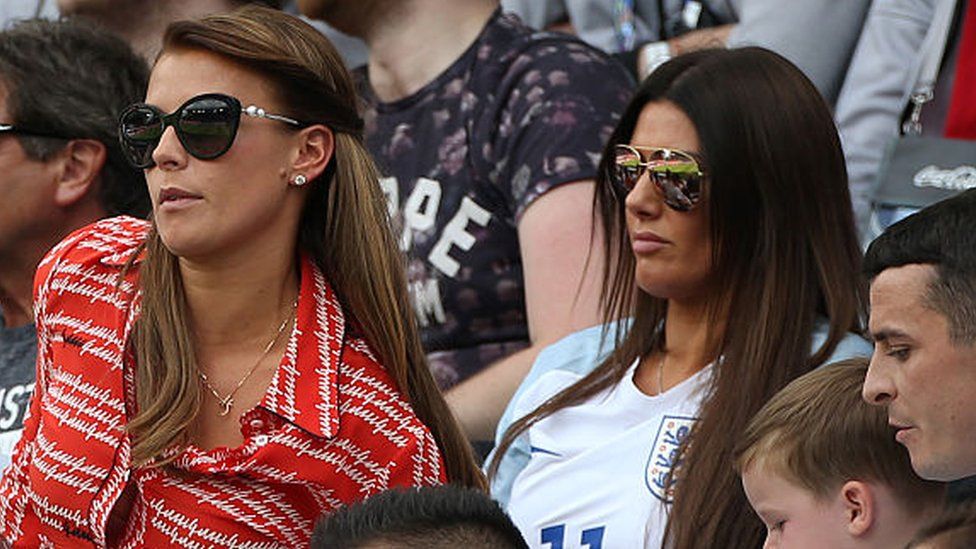 If a court case has its own nickname, it is a clear sign that it is going to attract a lot of interest.
Today the "Wagatha Christie" trial starts in the High Court, with Rebekah Vardy suing Coleen Rooney for libel. Set to last for seven days, it has also been described as "Wags at war".
Mrs Rooney, 36, and Mrs Vardy, 40, are now both successful brands in their own right, but first became famous through their footballing husbands - Wayne Rooney, 36, England and Manchester United's all-time leading goalscorer and Jamie Vardy, 35, who famously fired Leicester City to the Premier League title. He actually made his England debut in 2015, coming on as a substitute for Rooney against the Republic of Ireland.
Both players were picked for the Euros in 2016 and famously the papers were full of shots of their wives cheering them on from the stands.
Now Mrs Rooney and Mrs Vardy are going head-to-head in a civil case where the legal costs could be far greater than any damages that might be awarded at the end.
Judges have repeatedly pleaded for them to settle the matter out of court, but neither side has backed down.
"It's a determination to be right. It's human nature," says media lawyer Jonathan Coad, explaining why the case is going ahead.
"Once someone's taken a stand and said, 'I'm right, you're wrong,' in a very public way - to a six-figure Twitter following - it's a very big climb down to say, 'I was wrong'."
He estimates that the legal costs for each side will be upwards of £1m and that even the winner will only recover about 70% of their legal bill, leaving them with around £300,000 still to pay. If any damages are awarded, they are only likely to be in the £15,000 to £40,000 range.
"It makes no sense for either of them," Mr Coad concludes. "Even the winner is going to come out with a massive loss."
The dispute all stems back to October 2019. Coleen Rooney believed someone was leaking information about her to The Sun newspaper and embarked on some online detective work to deduce who she thought was responsible.
Over a series of months, she wrote made-up tales on her Instagram stories on her personal account, restricted who could read them and waited to see if they would appear in The Sun. Sure enough they did - a trip to Mexico for gender selection so their next child would be a girl, how she was in talks to do Strictly Come Dancing, and even the mundanity of their basement flooding.
Then in a lengthy Tweet she claimed that "I blocked everyone from viewing my Instagram stories except one account," before delivering the pay-off (including the use of no fewer than a drama-enhancing 10 dots) "It's………. Rebekah Vardy's account."
Mrs Vardy strenuously denied being the leak, immediately calling Mrs Rooney on the phone to protest her innocence and within half an hour posting her defence on social media saying a number of people had access to her accounts.
When no public apology from Mrs Rooney came, Mrs Vardy, in June 2020, decided to sue her for libel.
Branding expert Chris Hunte, who runs the Addition agency, thinks the saga has been bad for both women professionally.
"Brands go into partnerships with celebrities to build consumer loyalty, ultimately increase sales and have a positive PR around associating with that person," he explains. "For both these ladies, the impact is huge, especially in the short run here. They could be losing hundreds of thousands of pounds alone, just from being involved in his case."
Things have already got contentious. In a pre-trial hearing it emerged that Mrs Vardy's agent Caroline Watt had dropped her mobile phone in the North Sea, when the boat she was on hit a wave, days after being ordered to hand it over for a forensic examination.
According to Jonathan Coad, for Coleen Rooney to win the case, she will have to prove that it was Rebekah Vardy who was responsible for the leaks herself or ordered for them to be carried out.
"If it was one of Rebekah Vardy's team acting at their own initiative, then she is OK," he clarifies. "Because it's not her fault and she will win."
One person who will be following the case very closely is Phoebe Roberts, the original creator of the phrase "Wagatha Christie".
She now lives in Belgium where she is a film curator, but back in October 2019 she was a new mum in London, holding her three-month old baby in one arm while scrolling on her phone with the other, when she saw Coleen Rooney tweet about her online detective work.
"It was this amazing story with the dot dot dot ending," she recalls. "It had a lot of drama in it. So, I was just like, this is a detective novel or something, and that's when I came up with Wagatha Christie.
"It is probably my one good joke I've ever made, so I'm glad I got to share it around," she laughs.
Roberts has never made a penny from her online gag, but has enjoyed finding how far it has travelled.
"When my friends see it around they text me, so I think you can get it on a phone case, on socks. It's in a lot of strange places now."
She is expecting high drama in the week ahead. "There have been a lot of developments to keep us interested and now we'll see what the court throws up."
"Would I have done the same as Coleen? I think I would, like a mama lion protecting her cubs," she said.
She also provided an insight into the relationship of the two women heading for court.
"With Coleen and Rebekah, and I know Coleen very well, I don't think they were ever friends friends."
For Mrs Rooney and Mrs Vardy, the next few days are set to be as dramatic as any match in which their husbands played.