BBC Proms 2022: Ukrainian refugee orchestra among the line-up
By Mark Savage
BBC Music Correspondent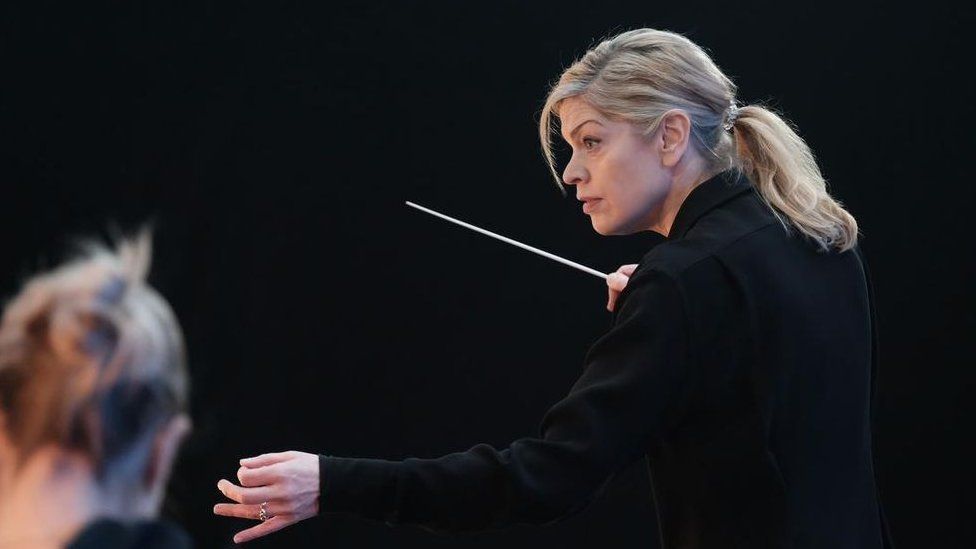 An orchestra of Ukrainian refugees will take centre stage at this year's Proms, alongside concerts by Sheku Kanneh-Mason and Cynthia Erivo.
The newly-formed Ukrainian Freedom Orchestra features players who recently fled the war, alongside Ukrainian musicians from European orchestras.
Ukraine is granting an exemption to the military-age male musicians, allowing them to leave the country and play.
Conductor Keri-Lynn Wilson said they would "honour those who have died".
The orchestra will perform at the Proms on 31 July, two weeks after the Proms season launches.
After two years of muted, smaller-scale shows, the festival returns in full for 2022, with 84 concerts over eight weeks, featuring more than 3,000 musicians.
With Covid-19 rules relaxed and restrictions on choral performances scrapped, large-scale repertoire will be possible for the first time since 2019 - including a First Night performance of Verdi's Requiem; Beethoven's Symphony No 9, performed by the Chineke Orchestra; and Mahler's Symphony No 2, performed by the London Symphony Orchestra.
International orchestras will also return to the Royal Albert Hall, with the Berliner Philharmoniker and the Australian World Orchestra among those gracing the stage.
Proms director David Pickard said the "liberation" of being able to plan a full season was "fantastic for us all" in the music community after an "immensely challenging" few years.
The Ukrainian Freedom Orchestra was added to the programme "at the 11th hour," he said, predicting their performance would be a powerful and cathartic moment.
"I think sometimes you can feel rather powerless if you're involved in the cultural world when a huge event like this war is going on, and this is a marvellous way to support the country and celebrate the power of music to cross divides."
The orchestra was the brainchild of conductor Wilson, who has led the Los Angeles Philharmonic and the Bavarian Radio Symphony Orchestra.
"I wanted to bring the best orchestral musicians of Ukraine together, from both inside and outside of their country, in a proud display of artistic unity," she said in a statement announcing their inaugural tour.
"I look forward to leading these gifted musicians across Europe and to the United States. This tour is an expression of love for their homeland and to honor those who have died and have suffered so much."
They are due to play Ukrainian composer Valentin Silvestrov's Seventh Symphony; Chopin's Piano Concerto No. 2, with Ukrainian virtuoso Anna Fedorova; and the aria Abscheulicher! from Beethoven's Fidelio, a plea for humanity and peace in the face of violence and cruelty.
Other Proms highlights include:
The first-ever video game Prom, tracing the history of gaming from classical console games of the 1980s to last year's Battlefield 2042 - including a premiere from The Joker composer Hildur Guðnadóttir (1 August)
An Earth Prom, hosted by Chris Packham, celebrating the work of David Attenborough and the BBC's Natural History Unit (27 August)
A concert dedicated to the soul and gospel music of Aretha Franklin, led by the Jules Buckley Orchestra. (22 August)
A celebration of the Queen's Platinum Jubilee, featuring music inspired by royal occasions, from from Handel's Water Music to Britten's Gloriana (22 July)
Film and stage star Cynthia Erivo making her solo debut with a concert of songs by legendary singers like Nina Simone, Shirley Bassey and Billie Holiday (17 July)
A season-wide reflection on Ralph Vaughan Williams, 150 years after his birth, featuring classic works like The Lark Ascending and the visceral Fourth Symphony (various dates)
Renowned South African trumpeter Marcus Wyatt, leading the Metropole Orkest on a tour of the South African Jazz Songbook, featuring soloists Soweto Kinch and Siyabonga Mthembu (28 August)
A celebration of Cinderella Instruments like the tuba, oboe and harp, which rarely get the spotlight. Soloists will include trombonist Peter Moore and Caroline Eyck, one of the world's foremost theremin players (various dates)
The 2022 season coincides with the 100th anniversary of the BBC, with several special concerts designed to reflect the broadcaster's impact on the UK music scene.
The Proms will team up with Radio 1 Relax for an evening of stripped-back acoustic performances on 16 July; while the CBeebies Prom will return for what's described as "an underwater family adventure" on 23 July.
Art-rock band Public Service Broadcasting will also premiere their new album, This New Noise, which combines live acoustic and electronic music with archive material to explore the history and impact of publicly-funded broadcasting.
Picking up a theme from the pre-pandemic era, the Proms will extend its reach across the UK this summer, with concerts scheduled in Belfast, Truro, Birmingham, Liverpool and Gateshead.
And there will be an immersive Prom, held in London's Printworks, based on tenor Roth Constanzo's album ARC - which imagines a collaboration between George Frideric Handel and Philip Glass. The multimedia concert will also feature live painting by George Condo, soundscapes by Jason Singh, costumes by Raf Simons, choreography by Justin Peck and the world premiere of a new work by Philip Glass.
As always, the season culminates in the world-famous Last Night, which will be led this year by Finnish conductor Dalia Stasevska on 10 September.
She will be joined by superstar cellist Sheku Kanneh-Mason and Lise Davidsen, the Norwegian soprano who has been described as having "a voice in a million".
Pickard said the diverse range of genres in this year's line-up reflected "how quickly music is moving".
"What might have been appropriate 10 years ago is very different from what we can do today. Back then, there wasn't the wealth of fantastic music for us to do a gaming Prom. But this year, with so many film composers turning to the genre, we can put on something really special that reaches a completely new audience."
Tickets for the Proms go on sale on Saturday 21 May; with 96,000 seats available for £20 or less. A certain number of tickets can be bought on the day of each concert for just £6.