Koko was gutted by fire, now it's changing the face of live music
By Mark Savage
BBC Music Correspondent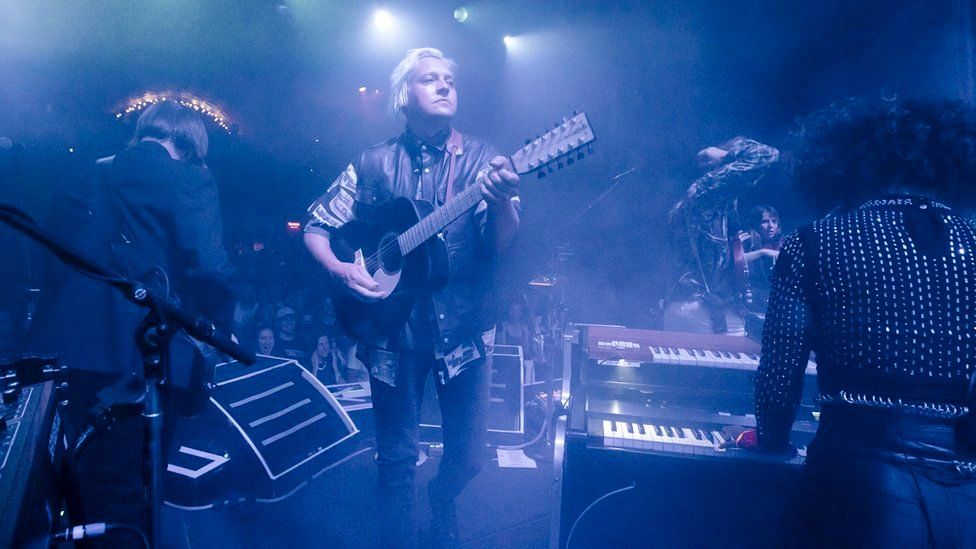 On Friday night, Arcade Fire will become the first band in three years to play a show at London's historic music venue Koko.
They follow in the footsteps of Amy Winehouse, Prince, The Rolling Stones, Dave, The Clash and Lady Gaga - who have all chosen the hall for intimate, one-off shows.
The Victorian-age, multi-balconied theatre was the site of Madonna's first ever UK performance in 1983. Twenty-two years later, she returned to launch her Confessions On A Dancefloor album, with fans camping outside for one of the 2,000 exclusive tickets.
"We're really excited," says Arcade Fire guitarist Richard Reed-Parry. "Whenever you play a venue that's been host to so many incredible performers over the years, it sinks into the stage on some level."
Opened in 1900 by the famous actress Ellen Terry, Koko was originally a theatre, which hosted regular performances by Charlie Chaplin. After the Second World War, it was taken over by the BBC, who recorded live comedy by The Goon Show and Monty Python's Flying Circus there.
"It's a fairly small theatre," wrote Michael Palin in his diary. "Rather attractive... with Atlases supporting enormous mock columns and a rather luxurious intimacy about the atmosphere".
After the BBC left, it became a hang-out for punk bands like The Clash and The Jam. In 1980, it was reportedly the last venue AC/DC's Bon Scott was seen drinking at before his death from alcohol poisoning.
Two hundred cans of hairspray later, it was renamed The Camden Palace and transformed into a hot spot for the New Romantic movement. In 1983, it was voted Europe's best nightclub.
"The chemistry of the place gets hold of you and takes you to another world," one club-goer told the BBC at the time (the news report noted that the price of a pint was a "very reasonable" 90 pence).
By the time it shut its doors in March 2019 for a long-planned refurbishment, thousands of bands had graced the stage, from The Killers to The Cure.
But it was never supposed to be dark for so long.
After construction started, the concert hall was struck by a Biblical level of misfortune, with work stalled by a fire, a flood and, in the shape of Covid-19, an actual plague.
"It's been quite a big journey," says owner Olly Bengough, underplaying the severity of the situation.
And although fire fighters doused the flames before they spread to the theatre below, Bengough was faced with 150,000 litres of water damage "which ripped through the fabric of the building and brought it to its knees".
Architect Fahmida Rahman remembers the moment a friend told her about the blaze.
"It was a Sunday evening and I was preparing to go to bed," she says. "I got a text message from a colleague with a link to a live-stream of the fire. I have to say, I was speechless."
"I almost didn't believe it was true," agrees Bengough, who was in America with his family when the news arrived. "How do you explain something like that?
In the aftermath, friends, musicians and even Camden council reached out to offer support. English Heritage and the Victorian Society also pitched in, helping to rebuild the dome with materials matching the 120-year-old originals.
"We've painstakingly reinstated every beam, truss and panel [using] photographic evidence, archival information and original surveys," says Rahman, sitting inside the dome in January.
This is something of a first: The dome was never accessible before the fire. Now, it's a cosy, wood-panelled cocktail bar, where DJs can play chill-out sets late into the night.
It's not the only change. The £70m refurbishment has transformed Koko from a thriving concert hall into a multi-storey music mecca, with seven performance spaces, a recording studio, a radio station, a jazz club, and a private member's club with its own library and a hidden speakeasy.
To facilitate this expansion, Bengough bought two buildings at the back of the venue: A piano factory dating to 1800, and The Hope & Anchor pub, a regular drinking hole for Charles Dickens.
The latter was necessary to save Koko's future: A previous developer planned to turn the pub into residential flats, which would have impinged on the venue's ability to host live music. Bengough had to challenge those plans in the High Court, which ruled Camden Council had been "significantly misled" by planning officers.
Redeveloped, expanded and recombined, the new complex will create a "catherine wheel of activity" around the main stage, says lead architect David Archer.
"We talked about creating a 'legendary night out' - because the licence is so long that effectively you could come here on a Friday night and leave on Sunday afternoon; and enjoy different entertainment at different times of day in all of the different venues".
Crucially, the whole building is wired up for live streaming, letting artists play to fans who can't reach London, whether they're in the main auditorium or the glazed roof terrace.
The technology seems like a no-brainer after the recent explosion in online shows; but when Bengough dreamt up his plans in 2013, streaming gigs were far from the mainstream.
"I could see that smartphones were going to dominate and that the age of streaming was only going to get bigger and bigger," he explains, "so why wouldn't artists want to stream shows and share them with their fans globally?"
His concept has already been embraced by the industry.
"If I were an artist or a fan, I would head straight to Koko," said Lyor Cohen, YouTube's global head of music earlier this year.
"I was blown away," adds US DJ Honey Dijon, who'll return to the venue in May. "It's clubs within clubs - like a 360 degree, all-you-can-eat for culture.
"That's why I named my party night Pandora's Box - because it just keeps unfolding."
Her words came to life when I took a hard-hat tour of the renovation last September. Even with construction in full swing, it was like entering an Aladdin's Cave of music. Every corner of Koko contains an unexpected surprise or delightful detail - from the playful cigarette motif of the jazz club carpet to the velveteen train carriages where members can listen to vinyl.
The public and private spaces engage in a continuous dance. You can take a Harry Potter-esque "secret staircase" from the dome right into the main venue; or stumble into your favourite artist hosting recording a podcast at the in-house radio studio.
This was Bengough's idea all along. As the owner, he has always been able to move seamlessly from dressing rooms to the thrum of the audience - and he wanted visitors to have the same experience.
Architecturally, there are some stunning touches. The roof terrace actually "floats" above the original venue, which the owners were prohibited from modifying.
"It's literally on stilts sitting through the building and then hovering on top," says Julie Humphreys, the project's co-lead architect. "So that's a first, in the sense of being able to build on top of a Victorian theatre."
Also discovered during the construction process was a huge shaft above the main stage, which was originally used to winch scenery up and down for theatre productions.
"It was a void that had been covered up within the building - and to mitigate acoustic disruption, it had multiple layers of plasterboard and insulation blocking it up at about halfway through its height," explains Archer.
All that material has been cleared out and replaces with a stacked gallery overlooking the stage. It allows bands to play "in the round" - with the audience surrounding them on every side. Alternatively, the stage curtain can be dropped so that artists can play a more discreet gig as fans observe from above.
"It's a new venue within the venue and it's a one-off," says Bengough. "I think it's going to be an exciting space for artists to perform if they want to do a small, intimate show. It's quite a special space."
It's a philosophy that permeates the club. Whatever an artist wants to do, it's possible - from playing to thousands in the main arena; to livestreaming an intimate acoustic set from the roof.
In the future, Bengough wants bands to hold residencies, taking over every performance space for a mixture of live gigs, fan events, live-streams and after-parties. They can even write a song in the in-house recording studio, and debut it for fans later that night.
"The last two years have been really hard for artists and musicians, and I think any way venues can support new revenue streams is really important," says Mercury nominated jazz musician Moses Boyd, who returns to Koko on 29 July.
"Live-streaming offers musicians the chance to expand their audience outside these four walls, so venues like this, where every room is set up for live-streaming is definitely the way of the future.
"I think more venues should be looking at adopting it."