TikTok helps UK book sales hit record levels, Publishers Association says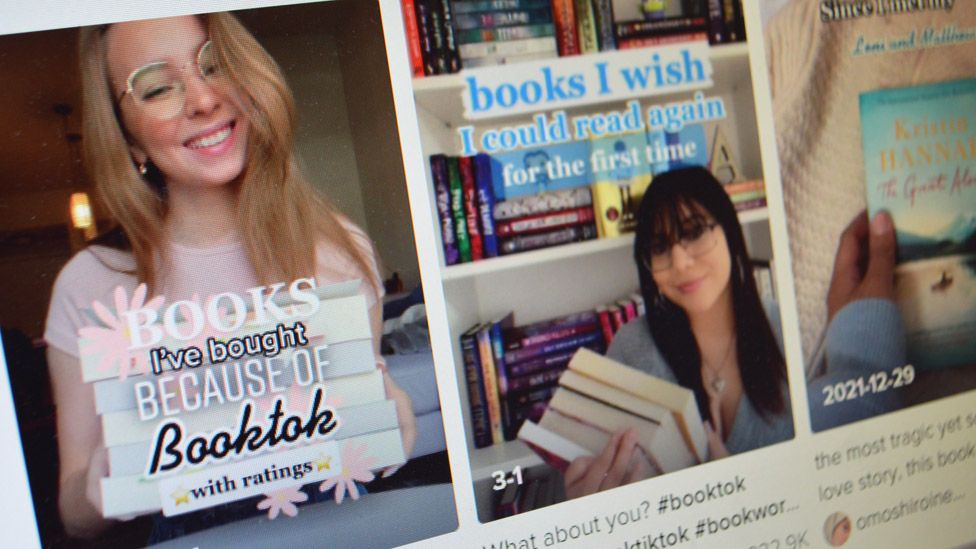 Publishers say the popularity of readers discussing their favourite books on TikTok helped lift sales to record levels in the UK in 2021.
Total book sales rose 5% to £6.7bn last year, with fiction, children's and young adult all performing well, the Publishers Association said.
The organisation said four of the top five young adult bestsellers in 2021 had been driven by the BookTok trend.
They included hit titles like They Both Die at the End and We Were Liars.
Publishers Association chief executive Stephen Lotinga said viral videos on platforms like TikTok and YouTube had been "really significant" in encouraging readers to discover books.
"Anecdotally, we've had lots of individual booksellers talking about the fact that they're having lots of young people coming into their book stores, talking about books that they have heard about on TikTok and asking for them," he said.
"It is having an impact on the number of books sold, but the shape of what's being sold is changing as well. Throughout the pandemic period, we saw people increasingly buying what we call backlist books, which are books that have been published in the past."
Many of the titles that have taken off on TikTok are several years old rather than brand new releases.
They Both Die at the End by Adam Silvera, which was the top-selling young adult book of 2021, according to Nielsen, was first published in 2017 before enjoying a resurgence. E Lockhart's We Were Liars, which was third on the list, originally came out in 2014.
Emilie Marneur from publisher Bonnier said We Were Liars sold four times more copies last year than it had in the previous seven, while TikTok also pushed two of the company's other older titles into last year's top 50 young adult bestsellers list.
"The sheer volume of sales we saw in that one year on the back of the TikTok activity far exceeded the combined sales we've seen for those titles over their lifetime before that," she said.
We Were Liars, which has "a very, very dramatic" ending, benefited from a "big trend around books that make you really sad or have a very unexpected ending", she explained.
Mr Lotinga said the overall sales figures reflected "quite an incredible performance" given that book shops were closed during lockdown for the first three months of 2021.
Despite that, print sales were up by 5% over the entire year while sales of audio downloads rose by 14%, but digital sales in consumer publishing were down by 1%.