Tom Parker: Fans say emotional farewell at The Wanted singer's funeral
By Steven McIntosh
Entertainment reporter in Petts Wood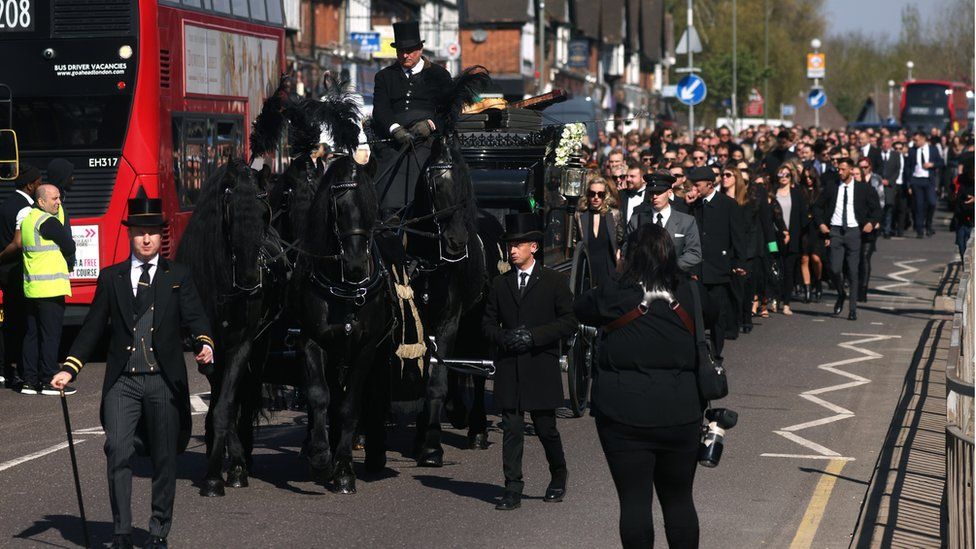 Hundreds of fans have gathered outside the funeral of The Wanted singer Tom Parker, who died from brain cancer last month at the age of 33.
They saw the star's widow, Kelsey, lead a hearse pulled by four black horses through Petts Wood, south-east London.
On the side of the carriage, flowers spelled the words "Tom" and "Daddy".
The title of the boy band's 2011 number one Glad You Came also formed a floral tribute outside St Francis of Assisi church.
Stars including One Direction's Liam Payne and Parker's bandmates from The Wanted were amongst those in attendance.
Fans were invited to pay their respects as the funeral procession made its way down the Queensway in Petts Wood.
Traffic came to a standstill and the large crowd fell silent as the coffin was carried from the undertaker's into the waiting hearse. The silence, save for the occasional dog barking or baby crying, was striking for what is normally a busy high street.
But as the procession set off on the 15-minute walk to the church, the hundreds of fans were encouraged by the celebrant to "clap and cheer loudly" - which they duly did.
Upon arrival, family and friends made their way into the church as others congregated outside to watch the service on four large TV screens that had been erected outside.
Many were in tears, hugging each other. Some were dressed in black, but others wore brightly-coloured T-shirts and hoodies emblazoned with The Wanted's logo.
Parker's bandmates Jay McGuiness, Max George, Siva Kaneswaran and Nathan Sykes carried his coffin into the church as the poignant Champagne Supernova by Oasis played over the speakers.
Parker's brother Lewis, his wife Kelsey and his bandmates were among those who shared memories or did readings during the service.
George delivered a touching and often-humorous speech as he shared memories of working with Parker. "As we were carrying Tom in, I could actually hear him saying, 'It's about time', because he's carried us for the last 15 years," he joked.
"Tom was and always will be a brother to myself and my bandmates. He made such an impact on us from the start, and his love for music and his striving for success outmatched any of us."
He continued: "[Tom] was the only member of The Wanted to have a punch-up with every member of The Wanted." The mourners laughed warmly as Kaneswaran, who was standing beside George, added: "He did lose every fight, by the way."
"It is so wonderful to see all the support for Tom," Kaneswaran continued. "There's one thing we can all agree on - Tom Parker was an absolute hero."
George concluded: "He has left us far too early and we will miss him so much. The heartbreak shared here today is a credit to the love Tom shared. The people outside, the people all around the world, is a credit to him. Rest easy, mate."
Kelsey's eulogy was pre-recorded because, she explained, she would have found it "too painful to stand up in front of everyone".
In her audio message, she recalled meeting Tom outside a nightclub when she was 19. The singer asked if he could add her on Facebook, "and the rest is history," she said. "I told everyone from that moment, I'm going to marry Tom Parker.
"Life with you, Tom, was never boring," she continued. "We spent a lot of our first years together drinking Mahiki [nightclub] dry, dancing all night long, parties in our Battersea flat, and having the funniest, most irrelevant drunken fights.
"Tom, your energy was never-ending and your creativity was out of this world. We all know how much you loved an invention, I bet you're gutted you never made it on Dragons' Den.
"You were the best husband I could ever ask for... You did everything with love and no malice."
Parker married Kelsey in 2018, and the couple have two young children, Aurelia Rose and Bodhi.
Tom's mother, in a message read out by the singer's brother Lewis, said: "We have nothing but love and pride for not only his achievements, but his positive attitude, resourcefulness and determination.
"We will always be faithfully and unswervingly at his side. He was an amazing son and brother who we love dearly."
Bolton-born Parker died at the end of March, almost 18 months after he revealed he had been diagnosed with an inoperable brain tumour.
Kaneswaran remembered Parker's "big Boltonian heart", adding: "He was never afraid to stand up for what was right, no matter the risk."
Other songs played during the service included Handbags and Gladrags by Stereophonics, Live Forever by Oasis, the hymn Amazing Grace and The Wanted's own single Gold Forever.
As the coffin was taken from the church back to the hearse, some fans released golden heart-shaped balloons from the crowd.
Fans remember 'our favourite person'
After the ceremony, fans comforted each other and shared their memories of meeting Parker and seeing the band in concert.
"Tom has been like a constant in our lives for like 12 years," one fan, Bethan, told BBC News.
"If you tweeted him, he'd always respond to you and big you up. It was like you were his favourite person in the world whenever you got to speak to him.
"And he was our favourite person in the world. None of us want to be here, obviously, but we get to do this together."
Another fan, Tamara, said the large number of people attending the funeral "just shows the legacy he has created, and the love he has outpoured to so many people".
"This love is for Kelsey and the family. We're so grateful we got the opportunity to be here for this."
She added: "The funeral was a real tribute to Tom. To hear his family speak about him. I wasn't even surprised hearing the stories because it was kind of like we know him already. So it was just a beautiful moment to hear those stories."
Another member of the same group, Maddie, said: "He was so lovely. He was always welcoming, the nicest person and the loveliest man."
All four friends had met Parker several times over the years. "He loved his fame, he knew the power he held with being famous," Bethan said. "So he always made sure he felt the love we'd been able to give him. He didn't take a second for granted with any of us."
Recalling one encounter with Parker, she said: "Outside a radio station, I remember him running away from security, trying to come back to us. He wanted to be with us.
"I'll cry listening to their music, but I won't ever not love listening to it, because that was our communication with him. It's going to be painful listening to their music for a long time, but he loved being in The Wanted."
Bethan and Tamara explained that they were wearing butterfly hairclips in tribute to Tom - the butterfly has been adopted by many fans as a symbol for the band.
"Everything is butterflies because of Gold Forever," Bethan explained. "Could he have written a more perfect song to remember him by? We're all getting tattoos of butterflies and the lyrics of Gold Forever, all because of him."
Fans were seen crying and singing along to Gold Forever as it played at the end of the service.
The lyrics seemed particularly fitting at the funeral: "Say my name like it's the last time / Live today like its your last night / We want to cry but we know its alright / 'Cause I'm with you and you're with me / Butterflies, butterflies, we were meant to fly."
"You'll have seen butterflies everywhere," said Bethan. "If you go on Twitter you'll see most of our fan accounts have got the blue butterfly emoji in, and whenever Kelsey posts something there's always a butterfly in it, because that's our strongest symbol of connection with him."
The Wanted had 10 UK top-10 singles between 2010 and 2013, including All Time Low, Chasing The Sun, Heart Vacancy and Lightning.