Douglas Stuart: Booker Prize-winning author 'feels like an impostor'
By Rebecca Jones
Arts correspondent, BBC News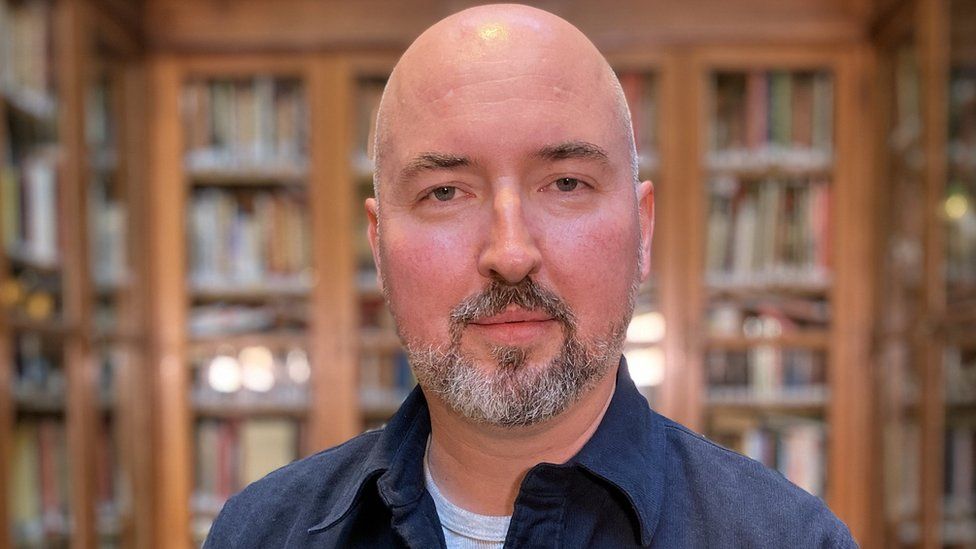 Bullying, bigotry and benefits. That is how author Douglas Stuart describes his challenging childhood.
But he then went on to have a successful career as a fashion designer before winning one of the most famous book prizes in the world - with his first novel too.
Now, his eagerly-awaited second novel is being published and life is good. So why is Douglas Stuart "a nervy wreck?"
"I've always felt," he tells BBC News, "a little bit of an impostor my whole life. I think we can't ever underestimate what childhood trauma does to people and how it can undermine our confidence. I still carry a lot of that with me. I have a lot of chips on my shoulder."
It's a startling admission from a writer who won the 2020 Booker Prize with his debut novel, Shuggie Bain, a tough but tender story about a young gay boy and his alcoholic mother in 1980s Glasgow.
His second novel, Young Mungo, is a gay love story, about two working-class teenagers who dream of a different life, set in the masculine and often violent world of Glasgow's housing estates and cramped council flats in the 1990s. It is a world Stuart knows well. While his books are not autobiographical, they do draw heavily on his own childhood, growing up in a poor family and relying on benefits.
Stuart was born in Glasgow in 1976. His father walked out when he was four and died when he was eight. He and his older sister and brother were brought up by his mother, an alcoholic, "who had very, very serious mental health issues".
"I think my writing is always about embracing my past," he says. "I think so much of our working-class history doesn't get recorded in literature enough. And so I wanted to really talk about what it felt like for me and for probably a lot of people growing up both of the working class and in the north."
But if that was not enough, Stuart also had a "huge" secret. He was gay. He was desperate to fit in and wanted, he says, to feel like one of the lads.
"I was trying to be tougher," he remembers. "I was trying to be better at sports. I was trying to be hyper-sexualised with girls." But, he reflects: "I was terrible at it. It wasn't a natural state for me."
Instead he was effeminate and that marked him out as different. "I liked dolls, I liked skipping rope. And the boys liked fighting and football. And I remember being about six or seven and it was a wet Wednesday. And the boys looked at me in this classroom and they said, 'What is wrong with you?'
"The moment there was a chink in the armour like that, the moment that they saw that they had pierced some kind of shame inside me, it just started to build and to grow throughout the rest of my time at school." He was bullied "for being queer," almost every day.
Stuart was, however, resilient and lucky. Two teachers noticed he was "a creative kid" and he managed to get to university to study fashion at the Royal College of Art where he was spotted by a talent scout for Calvin Klein.
He travelled to New York, where he still lives, and later worked for Ralph Lauren and Gap. "That was the right place for me," he says of the latter, "because I was making clothes that real people could afford".
Nonetheless, he says he increasingly felt "creatively unfulfilled" and, in 2008, he started writing.
It took him 10 years to finish Shuggie Bain. It was rejected by more than 40 publishers, in part, Stuart believes, because the mostly middle-class people who work in publishing reacted with "prejudice" to a working-class story. It was finally published on both sides of the Atlantic in 2020, and won the Booker Prize the same year.
The judges said: "It's not a story where everybody lives happily ever after. It is challenging, intimate and gripping. It is not an easy read." But they believed it was "destined to be a classic".
It has gone on to sell more than 1.5 million copies around the world. The success has transformed his life. Other writers from similar backgrounds are not so lucky.
Stuart has overcome more barriers than most. And now comes Young Mungo - which proves Shuggie Bain was not a one-off. Indeed, Shuggie himself makes a blink-and-you'd-miss-him appearance in the new book, almost as if he is keeping an eye on Mungo.
The setting and many of the themes are the same - in fact some critics have complained the novels are too similar, with Johanna Thomas-Corr writing in The Sunday Times: "Young Mungo's many virtues don't disguise the fact that Stuart is rearranging the core elements of Shuggie Bain (alcoholism, rape, neglect, homophobia, domestic abuse) with the same family dynamics too."
I found Young Mungo a more harrowing read, and while the blossoming love story between the two boys is beautifully drawn, at times the book is unbearably violent.
It is, however, a vivid portrait of a community collapsing as manual industries closed during Margaret Thatcher's government in the 1980s, leading to job losses, high unemployment and low prospects.
Stuart writes with insight and empathy about ordinary people going through tumultuous times and their sense of being forgotten. There was "no hope," he remembers. "No-one was going to come to your rescue."
And he thinks the situation is actually "worse" now. "We had such a sense of community in the 1980s and we had such a sense of people looking out for one another. We were in it together in many ways. And I think sometimes that feels like it's come apart," he says.
So what now for Stuart? He is working on two new novels, including one set in New York, and is currently adapting Shuggie Bain for a BBC TV series, which will be directed by Stephen Daldry.
"As a young man I grew up and we didn't have books, but television was our king. And so when I was approached to write the adaption, it was really important for me to do that because I think there are many people who might never read Shuggie Bain but who would appreciate the story and the characters and feel a connection with them. So I wanted to take charge of that."
He is also delighted with the cover of Young Mungo, which features a striking photograph by Wolfgang Tillmans of two boys kissing.
Those doubts rise up again as he admits to being "worried about what people will think."
But he insists: "I wasn't trying to be provocative or to start any conversations. But I think so often queer culture can be incredibly coded. We can sort of talk about it out of the corner of our mouths or look at it out the side of our eyes. I didn't want to do that."
He says he could not write a story about two young men "and not be brave enough not to put a kiss on the cover. Because for me this is just two lads kissing, fully clothed, what could be more normal than that?"
And, he adds, smiling. "If you don't like the picture, you're not going to like the book."