Oliviers 2022: Jason Manford's best jokes and 7 other highlights
By Steven McIntosh
Entertainment reporter at the Oliver Awards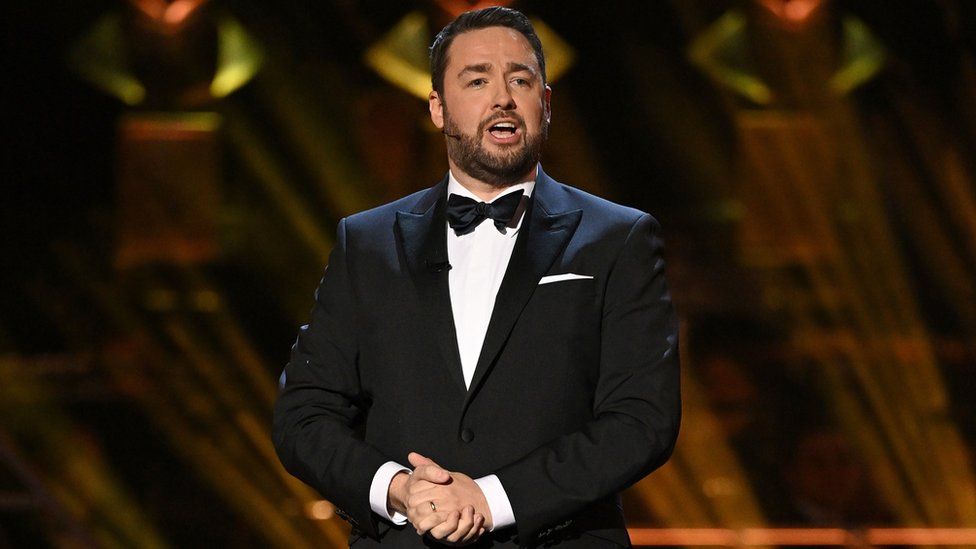 Before Sunday's Olivier Awards got under way, host Jason Manford popped on stage for a quick housekeeping chat with the audience.
"There will be moments where I've got to fill a bit of time when they're changing the set," he explained. "So I'll come out and have a chat with some of you guys in the audience. Please don't slap me in the face."
The crowd at the Royal Albert Hall laughed and cheered - grateful that Manford had broken the ice so early in the night.
"I'm a comedian, and this is an awards ceremony, and those two things have not gone down well together lately," Manford continued once the Oliviers ceremony started, kicking off what will surely be a whole year of Oscars jokes from awards hosts.
"So before we get into this properly, let me tell you, I think all your hair looks lovely, and I will very much be keeping your wives' names out of my chuffing mouth this evening. This is an evening of back-slapping, not face-slapping.
"The last thing I need is a slap in the face from the seven actors who played the tiger," he added, a reference to the stage adaptation of Life of Pi which went on to win several prizes at the ceremony.
Cabaret was the other big winner, and there was a joyful mood at the first Olivier Awards to take place since live performances resumed last year. Here are eight highlights:
1. Eddie Redmayne needs a rest
It's not often you get two Hollywood stars in the West End, but following the huge success of Cabaret and Olivier wins for its stars, could Jessie Buckley and Eddie Redmayne be tempted back soon?
"100%," says Buckley backstage. "I grew up in theatre, these people are my family."
Redmayne is less enthusiastic. "Jessie's like 'yeah', I'm like 'I need a rest!'" he laughs. "We've both just finished [Cabaret], and we both need to go on holiday."
Meanwhile, their co-stars Elliot Levey and Liza Sadovy, who won best supporting actor and actress, are full of praise for Redmayne and his work ethic.
"I judge actors on their ability to work on stage," says Levey. "When big stars come and try [theatre], if they can't do it, I sort of write them off. I think they're great and wonderful, but a bit of me goes 'you're not proper'. Eddie Redmayne is proper."
For Sadovy, winning an Olivier for Cabaret was a full-circle moment. "When I was a teenager, I was obsessed with the film," she explains. "My name is Jane Elizabeth, but I switched it round to Liza Jane because I was obsessed with Liza Minelli and Cabaret. So I've always felt Cabaret is in my bones, and now it is."
2. You are invited to Hiran's after party
Hiran Abeysekera said he was "overwhelmed" to win best actor, describing the process of bringing Life of Pi to the stage as "wonderful".
The ambitious show sees a boy named Piscine recount his experience of surviving for months on a boat alongside a Bengal tiger and other animals following a shipwreck.
"The challenge has been crazy - it's pushing your imagination or pushing reality to the max," he says backstage. "The book was so beloved by everyone, it was quite a scary proposition. But after we started, and when we had the first rehearsal we thought, 'we have something quite special'."
(Side note: If you go to see Life of Pi, our tip is to avoid the stalls. You'll get a much better view of the crashing ocean waves projected on the stage floor from the Royal Circle.)
How does Abeysekera plan to celebrate his win? "Tonight, I think there's an after party, but then there's going to be an after-after party at mine, so if you're free, I'll see you at my place!"
We thought he was joking about this until he literally gave us his home postcode. (Sadly we couldn't attend because we were writing this article.)
3. Isobel McArthur needs a (small) trophy cabinet
Word-of-mouth hit Pride and Prejudice* (*Sort Of) took home the prize for best entertainment or comedy play following its West End transfer last year.
"It was incredible for us to do anything more than the two weeks we were booked to do it in a 200-seater theatre in the east end of Glasgow, which was the case in 2018," reflected co-director and writer Isobel McArthur backstage.
"So to then get any interest from anybody else, then get a UK tour and then go to the West End, for me is utterly surreal. But I think it just goes to show that when you're intimidated and at the start of your career and you ask: 'How did I eat an elephant?' The answer is one step at a time."
Wise words. The now Olivier-winning show is set to go on tour later this year.
"Where am I going to keep my trophy? It's the first trophy I've ever received!" she notes. The perfect time to buy a trophy cabinet then, we suggest. "Yes I'll buy one very, very small cabinet!"
4. Jason Manford delivered some zingers
References to slap-gate aside, Manford once again proved to be a perfect Oliviers host, delivering some top one-liners in his opening monologue.
"At first, theatres were only allowed to open at half capacity. I couldn't tell the difference on my own stand-up tour but I'm sure it was very difficult for a lot of you."
"I made sure I did my hour's exercise [during lockdown], what a weird moment in history where we were in our houses but only allowed out for an hour a day to exercise. Half the country were livid, asking 'only an hour?', the other half asking 'is it compulsory?!'"
"Andrew Lloyd Webber said he would happily risk arrest if he could open his theatres. He was like the Che Guevara of the West End."
"It was a noble gesture, but I've met him, and he wouldn't last five minutes inside would he? 'What are you in for?' 'Murder, what about you?' 'Staging Cinderella at the Gillian Lynne Theatre.'"
5. The Life of Pi puppeteers may need some throat sweets
In one of the night's most brilliant moments, the best supporting actor prize was shared between the seven-strong team who operate the tiger in Life of Pi.
The role requires a great deal of physical stamina, as well as an ability to roar, loudly, throughout the show.
"We definitely had sore throats at the beginning," laughs one of the puppeteers, Fred Davis.
The animal is physically operated by two teams of three, with a seventh actor, Habib Nasib Nader, providing the voice of the tiger, (as heard by Pi).
"It feels amazing that we were up for best supporting role, because being a puppeteer is such a suppor-tive role," notes Romina Hytten. "You have to have the support of all three of you every night, so that feels like an extra level to this award."
6. Rebecca Frecknall's win for Cabaret was poignant
One of the ceremony's most moving speeches saw Cabaret director Rebecca Frecknall dedicate her prize to her late father.
"In the second week of rehearsals, I lost my dad to prostate cancer," she said on stage, "and this company and team picked me up and carried me when I needed it. So this is for them and my dad Paul, who played the Emcee as a student in 1975."
Backstage, she continues: "My dad gave me a videotape of Cabaret when he was a teenager, and I fell in love with it back then and I knew he'd played it.
"It's sad that he can't be here tonight but it feels really poignant that I've won it for this show, so it means a lot."
7. Catherine Zuber knows the value of understudies
Costume designer Catherine Zuber explains she's "been running around the world during Covid doing Moulin Rouge!"
She isn't joking - the stage adaptation of the 2002 film has opened in Australia, on Broadway and in London's West End. And it's not stopping there.
"We were just in Chicago doing the US tour," Zuber explains, "and before we opened, all the principals had to go into quarantine because of Covid.
"And the covers [understudies] went on, and they were fantastic, they were so prepared, we were prepared with costumes, and that's the way it needs to be now. We really need to be aware that we need almost a whole second company to take care of things that may come our way."
8. We can confirm an Olivier is quite heavy
The first thing best supporting actress winner Liz Carr asks on the red carpet is whether we can hold her Olivier for a moment, ("just because it's so heavy, feel it, it's heavier than I am"), something we're delighted to do.
Trophy safely in our possession, we ask Carr why stories about the AIDS crisis in the 1980s are striking a chord at the moment - her play The Normal Heart followed the broadcast of Channel 4's acclaimed drama It's a Sin.
"It's two things," she says. "You've got whole generations who don't really know what it was like back then, and then you have those of us who do remember, so it's hitting two audiences."
Carr says she enjoys working on projects which deal with social and societal issues close to her heart. "Art as activism to me is very important," she says. "People will listen when you entertain them, they're more open, and I think it breaks down divides."