Lord Michael Grade chosen as Ofcom chairman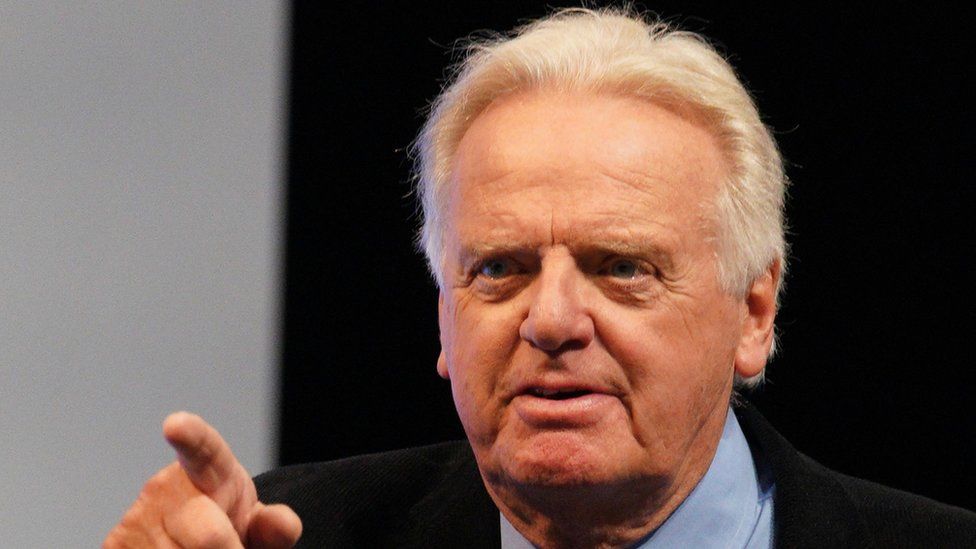 Lord Grade, the TV executive, businessman and former BBC chairman has been chosen as the new chairman of UK media regulator Ofcom.
Culture Secretary Nadine Dorries said she was "delighted" to announce he is the government's preferred candidate for the role.
Lord Grade said he was "privileged" to be asked.
Conservative peers Ed Vaizey and Stephen Gilbert were thought to be among the other candidates.
The recruitment process for the three-day-a-week, £142,500 job has taken two years, with ex-Daily Mail editor Paul Dacre reportedly having been in the running at one stage. It was overseen by civil servant Sue Gray, who also carried out the recent "partygate" probe.
Ms Dorries added: "Lord Grade's experience at the highest level of a number of broadcasters and his expert knowledge of the British media landscape makes him an ideal candidate for this role."
She commented that Ofcom now has an "even more important role to play", saying the introduction of the Online Safety Bill will give it new responsibilities and resources to "ensure digital platforms tackle illegal and abusive material online".
"I am confident that under Lord Grade's leadership Ofcom will rise to the challenge with great success," she said.
Lord Grade said Ofcom is "respected across the globe as a first-rate communications regulator", adding: "The role of Ofcom in British life has never been more important with new responsibilities on the horizon regulating online safety, on top of the ever-changing broadcasting landscape."
The former TV executive is due before the DCMS Select Committee before being formally appointed. He said he is looking forward to outlining "what I can bring to this role and how I can help ensure Ofcom is fit for the future".
So Michael Grade is back. How does he want to reform the media - and will he be free to do so?
One of the most experienced figures in British broadcasting, Grade was widely held to be an effective and galvanising figure in the various senior positions he held. Of late he has been a trenchant critic of the BBC and, crucially, of the licence fee. He has also backed privatisation of Channel 4.
The government had wanted Paul Dacre, the former Daily Mail editor, to do the job; but he pulled out of the race with a letter to The Times.
For all his maverick streak, that context makes this Conservative peer a political appointment at an independent regulator. Precisely how much power he will have to achieve political ends is unclear. The BBC governs itself, largely. Ofcom has a respected Chief Executive in Melanie Dawes. Reforming Ofcom's remit may require primary legislation.
No doubt Lord Grade will be energetic, with a zeal for reform; but he will need political cover for any big changes he envisages.
Earlier this year, he warned that the BBC's £159 licence fee was "too much money" and suggested the corporation should close channels to cut costs.
"It's like the monarchy - it exists to survive and it has given up no territory whatsoever," he told Radio 4's Today programme. "Why do we need both BBC Two and BBC Four for example? [Entire channels] must go."
Chris Elmore MP, Labour's shadow media minister, described the recruitment process as a "chaotic and quite frankly embarrassing example of Tory cronyism and ineptitude", and said Lord Grade was "a Conservative peer who is completely out of touch with the British public and referred to the BBC's coverage of the Downing Street parties as 'gleeful and disrespectful'".
"With Russia's illegal invasion of Ukraine showing the importance of robust, independent journalism and Ofcom poised to be handed more power to govern online platforms, the UK's reputation as a world-leading regulator is being put at risk by the government appointing another party insider," he added.
Liberal Democrat spokesperson Jamie Stone MP added: "In the midst of the Ukraine crisis and the past years of pandemic, the chair of Ofcom should be a strong independent voice defending the integrity of our iconic public broadcasters - not a card-carrying Conservative critic hurling abuse from the sidelines."
Lord Grade, 79, who started his career as a sports journalist in the 1960s, has formerly been chief executive of ITV, and also worked at Channel 4.
His father was theatrical agent Leslie Grade and his uncle was ITV founder Lew Grade. He joined the family business as a theatrical agent in 1966, before moving into TV in 1973.
Working at London Weekend Television, he poached Bruce Forsyth from the BBC and commissioned programmes such as The Professionals and the South Bank Show.
He joined the BBC in 1984 and became controller of BBC One two years later. There, he launched Dennis Potter's The Singing Detective, and purchased the Australian soap opera Neighbours for the channel's new daytime schedule.
Sir Bob Geldof said nobody else would have had "the bottle" to hand over the network to broadcast the Live Aid charity concert in 1985; while his other decisions included scrapping sci-fi favourite Doctor Who, and cancelling coverage of beauty pageants, calling them an "anachronism in this day and age".
Lord Grade accepted the post of chief executive of Channel 4 in 1988, where he helped to secure the rights to hit US shows like Friends and ER.
After leaving the channel in 1997, he worked for First Leisure, which operated nightclubs, bars and health and fitness clubs, before moving on to Pinewood and Shepperton film studios and taking a seat on the board of the Millennium Dome project.
He became chairman of the BBC in 2004, before heading up ITV in 2006 for three years.
He also became a Conservative peer in 2011.
Ofcom has wide-ranging powers over television, radio, telecoms and postal services, dealing with licensing, complaints and much else besides.
RT's coverage of Russia's invasion of Ukraine had been under investigation by Ofcom, and the channel had already disappeared from UK screens. In response, RT, formerly named Russia Today, called Ofcom "a tool of the government".
And late last year, Ofcom confirmed that BBC Three was to return as a TV channel in February 2022 - six years after it moved online.
What happened with Paul Dacre?
Last November, former Daily Mail editor Paul Dacre pulled out of the contest to become the next chair of Ofcom.
In a letter to the Times, he said he was not going to reapply for the role, after his initial application was rejected by a recruitment panel.
The process was then re-run after the initial interviews failed to settle on a candidate.
But Dacre said he had decided to take up an "exciting new job in the private sector" instead.