Bafta Film Awards: Jane Campion's The Power of the Dog wins top prize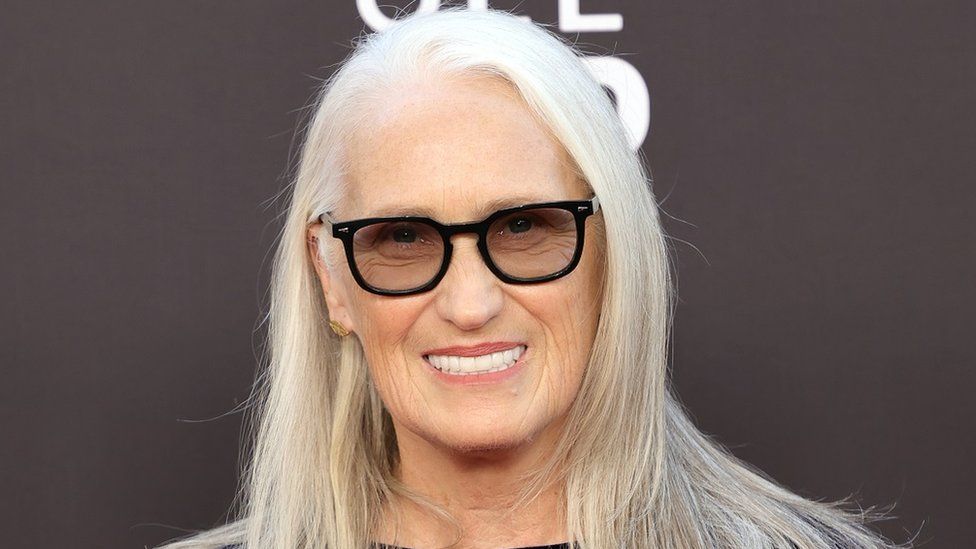 Netflix's moody Western The Power of the Dog won the top prize at the Bafta Film Awards, picking up best film and best director for Jane Campion.
Its star Benedict Cumberbatch wore a badge to show his support for Ukrainians as he accepted the best director prize on behalf of Campion.
He also said he hopes to offer a place to stay for a Ukrainian refugee.
Cumberbatch was beaten to the best actor award by Will Smith. Joanna Scanlan was named best actress.
Scanlan, who was previously best known for British TV comedies like The Thick Of It and Getting On, triumphed for her performance in the independent film After Love. She played a 60-year-old Muslim convert who suffers an identity crisis following the sudden death of her husband.
"Come on!" she said on stage in disbelief. "Some stories have surprise endings don't they?"
She beat a field including Lady Gaga, fellow musician-turned-actress Alana Haim, and Emilia Jones, the daughter of Welsh TV presenter Aled.
Jones starred in Coda, a film about the daughter of deaf parents, and her co-star Troy Kotsur made history as the first ever deaf Bafta film winner.
Delivering his best supporting actor acceptance speech via an interpreter, he said: "I think it's all great you're recognising my work from all the way across the sea, it's truly amazing."
Another US performer, Ariana DeBose, won best supporting actress for playing Anita in Steven Spielberg's new version of the musical West Side Story.
"This means so much to me, I'm somebody who sings, dances, acts," she said. "I speak dance better than I speak English."
Sir Kenneth Branagh's Belfast was named outstanding British film, while sci-fi saga Dune won five awards in total - best score for Hans Zimmer plus best cinematography, production design, sound and special visual effects.
James Bond's latest outing No Time To Die won two prizes including the EE Rising Star award for Lashana Lynch.
"I would like to thank the women of this country who taught me what it is to be in this industry as a dark-skinned woman," she told the ceremony. "I thank you for laying the foundation for people like me."
The ceremony was held at the Royal Albert Hall and was hosted by Australian comic actress Rebel Wilson, who largely kept the atmosphere light but did refer to the Russian invasion of Ukraine on a couple of occasions.
After the In Memoriam section, paying tribute to film industry figures who have died over the past 12 months, she said: "Our thoughts are also at this time with the people afflicted by the conflict in Ukraine."
And in a segment about sign language, she raised her middle finger, saying it was "the gesture for Putin".
The war was a topic of conversation on the red carpet earlier, when Cumberbatch said he was aware badges like his "could be dismissed as tokenism".
"This [ceremony] is a celebration of an industry that's about imagery, and images speaking as loud as if not louder sometimes than words. So it's a small gesture," he told BBC News.
"But away from this, what we all have to do is continue to put pressure on our politicians as far as the refugee crisis goes, continue to put pressure on the Putin regime, continue to help in any which way we can - whether that's through donations or housing refugees, all of which I'm looking to do and have done."
Fellow best actor nominee Stephen Graham, who was wearing a blue and yellow bow, said it was "vital" to acknowledge the war at the event.
"I want to show my support and solidarity for what people are going through," he said.
Bafta chairman Krishnendu Majumdar told the audience before the ceremony: "We are hugely grateful to the journalists and film-makers covering Ukraine, many of whom are Bafta members, who are bravely reporting and documenting the conflict and humanitarian crisis."
Dame Shirley Bassey then opened the event with a performance of her classic James Bond theme Diamonds Are Forever.
Big names returned to the Royal Albert Hall after a subdued affair last year, when many nominees appeared via Zoom amid tight Covid-19 restrictions.
No Bafta Fellowship or other lifetime achievement award was presented on Sunday, after last year's recipient Noel Clarke was accused by multiple women of sexual harassment following his win.