First trailer teases The Lord of the Rings: The Rings of Power TV show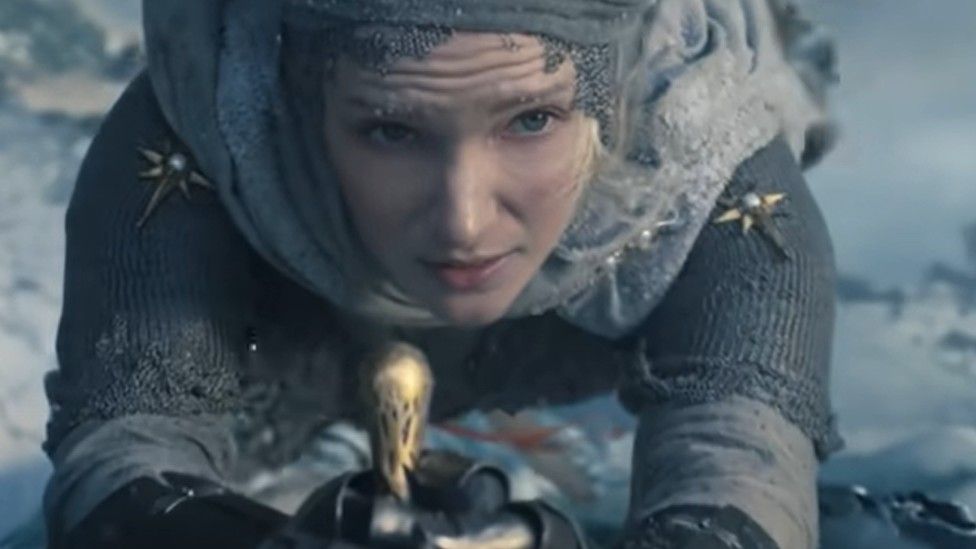 Lord of the Rings fans have been given the first glimpse at footage from the new $1bn (£800m) Amazon TV series.
The Lord of the Rings: The Rings of Power is thought to be the most expensive TV show ever made.
Set thousands of years before the books and Peter Jackson's movies, it will bring author JRR Tolkien's Middle Earth to the small screen in September.
The 60-second teaser trailer appears to show ancestors of the hobbits, and a host of other mysterious characters.
"Before the King, before the Fellowship, before the Ring - a new legend begins this fall," the trailer's captions reads.
It begins with what appears to be a harfoot - a form of hobbit - played by Markella Kavenagh begging the question: "Haven't you ever wondered what else is out there?
"There's wonders in this world beyond our wandering. I can feel it!"
Elves, dwarves and orcs also appear as the clip unfurls through snowy mountains, stormy seas and dark forests.
A young Galadriel, played by Morfydd Clark, is shown clinging onto an icy cliff face with a dagger, while Halbrand (Charlie Vickers) is seemingly stranded on a raft in the ocean.
Arondir (Ismael Cruz Cordova), a silvan elf, grabs a flying arrow and sends it back to whence it came, before Prince Durin IV (Owain Arthur) looks up thoughtfully.
We also see a young Elrond (Robert Aramayo), while Disa, princess of Khazad-dum (Sophia Nomvete), sings to the heavens, and a soldier (Will Fletcher) battles an orc.
Finally, a nearly naked man is surrounded by flames, reaching out to somebody, and a human hand holds that of a child - or maybe a harfoot.
Fans reacted online to the trailer, with one declaring: "Hell yeah! A black elf and black Dwarven Princess in the new Lord of the Rings show is giving me so much life and I'm crying happy tears. I'm so happy I've finally seen!"
Another noted: "Is it just me or have elves in stuff become less... elf-like.
"Ever since the original Lord of the Rings movies elves have just started to look like regular humans wearing fake ears, they don't have that elf look. I don't know what it is."
The show will also star Cynthia Addai-Robinson, Joseph Mawle, Sir Lenny Henry and Peter Mullan. It was filmed in New Zealand but will move to the UK for the second of an expected five series.