Omicron: Music venues report 'catastrophic' audience declines
By Ian Youngs
Entertainment reporter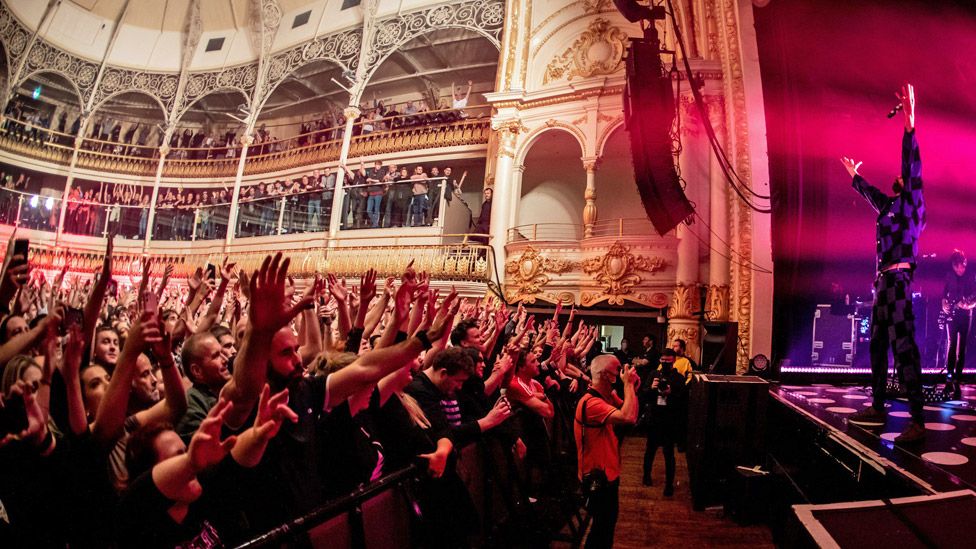 Fears about the Omicron variant - and a desire to stay safe before Christmas - have led to a sharp decline in bookings and attendances at many entertainment venues, industry figures have said.
The Music Venue Trust said audiences dropped by 23% in the past week, which is "catastrophic" for its members.
Lower than expected cinema takings last weekend were also blamed on Omicron.
Meanwhile, from Wednesday, some English venues require visitors to show a Covid pass, as well as wearing face masks.
On Sunday, Prime Minister Boris Johnson warned of a "tidal wave" of infections - and anyone who tests positive must self-isolate for 10 full days, which would now include Christmas Day.
Nathan Pearce from theatre ticket agency Seatplan said: "As soon as Omicron was reported as a serious threat we saw a 30% drop in sales almost overnight.
"And when Boris made his announcement we saw another 40% drop.
"Everyone now is facing huge uncertainty and the big worry is if we have to reintroduce social distancing, it would be hugely damaging."
'We can't take on more debt'
Music Venue Trust chief executive Mark Davyd said some fans are more worried about having their Christmas plans disrupted again than catching the virus itself.
"A lot of people are making understandable decisions last week and this week on that basis," he said.
But the downturn is costing the 900 grassroots venues that the organisation represents £2m a week, a large slice of which is lost bar takings from people who have bought tickets but don't turn up, he said.
"It will be interesting to see whether there is a slight bounce back in two weeks' time. But the reality is, this sector cannot lose £2m a week. It does not have £2m a week to lose.
"We've been through a very long crisis. There aren't the reserves in order to handle the £2m loss a week across the sector. We already have £90m debt as a result of the crisis. We cannot take on more debt."
The government should make more money available from the Culture Recovery Fund and suspend business rates and cut VAT again, he said.
"We really need the government to act now using all the tools it's had during the Covid crisis. We don't need, this time around, three to six months of debate about what to do. We already know what to do and so do they."
Nick Mills, who runs the 21Soho and 2Northdown comedy clubs in London as well as the TicketText ticketing platform, also said his sales "have fallen off a cliff", and around 40% of people who already have tickets are not turning up.
"I completely understand that people need to protect themselves for Christmas and they don't want to be isolating over that period, he said. But he added: "It's absolutely decimated attendances."
Around 20 shows that were scheduled in his venues before Christmas have been cut to eight as acts or promoters have cancelled them, he said.
"Sadly, we've got no option but to trade through. There's no government support, there's no assistance, no help. So the shows that we do have, we need to throw everything at them."
He added: "It's squeaky bum time. It's a panic. We thought we had come out of it and we thought everything was on track, and we don't know how many times it can restart. The amount of cost and effort that goes in and the mental exhaustion from it all...
"Salaries are due and rents are due and that won't change. So I've got to look at being creative."
Dawn Harrison has tickets to see Gary Barlow at the O2 in London and to take her family to see Operation Ouch! Live at the Lyric Theatre in the West End this weekend. But they won't be using them.
"It's just too much risk," says Mrs Harrison, 44, from Colchester, Essex. "It's just the crowds, being inside with loads of people.
"If it was a month ago, I don't think I'd necessarily have been that worried. But if we catch anything now, we're within a 10-day isolation period, so that messes up all of Christmas.
"Obviously I don't want get ill or anything, but it wasn't a very good Christmas last year. I want to protect myself and my family as much as possible to see more family this year."
She and a friend were able to get a refund for a hotel for the night of the Gary Barlow show. They are likely to lose the £90 cost of the tickets, but are willing to "cut our losses", she said.
Mrs Harrison and her husband took their daughter, 12, to a similar Operation Ouch! show two years ago. "She was so excited to go and see it again," she said.
"But she understands. We stood in the kitchen the other night having a little family meeting and talked it through. She says, 'Yeah I'm upset but I understand why.'"
In cinemas, Steven Spielberg's West Side Story remake earned £1.3m in its first week at UK and Irish box offices - more than £1m less than Lady Gaga's House of Gucci opened with two weeks earlier. This weekend's overall takings were the lowest since late September.
"There's nervousness for sure about going to the cinema and the numbers were not particularly strong," said Screen International deputy editor Louise Tutt.
But box offices are expected to rebound with Wednesday's highly anticipated release of Spider-Man: No Way Home.
The superhero sequel has enjoyed record pre-sales, although bookings opened before concerns about the spread of Omicron deepened.
"It will be interesting to see how Spider-Man does this weekend," Tutt said. "It's too late to move [the release dates of] that and the Matrix, the big pre-Christmas openers, and the distributors will be hoping they can last well into January when they will be hoping audience confidence returns."
Phil Clapp, chief executive of the UK Cinema Association, said West Side Story's takings were "disappointing", adding: "That undoubtedly does speak to concern amongst certain audience segments around Covid."
Older film fans - who are a large part of West Side Story's target audience - have generally been more reluctant to return to cinemas at all, he said.
"To contrast, what we've seen in terms of pre-sales and an audience response to Spider Man: No Way Home has been extraordinary. The level of pre-sales exceeds even the likes of [James Bond's] No Time To Die."
Many theatres are reporting healthy audiences for pantomimes and other Christmas shows, which are crucial for the venues' finances for the rest of the year.
Stephanie Sirr, chief executive of the Nottingham Playhouse and president of UK Theatre, said sales had "slowed down", but that her bigger concern is casts and crews staying Covid-free.
"What we're saying to companies is just be super vigilant and really take care of your health. And then to audiences, just follow every single safety measure that you possibly can with a good grace, and this won't go on forever.
"Because this is Christmas and this is when the money comes in. It couldn't be a worse time of year for this to have a resurgence."
She added: "The problem is, there's no talk of another recovery fund. There's no talk of another safety net for the industry.
"There just will be fewer theatres and fewer producers if the worst happens."
A spokesperson for the Department for Digital, Culture, Media and Sport said: "We have provided unprecedented support for the cultural, heritage and creative sectors during the pandemic through our unprecedented £2bn Culture Recovery Fund. So far more than £1.3bn has been allocated to around 5,000 individual organisations and sites.
"Under current plans, the additional £300m announced in the Spring Budget is the final allocation of the Culture Recovery Fund and will support organisations through to spring 2022. The fund is currently open for applications, and we will keep the delivery of the programme under active review and consider how best to adapt it in line with the needs of the sector."
Additional reporting by David Sillito.