Sophie Ellis-Bextor raises £1m in 24-hour Children In Need danceathon
By Mark Savage
BBC Music Correspondent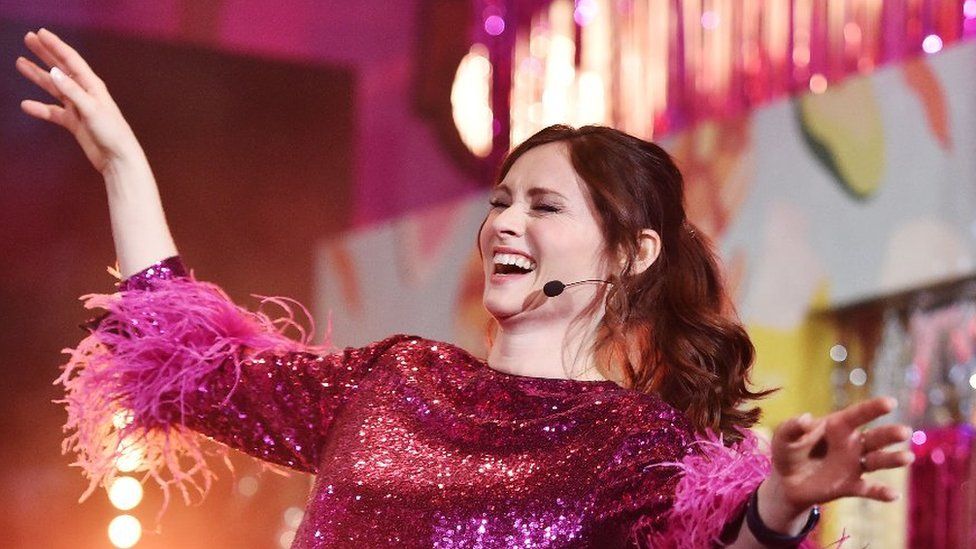 Sophie Ellis-Bextor said she's "going to go for a warm bath" after raising more than £1m through her 24-hour Children In Need dance challenge.
The singer's charity dance marathon saw her moving non-stop for an entire day and night.
Along the way, she boogied to the Radio 2 travel news, sang karaoke with Tony Blackburn and changed into a succession of ever-more sparkly dresses.
But she became increasingly tearful as the challenge ended.
"I'm such a mess," she told viewers watching the live-stream on BBC iPlayer. "I can't stop weeping."
Ellis-Bextor started dancing at 09:26 GMT on Tuesday, receiving moral support from friends including Natalie Imbruglia, Tamsin Outhwaite, Gemma Collins and Michael Ball over the subsequent 24 hours.
"If it kills me, it will be Murder On The Dancefloor, and I don't like the idea of that headline writing itself," she joked at the outset, referencing the title of one of her biggest hits.
The star managed to keep her spirits up throughout the night, but "hit a wall for the first time" as she entered the final hour.
"I thought, 'Oh my goodness, maybe I am going to fall into a heap on the ground'. And then I was like, 'Would people feel sorry for me, or would they want their money back?'"
After a "really good pep talk", she persevered through the final stretch, cheered on by her husband Richard Jones, their five young sons and her mother, former Blue Peter presenter Janet Ellis.
"I feel completely deranged," said Jones, who had stayed up with her all night. "But Sophie's been amazing. I can't believe the stamina."
After taking her final step - appropriately to the Abba classic, Dancing Queen - the star sank to her knees.
"It's actually been really fun," she said. "It's been an honour - but am I allowed to not dance or talk to people any more?"
BBC Radio 2 breakfast host Zoe Ball then revealed that Ellis-Bextor had raised £803,384 for children's charities across the UK. The total increased to £1,009,317 an hour after the challenge finished, and continues to rise.
"That is phenomenal," Ellis-Bextor said. "Thank you so much."
"I will double that total if you go for another 24 hours," actor Simon Pegg had joked, earlier in the show.
Speaking to BBC News in the ninth hour of the challenge, Ellis-Bextor said raising a family had been the best preparation for her feat of endurance.
"I haven't pulled an all-nighter for a long time," she said. "But because I have young children, there's been plenty of days recently where I've ended up doing what I do with very little sleep."
She added: "Maybe that's why the sleep deprivation doesn't bother me as much as it might have done - because I don't get much sleep anyway."
A former runner-up on Strictly Come Dancing, the star's challenge was streamed live on the BBC iPlayer, as she shimmied along to tracks by Abba, Beyoncé, Take That and Bon Jovi.
Ellis-Bextor said she chose the majority of the music herself, to avoid a mid-performance slump.
"If I hear something that I don't want to listen to then it's like kryptonite and all my energy will drain into the floor.
"So, the music is my companion, my conscience, my friend."
The star has also kept her spirits up with several costume changes, including three animal masks, and an unforgettable performance of Gangnam Style.
She even performed karaoke to several tracks, including her own hit single Get Over You, and a duet with Tony Christie on (Is This the Way To) Amarillo.
And if all else failed, she has a secret weapon - alcohol. "I have an emergency pocket negroni," she said. "I don't know if I'll need it but I think it's quite nice to have in my bag."
The challenge was inspired by Ellis-Bextor's Kitchen Disco sessions - a series of live-streamed concerts from her house during the 2020 lockdown.