Ding Ding! Crazy Frog to make a comeback in December
By Adam Clarkson & Alex Taylor
BBC News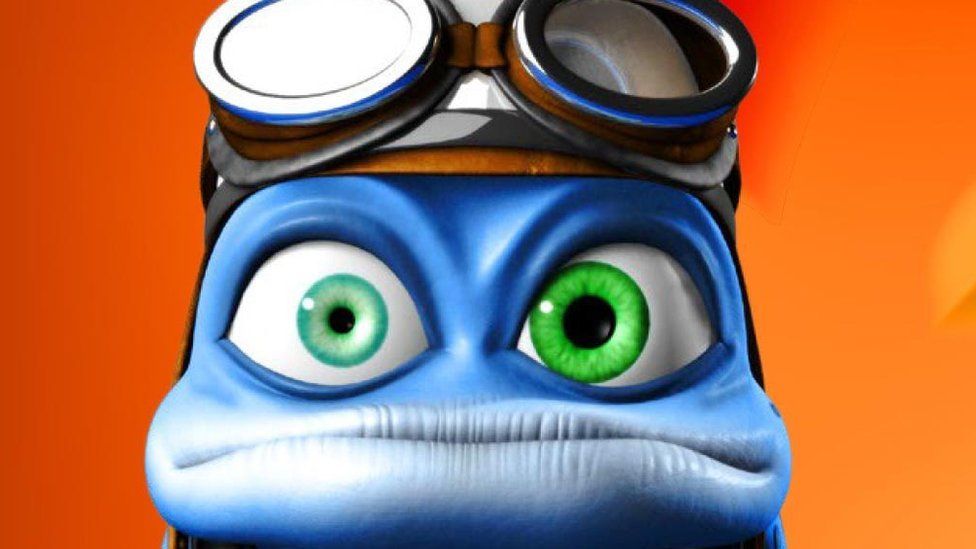 Crazy Frog, the force behind a viral ringtone that spawned a global chart-topping single in 2005, is to return.
The infuriatingly infectious frog will return on YouTube on 10 December.
The comeback track will be a mash-up of classic hits inspired by TikTok trends.
The decision to release new music follows an increase in interest on YouTube, according to Wolfgang Boss, president of A&R for Sony Music, who has produced and owns all of Crazy Frog's music through his Mach 1 record label.
The Axel F video, first uploaded in 2009, now has 3.1 billion views and is the 19th most popular video in YouTube's history.
The original single, based on the Crazy Frog ringtone, topped charts around the world in 2005, including in the UK, where it held the top spot for four weeks.
"When we started Crazy Frog, there was no TikTok, it didn't exist," Boss said. "But right now TikTok is super important. It's basically the number one platform for people to share new music and funny things connected with music."
Boss is creating the comeback with the project's original DJ producer Reinhard "Voodoo" Raith.
How was Crazy Frog spawned?
The sound that would become Crazy Frog's voice was inadvertently created by Daniel Malmedahl in 1997. Messing around with friends as a 17-year-old, he recorded himself trying to recreate the sound of their moped engines.
"We had many laughs because it's so characteristic, this two-stroke engine sound. My friends found it funny when I started imitating it," he told the BBC in 2005.
"When we recorded it, we found it very, very funny. We laughed until we got tears."
His friends eventually put the recording online and the internet took over.
In 2003, the sound was given a body by Swedish graphic designer Erik Wernquist, who drew the now familiar animated frog to go alongside the recording. He presciently christened it Annoying Thing and made it available for download on his website.
Crazy Frog, arguably the internet's first breakthrough meme, was born.
The original Axel F Crazy Frog video caused controversy by featuring the creature's genitals, prompting an initial ban in the US and complaints to the Advertising Standards Authority from parents in the UK until an edit was made.
This time, Boss said, "the new video will have the Crazy Frog like he was originally meant - with a penis".
"But we will have to do a censored version again because US media will not show the original version."