Noisy: Rock band recovered their stolen kit after spotting it online
By Steven McIntosh
Entertainment reporter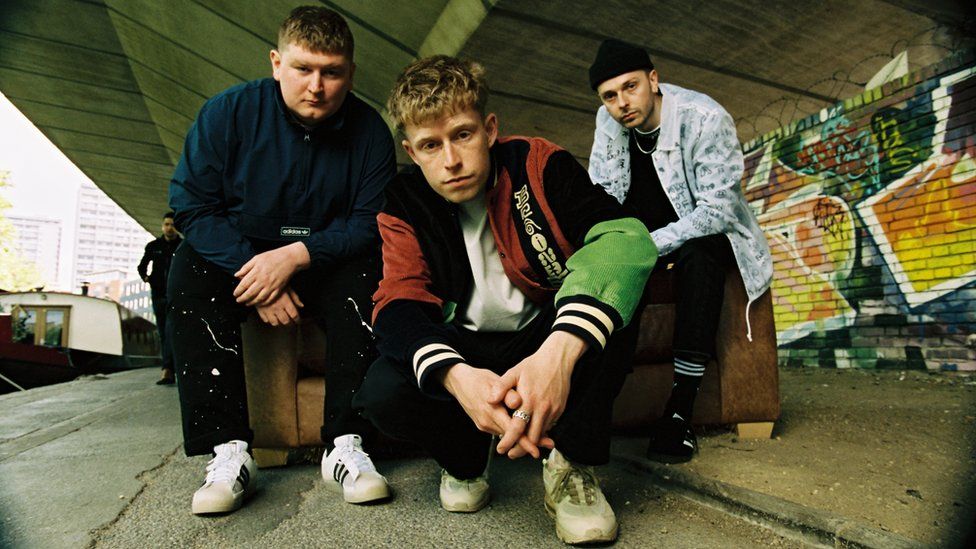 A young rock band have said they are "excited and relieved" to have been reunited with their stolen equipment after spotting it for sale online.
Noisy, a trio from Worthing who have supported Yungblud and You Me At Six, had £25,000 of kit stolen from a van in Walthamstow in early September.
But after spotting some items on an online auction site, they were able to locate and recover all of it.
The band have joked to their fans that the story could be made into a film.
Noisy are made up of singer Cody Matthews, guitarist and keyboardist Connor Cheetham and producer and guitarist Spencer Tobias-Williams.
The trio have not yet released an album but have notched up several million streams and built up a fan following on the live music circuit, with a sound reminiscent of groups like The Prodigy which fuses rock, dance and hip-hop.
The theft took place in the first week of September, shortly after Noisy played at the All Points East festival in London. The band were due to have a day off following their performance before going on tour as the support act for rock band You Me At Six.
"We left the van parked outside our tour manager's house in Walthamstow," explains Connor. "We got a call from our manager at about 7am saying, 'You're not going to believe this but our van's been nicked.'"
The van, which was rented, had been taken at some point between midnight and 07:00.
"We were all speechless," continues Spencer. "We just couldn't believe it, it's the worst news to hear. I think we've realised over the past few months how important playing live is for us as a band. So it was double the amount of gutted."
They also informed the Metropolitan Police, who have independently confirmed to BBC News that they received the report.
The band recall how, as they waited for updates, there were "so many people out there who were willing to help" - including fellow musicians who loaned them equipment so Noisy could fulfil their support slots later in the You Me At Six tour.
However, after that tour was over, a friend of the band messaged Spencer to say he thought he'd spotted their equipment on an online auction site. Spencer says he clicked on the link and recognised his guitar and one of the band's amplifiers. The BBC has viewed the original listing on the auction website.
"With this kind of thing, time is of the essence and we needed to try and get it back asap," Spencer explains. "So I just decided to make an account with a fake name, nothing that can be tied back to us.
"I messaged the guy being like, 'Hey mate, would you take this amount of money for it?' - because at this point I was willing to just pay for it myself because it meant a lot to me, this particular guitar."
The seller sent over another picture of the guitar, and in this one, the band could see even more of their equipment in the background.
A few days later, Spencer and some friends met with the seller in a public outdoor setting, and bought the guitar back without revealing themselves as the original owners.
What do the police advise?
At this point in the story we should pause to say that, while the band's meeting with the seller went off without a hitch, it's important to note the police advise against members of the public taking this approach.
Meeting with someone you know to be in possession of stolen goods could present a dangerous and unpredictable situation.
A spokesman for the Met Police told BBC News: "Information provided by people who find stolen property advertised for sale online is extremely useful in supporting police investigations. However, victims of crime are advised to speak with police officers rather than meeting with those who have listed property for sale."
They added: "In relation to stolen vehicles, especially those with keyless entry systems, the use of a steering wheel lock is recommended."
After being reunited with his guitar and getting the measure of the seller, Spencer messaged him once again to ask if he had any other musical equipment for sale. The seller sent back photos of other guitars and amplifiers which the group recognised as their own. "We were like, 'He's got it all'," Spencer recalls.
Connor and Spencer organised to buy the rest of the kit, and go to the seller's house to collect it. A drummer who played with the band also came along for this meeting, bringing a friend of his who worked as a security guard.
"We thought, 'We're just going to go in, we're not going to pay the money or anything, we're just going to try and get it back'," says Spencer.
After initially making small talk with the seller, the band came clean. "The drummer and the security guy said, 'Look mate, all of this stuff is stolen, it doesn't belong to you, we have receipts for everything, we know you have it in your house so we're coming in right now to get it, or we're going to involve the police, so what do you want to do?'" Spencer recalls.
"The guy was very apologetic, he said he didn't realise it was stolen and said he wanted to help us get it back because he realised this is our livelihood. He said he'd bought it off someone else for like £3,000 as a bulk buy."
The group offered to cover the costs of what the seller had paid the thieves. "We made them break even on it, so it was an amicable end to it," confirms Spencer. He had already spent £2,200 on the guitar, so the band paid a further £600 to cover the £2,800 the seller said he had paid.
Were the band not infuriated at this point, we ask? Not only had they now paid for the kit twice over, but the thieves are still out there and able to do it again. Were they not tempted to ask the seller for more information about the thieves to pass on to the police?
"He told us the location of where he bought the stuff, but at this point we just wanted to get the equipment and get out of there," says Connor.
"Obviously justice would be amazing, but we just wanted to go on tour and just wanted the equipment, so when that was happening we were like, 'OK, cool, we're happy now.'
"There is [anger], but I think that feeling has kind of just been overtaken by, 'Oh my god we've got it back'," he concludes.
The band admit to having felt anxious about meeting the seller. "I was probably slightly worried a couple of days before," says Spencer.
"The fear of the unknown was quite scary, but we knew in our heads that we were just going there to get the equipment, if anything was sketchy we would've been straight out," Connor adds.
Noisy are now advising other bands to think of practical measures which might avoid the same thing happening to them, such as always parking a van with its back to a wall, and taking kit with them into hotels if they're in any doubt.
Reflecting on what happened, Spencer says: "It's a mixture of emotions, it's definitely a big relief, it's kind of like a bad dream you've woken up from. We're just so excited to be playing our own songs again back on tour."
There is one member of the group, however, who missed all the drama.
"I wasn't even there for the sting, I was absolutely gutted," laments Cody. "Funnily enough, I was at Alton Towers on holiday, texting the boys, worried out of my mind. But they smashed it, man, couldn't have asked for it to have gone better really. I was just so worried, none of us knew who this guy was really, and I just wanted everyone to be safe."
Noisy's new single Rock 'n' Roll Raver will premiere on BBC Radio 1's Future Sounds with Jack Saunders on Wednesday from 20:00 BST.