Blossoms and Rick Astley to perform The Songs of The Smiths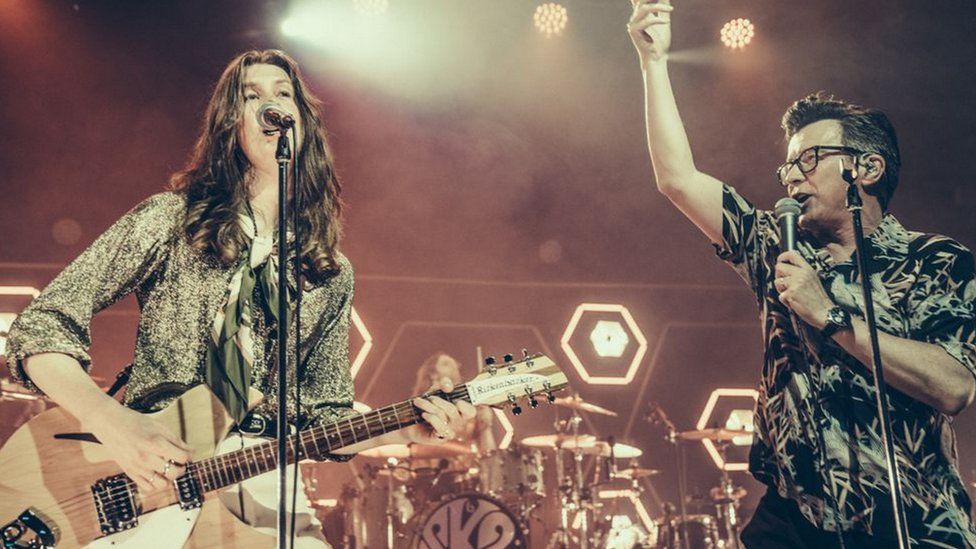 Indie-pop act Blossoms and singer Rick Astley are to join forces to perform The Songs of The Smiths at two events in Manchester and London next month.
The Stockport group surprised fans on Monday by inviting Astley up on-stage with them to run through a selection of tunes by the Manchester indie icons.
Now they will make an entire night of it, or two rather, at the city's Albert Hall on Friday 8 October, followed by Kentish Town Forum the following night.
Astley is a self-confessed Smiths nut.
"From the moment The Smiths emerged in 1983 I was hooked and it's as a fan, with deep respect as a musician for Morrissey, Marr, Rourke and Joyce, that I'll be joining the endlessly enthusiastic and talented Blossoms on stage to sing their songs," he said in a statement.
"It's no secret that it's been an ambition of mine to turn an idea that first sounded crazy, making more sense as Blossoms and I talked about it and then rehearsed it, into a reality," he added on Tuesday.
The Smiths, the brainchild of singer Steven Morrissey and guitarist Johnny Marr, came out of Manchester in the early 1980s and had cult indie hits with tracks like This Charming Man, How Soon is Now? And There is a Light That Never Goes Out.
They released four studio albums before splitting in 1987. Morrissey went on to enjoy success as a solo star, while Marr has played with bands including Electronic, The Cribs, and Modest Mouse as well as putting out his own records.
In recent years, Marr has appeared to distance himself from his former bandmate's political views, making a reunion appear unlikely.
So that is now where Astley and Blossoms come in, it seems. Astley made his name around the same time that one of his favourite bands disbanded.
The Newton-le-Willows singer has spoken at length about his love of The Smiths, and Morrissey seemed to reciprocate that affection and respect in 2013 when he put a backstage photograph of the two of them together on the reissue of his 1989 single, The Last Of The Famous International Playboys, after David Bowie prevented him from using an image of himself with the star.
Blossoms, who have two number one albums to their arm, have frequently covered songs by The Smiths, including Bigmouth Strikes Again.
Frontman Tom Ogden said: "The Smiths have always meant so much to Blossoms, with even their rainiest songs complete with wry humour and soul-reaching musicianship and melody."
He added: "Their poppier moments are pure, joyful, danceable poetry.
"Imagine backing Rick Astley to play the songs of The Smiths? We've had wilder dreams, but not many."