Proms season draws to a close with a tango
By Mark Savage
BBC music reporter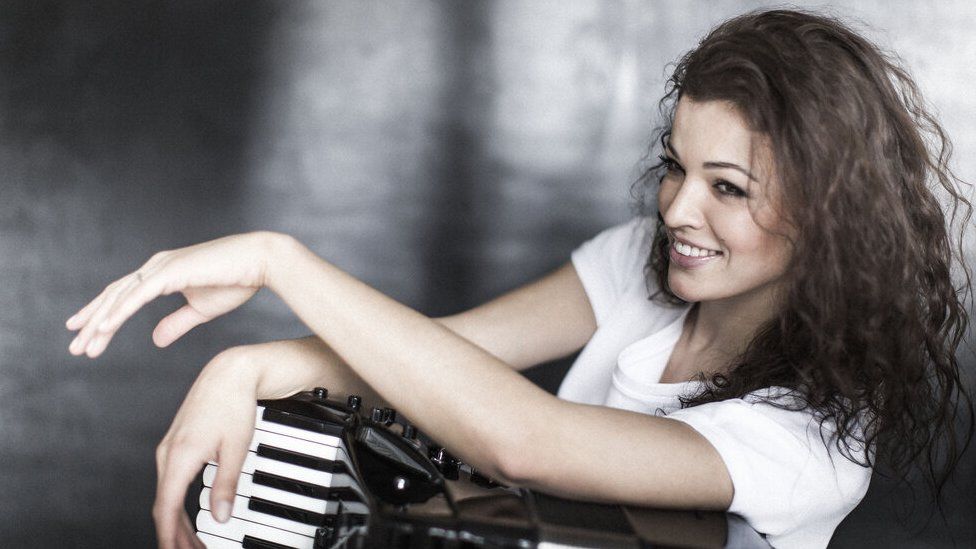 The BBC Proms will conclude on Saturday night with an Argentine tango, played by virtuoso accordionist Ksenija Sidorova.
The 33-year-old will play pieces by Aníbal Troilo and Astor Piazzolla, who revolutionised tango in the 1950s and 60s by incorporating jazz and classical to create the new style, nuevo tango.
She will be joined on stage by tenor Stuart Skelton, who will lead the audience in the traditional last night programme, including Land Of Hope And Glory and Rule, Britannia!
The songs will be performed in full, after a row over plans to play instrumental versions during the 2020 Last Night celebrations.
That decision was reversed after a furore in the press, including reports that the BBC was censoring the lyrics due to associations with colonialism and slavery. Prime Minister Boris Johnson was among those who opposed the decision.
Speaking to The Guardian earlier this week, Skelton brushed aside criticisms of what conductor Sir Simon Rattle recently called the "jingoistic tendencies" of the Last Night concert.
"Given the past 18 months, it's a chance to enjoy the event for what it is - a wrap party for the biggest music festival on the planet," he said.
"As for flag-waving, people love it or hate it, they do it or they don't. I'm not here to judge."
Accordion player pushes right buttons
Soloist Sidorova, who was born in Latvia, is an exciting young talent who has become a passionate ambassador for the accordion on the classical stage.
"And it has the great advantage that it needs no accompaniment, it can create an entire sound world by itself. You can just go to the forest and play alone."
Sidorova started playing the instrument at the age of six, after discovering a small squeezebox in her grandmother's attic, and went on to study accordion at London's Royal Academy of Music.
Praised by one reviewer as a "superbly subtle and virtuosic" player, she signed to Deutsche Grammophon in 2016, recording a modern interpretation of Georges Bizet's Carmen; and has since performed her version of Roxanne with Sting and Bryn Terfel, and duetted with the violinist Nicola Benedetti.
Earlier this year, she paid tribute to Astor Piazzolla's centenary year by releasing an album of his most innovative masterworks - one of which, Chiquilín de Bachín, she will play at the Proms.
Sidorova's appearance at London's Royal Albert Hall will mark the end of a six-week Proms season that mainly featured British musicians due to restrictions imposed by the Covid-19 pandemic.
However, audiences were allowed to return for the first time since 2019, with thousands of fans attending concerts by Sheku Kanneh-Mason, Nubya Garcia and Nicola Benedetti.
Chineke - the UK's only black and ethnically diverse orchestra - celebrated diversity in composers as well as performers, playing pieces by Samuel Coleridge-Taylor, Fela Sowande and Florence Price.
Jeneba Kanneh-Mason was the soloist for Price's Piano Concerto In One Movement, a piece that has only recently been rediscovered.
A spiritual, harmonically inventive composition, it climaxes with an allegretto apparently modelled after the African-American "juba" dance once practised on US plantations.
All seven of the Kanneh-Mason children also got together for a one-off Prom, performing an updated version of Camille Saint-Saëns's much-loved suite The Carnival of the Animals; while Sheku wowed audiences with his interpretation of Dvořák's Cello Concerto, accompanied by the Royal Liverpool Philharmonic.
One of the most emotionally-charged concerts was delivered by The Proms Festival Orchestra - an ensemble of leading freelance players who were specially assembled to acknowledge the difficulties they faced during the pandemic.
The 80-piece orchestra included a double-bassist who'd taken up a job as an undertaker and a harpist who'd started working in a vineyard to make ends meet.
Their performance of Mahler's Fifth Sympony was called "stirring" and a "triumph" by The Times.
The Proms will return next year.