Dune: Critics largely lavish praise on epic sci-fi remake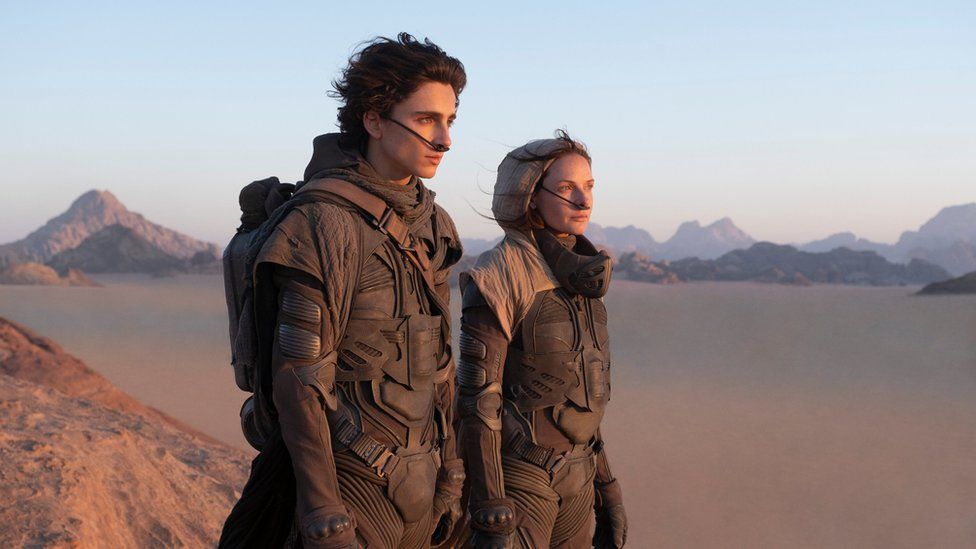 Critics have given their reaction to Dune - one of the most eagerly anticipated blockbusters in years.
The sci-fi epic boasts an all-star cast including Timothée Chalamet, Zendaya, Josh Brolin, Javier Bardem, Rebecca Ferguson and Oscar Isaac.
It had its world premiere at the Venice International Film Festival on Friday.
The Guardian said the "slow-burn space opera fuses the arthouse and the multiplex to create an epic of otherworldly brilliance".
"Dune reminds us what a Hollywood blockbuster can be," wrote Xan Brooks, while offering five stars.
"Implicitly, its message written again and again in the sand, [director] Denis Villeneuve's fantasy epic tells us that big-budget spectaculars don't have to be dumb or hyperactive, that it's possible to allow the odd quiet passage amid the explosions."
He added: "It's a film of discovery; an invitation to get lost."
Based on Herbert's 1965 science fiction classic, Dune is a sprawling story of power, betrayal and murder set in the distant future.
The plot centres around a precious spice, called melange, which enables traders to travel at light speed between the stars. This presents two problems. First of all, it can only be found on the desert world of Arrakis. Secondly, the planet is home to a race of enormous and deadly sandworms.
Into all of this drops Paul Atreides (Timothy Chalamet), whose family is sent to the govern the planet, setting in motion a complex and deadly chain of events.
Chalamet was "ideally cast", according The Telegraph, which also labelled Dune as an "awe-inspiring piece of work" and one worthy of five stars.
Critic Robbie Collin called it "science-fiction at its most majestic, unsettling and enveloping".
"Watching it feels like wandering through some enormous, otherworldly structure built in honour of higher powers you've never heard of - and, from the look of the place, rather hope don't actually exist," he wrote.
He concluded that the feature, which had an estimated budget of $165 million (£119m), would be lapped up by fans of the equally epic but now departed Game of Thrones.
The Independent offered five stars as well, but rather than Game of Thrones it compared Dune to being this era's answer to Lord of the Rings.
"Denis Villeneuve's film is of such literal and emotional largeness that it overwhelms the senses," wrote Clarisse Loughrey.
Her only criticism was the lack of Middle Eastern or North African actors cast to represent the Fremen - led by Spanish actor Javier Bardem's character - "whose language, dress, and culture are so directly inspired by the nomadic, Arabic Bedouin tribes" she noted.
"It's a small, but noticeable chip in the paint when it comes to Dune - a work that's otherwise of such intimidating grandeur that it's hard to believe it even exists in the first place."
The Times had far more reservations with the movie, however, awarding only two stars. Kevin Maher agreed that the visuals were "jaw-dropping", but felt the drama was "lacking" and that overall it was "kind of boring".
"Yes, there are some nice political metaphors about the Middle East (Arrakis as Iraq, spice as oil etc) and lots to engage with visually," he wrote. "But as a piece of narrative storytelling, it's inert. As a film, it fails."
Treading a similar path, Variety's Owen Gleiberman said it was "spectacular and engrossing… until it isn't".
"Denis Villeneuve's adaptation has a majestic vastness, and most of it actually makes sense, but it's an act of world-building that runs out of storytelling steam."
Herbert's story has undone film-makers before. Alejandro Jodorowsky tried to adapt it in the 1970s, but ran out of money before he could bring it to the screen.
Gladiator director Ridley Scott spent the best part of a year developing another version before dropping out to make Blade Runner. David Lynch finally got a film across the finish line in 1984 - but his version, starring Kyle MacLachlan, was impossible to follow and bombed at the box office.
Director Villeneuve, whose previous films include Arrival and Blade Runner 2049, has said he is "optimistic" his version will avoid those pitfalls.
"We have been hearing in the past few decades that it's not possible to adapt this book, and that it's an impossible task," he told Total Film.
"So the first thing was to prove that there was a beautiful, popular movie that can exist, and I think that I proved that."
His solution was to split the story in two, gambling that the first chapter would perform well enough at the box office to secure a sequel.
"I hope we get to do a second one," said Chalamet ahead of the premiere. "It would be a dream [but] it's already been a dream come true.
"Simply put, this was the honour of a lifetime for me."
Empire's Ben Travis, who gave another five-star review, said that for fans of the Dune books, the latest and best film adaptation had been well worth the wait.
He wrote: "For science-fiction devotees, especially those who have long-worshipped Frank Herbert's dense tome and waited decades for it to be brought to the screen in a more successful incarnation than previous filmmakers have managed, make no mistake: Villeneuve's Dune is the adaptation you always dreamed of."