Penelope Cruz film gets nine-minute Venice standing ovation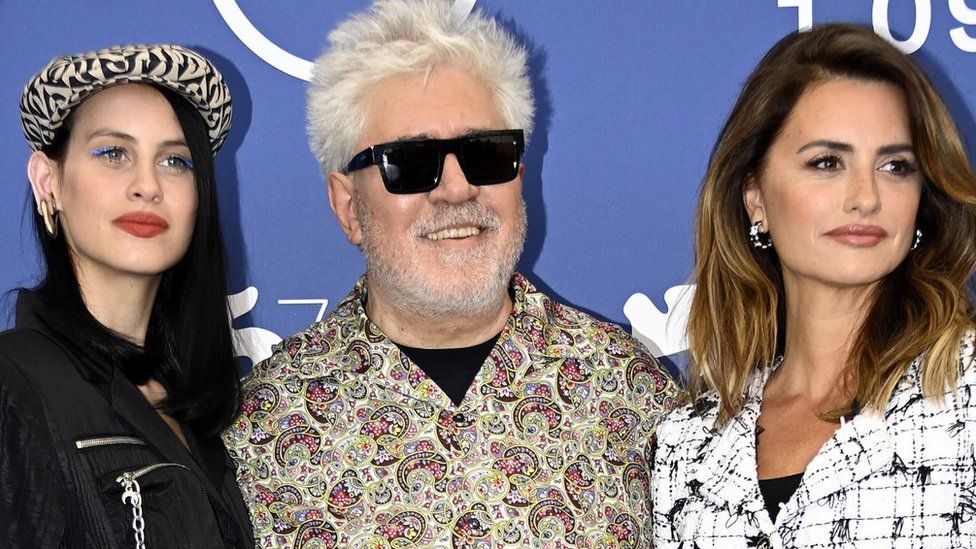 Cinema lovers and critics at the Venice Film Festival have given a very warm response to the event's opening movie, Pedro Almodovar's Parallel Mothers.
The film, which got a nine-minute standing ovation, stars Penelope Cruz as one of two women who meet in hospital just before they give birth.
"Almodovar delivers Venice a little bundle of joy," wrote The Guardian.
It is an "irresistible, flirtatious tale of a mother who fears her baby was switched", The Telegraph said.
The newspaper's critic Robbie Colin said the actress's seventh collaboration with the revered Spanish director was a "transgressive melodrama", adding: "Cruz is terrifically good value here - the film is essentially hers, and she navigates the plot's numerous emotional peaks and chasms like a seasoned Sherpa."
But he added that the film's "secret weapon" was her 24-year-old co-star Milena Smit, who plays the teenage mother who gives birth in hospital alongside Cruz's character.
Xan Brooks wrote in The Guardian that the film showcased a "sure-footed performance" from Cruz and "shapes up as a boisterous swapped-at-birth melodrama, full of mix-ups and moral quandaries, occasionally tilting towards farce".
He added: "Almodovar tackles the plot's twists and turns with his customary energy and abandon, rustling up a robust, warm-bodied celebration of female solidarity and the makeshift families that serve as life rafts to those who feel adrift."
Variety praised the film as being Almodovar's best since 1999's All About My Mother, which won awards including the Oscar, Bafta and Golden Globe for best foreign language film.
Its writer Owen Gleiberman said: "Parallel Mothers is really about how the drive that moves us to sustain our families, whatever the challenge, is nothing less than the life force, drawn from generations and held within us."
Venice is one of the most prestigious events in the film world's calendar, and often premieres movies that are likely to generate buzz in the coming months. Parallel Mothers is among 21 films in the festival's official competition.
Others include The Power of the Dog, directed by Jane Campion and starring Benedict Cumberbatch; Kristen Stewart's performance as Princess Diana in Spencer; and Maggie Gyllenhaal's directorial debut The Lost Daughter, starring Olivia Colman and Jessie Buckley.
The jury that will decide the award winners is chaired by Parasite director Bong Joon-ho, who is joined by industry heavyweights including fellow Oscar winner Chloé Zhao and British actress Cynthia Erivo.
Major films having their world premieres out of competition include Denis Villeneuve's hotly anticipated Dune, starring Timothee Chalamet and Zendaya; and Ridley Scott's medieval epic The Last Duel, starring Matt Damon and Ben Affleck.
The opening ceremony on Wednesday saw Life Is Beautiful Oscar winner Roberto Benigni receive a Golden Lion Career Achievement Award, which he said left him feeling "stunned".