Batman: Robin coming out as bisexual was 'missing piece' of story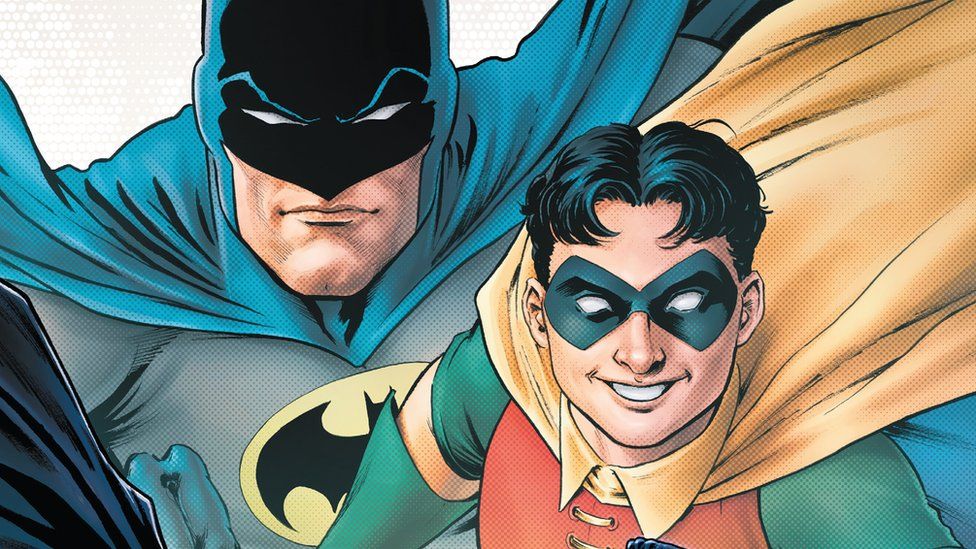 The writer of the Batman comic book series has explained why the time was right for his crime-fighting buddy Robin to come out as bisexual.
Robin first teamed up with the superhero in 1940, to help keep the streets of Gotham City safe.
Now in the latest edition of Batman: Urban Legends, Robin, aka Tim Drake, has revealed his sexual identity.
Writer Meghan Fitzmartin told BBC Radio 4's Today it felt like the "missing piece" of his narrative.
"We were looking at what could we do with Tim and what stories do we want to tell with Tim," she said. "It's been a while since he's had his own story."
"I went back and I read a bunch of the comics that I grew up with and just really spent some time with that character to figure out what what stories did I want to tell and there were these pieces that kept coming together that felt that they didn't have context without this final piece of having him realise his own sexuality, that this is part of who he is as a person and as a character.
She added: "It felt like this was a missing piece in the understanding of this character, so it was sort of moving forward in that in that direction."
My goal in writing has been and will always be to show just how much God loves you. You are so incredibly loved and important and seen. Forever grateful to be trusted with Tim Drake and his story and honored to work with the amazingly talented @BelenOrtega_ and @loquesunalex 💗 pic.twitter.com/h2BMotX0Iq

— Meghan Fitzmartin (@megfitz89) August 10, 2021
Down the years, the alter-ego of Robin has been adopted by different characters in the story, from Dick Grayson [see actor Burt Ward pictured below] to Damian Wayne, via Jason Todd and Tim Drake.
At one stage, Drake's girlfriend Stephanie Brown donned the uniform and acted as Batman's trusted assistant but was sacked for not obeying his orders.
In the latest issue of the anthology series, Drake, now back in the role, accepts a date from another boy.
Fitzmartin says she spent "a lot of time and a lot of prayer" on making sure that the moment and manner in which he came out was just right.
"[I was] wanting to make sure that it was right but ultimately it was depending on the character and letting Tim speak what he felt, and allowing the words that he had to be on the page.
"I know that that's very a 'writer-ly' thing to say but it really did feel like I was handing over the reigns to Tim to say, 'Alright bud, whatever you want to say, go for it'."
Well, it's officially - Tim Drake/Robin is CANON BISEXUAL! 🤯👏👍

Kudos to the writers for weaving this chapter so greatly and tastefully into the Batman Mythos - from a longtime Tim Drake fan 😎👍❤ pic.twitter.com/YVE7EDj22h

— WriterGuyKai (Kai)✒ (@WriterGuyKai1) August 10, 2021
For many people, Robin's coming out party or scene has been a long time coming, after all these years in print and on the big and small screen.
US radio critic Glen Weldon from NPR wrote: "For decades, homophobes looking to land cheap jokes and queer fans aching to see themselves in the comics they love have shared an unlikely common goal - to shove Robin, Batman's trusty sidekick, out of the closet."
The Batman writer hopes they "did it as respectfully as we could".
She confirmed the character will continue to go on his own journey of personal discovery, while also focusing on his day job as a crime fighting caped crusader.
Batman will be totally cool with his sidekick's revelation about his sexuality, Fitzmartin added, noting how their relationship has always been akin to that of a father and son.
"I think Batman is incredibly open" she said. "He's going to be very receptive of a Robin.
"Ultimately there is a lot of love that he has for Tim and that will shine through."