Covid: Stevie Nicks cancels US performances to 'keep healthy'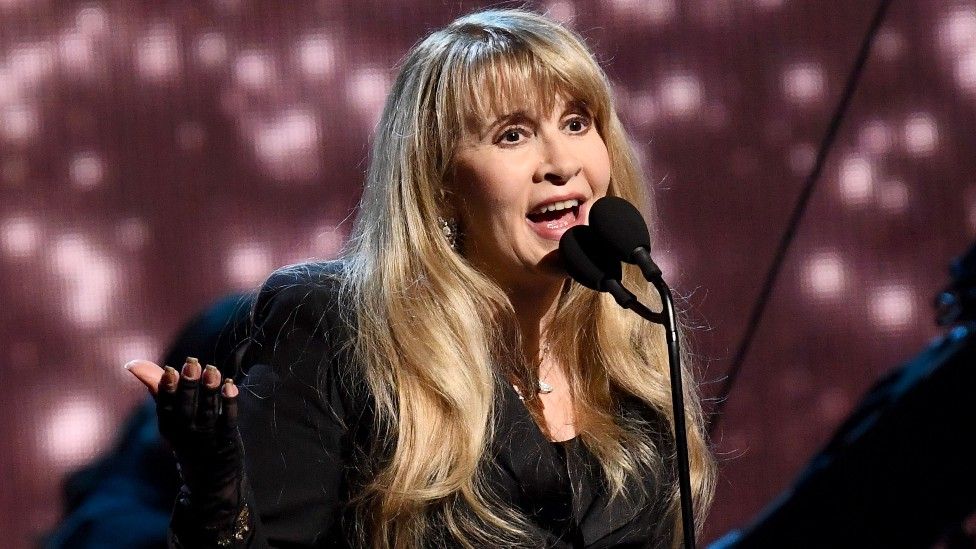 Singer Stevie Nicks has cancelled all of her gigs for the rest of the year due to rising Covid cases in the US.
The 73-year-old Fleetwood Mac and solo star had been due to perform at events in Colorado, California and Texas.
"My primary goal is to keep healthy so I can continue singing for the next decade or longer," she said.
America is currently averaging more than 100,000 new cases a day for the first time since February, due to the Delta variant of the virus.
"These are challenging times with challenging decisions that have to be made," the singer explained in a statement.
"I want everyone to be safe and healthy and the rising Covid cases should be of concern to all of us."
Nicks made her name in the 1970s as the frontwoman of the second incarnation of Fleetwood Mac, singing hits like Go Your Own Way and Dreams, and went on to enjoy success as a solo star.
"While I'm vaccinated, at my age, I am still being extremely cautious and for that reason have decided to skip the five performances I had planned for 2021," she continued.
"Because singing and performing have been my whole life, my primary goal is to keep healthy so I can continue singing for the next decade or longer.
"I'm devastated and I know the fans are disappointed, but we will look towards a brighter 2022."
Her cancelled concerts include appearances at the Austin City Limits Music and BottleRock Napa Valley festivals.
Metal band Limp Bizkit also announced this week they were cancelling the remaining dates of their summer US tour due to Covid concerns.
The group said they had made the decision "out of an abundance of caution and concern for the safety of the band, crew and most of all the fans".
Singer Fred Durst told Billboard: "Even if the performers, crews, staff and promoters do their best to ensure safety on and behind the stage, that doesn't ensure the safety of the audience as a whole.
"We are all in this together, and we all - individually and as a whole - have to make our best efforts to be as responsible and proactive as possible moving forward to combat and stop spreading Covid."
The band had performed a handful of dates on their Limited Last Minute Post Pandemic Popup Party Edition tour before pulling the plug, scrapping concerts in Austin, Los Angeles and elsewhere.
After confirming the cancellations, Durst denied rumours that bandmate Wes Borland had coronavirus and said the decision was made in response to a "seriously flawed" system.
Meanwhile, Live Nation, the world's largest concert promoter, has said it will let artists decide whether concertgoers will be required to be fully vaccinated or show a negative test result for entry to their gigs in the US.