Marilyn Manson files to dismiss Esme Bianco's sex assault case
By Mark Savage
BBC music reporter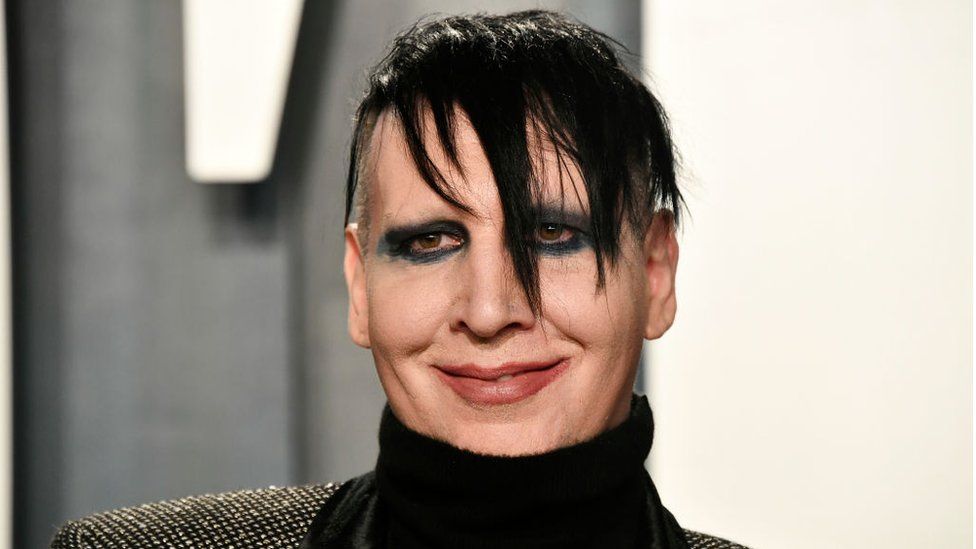 Marilyn Manson says Esme Bianco's sex assault claims against him are "untrue, meritless" and part of a "coordinated attack" by multiple women.
She alleged that Manson repeatedly used drugs, force and threats to coerce her into sexual acts.
Manson, real name Brian Warner, has now filed to dismiss the case, saying he denies "each and every" allegation.
Bianco is one of four women to sue the singer, alongside Manson's former personal assistant Ashley Walters, model Ashley Morgan Smithline, and a woman who has chosen to remain anonymous. Many of their allegations are of a similar nature, including claims of sexual and physical abuse.
In total, more than a dozen women have made public allegations against the musician, including his ex-fiancée Evan Rachel Wood.
In court papers filed in Los Angeles, Manson's lawyers says there is "not a shred of evidence" to support their claims.
"These individuals, including [the] plaintiff, spent months plotting, workshopping, and fine-tuning their stories to turn what were consensual friendships and relationships with Warner from more than a decade ago, into twisted tales that bear no resemblance to reality," they continue.
They further accuse the women of "desperately trying to conflate the imagery and artistry of Warner's 'shock rock' stage persona, Marilyn Manson, with fabricated accounts of abuse".
The documents, obtained by the BBC, also allege that Manson's accusers are "cynically and dishonestly seeking to monetise and exploit the #MeToo movement".
Bianco first came forward with her claims against Manson in February, shortly after Evan Rachel Wood made a statement alleging Manson had "horrifically" abused her, and that she was "brainwashed and manipulated into submission."
The British actress sued the rock star in April, claiming he tied her up, beat her and electrocuted her. She also said Manson had coerced her into sexual intercourse that was often violent and degrading, sometimes when she was unconscious or otherwise unable to consent.
Manson has consistently denied the claims, calling them "horrible distortions of reality".
Manson's lawyers have also argued that Bianco's case has been filed too late to be considered under California law.
Her accusations, which date back to 2011, "are time-barred by more than seven years and Plaintiff cannot establish an applicable exception to the statute of limitations", they said, and called for the case to be dismissed.
Following the allegations against Manson in February, he was dropped by his manager and record label.
In June, Manson turned himself in to the Los Angeles Police Department in connection with a 2019 arrest warrant, regarding the alleged assault of a videographer at a concert. He has since been released on bail.