Lady Boss documentary recasts Jackie Collins as feminist icon
By Emma Jones
BBC Talking Movies reporter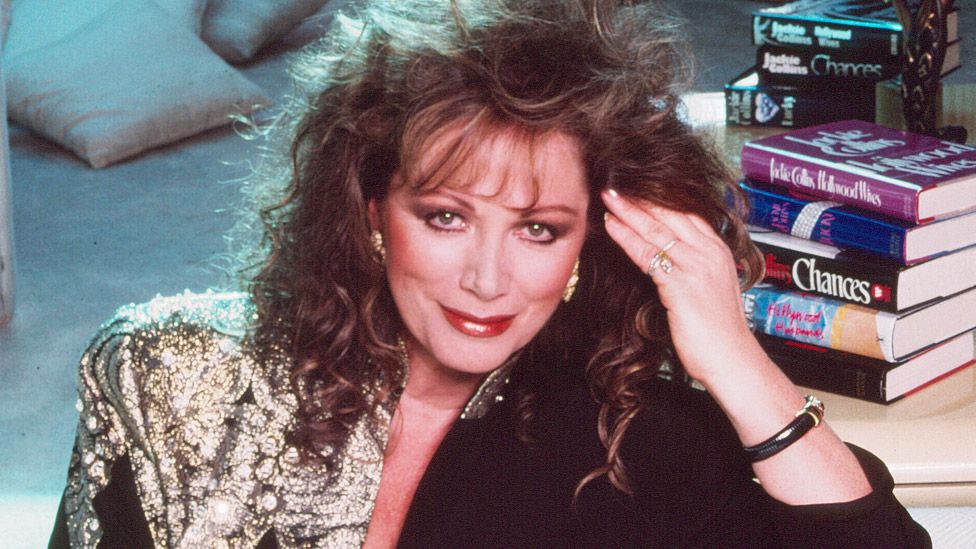 Hugely successful author Jackie Collins may have been branded the "Queen of Sleaze" by some literary critics due to her explicit novels, but a new documentary is exploring her career in a new light - as a feminist icon.
Collins, the sister of actress Dame Joan, sold about half a billion books and published 32 novels during her lifetime, but they were banned in some countries due to their content.
Lady Boss: The Jackie Collins Story, by filmmaker Laura Fairrie, looks back at the life of the London-born writer, whose works include bestsellers such as 1983's Hollywood Wives.
Collins died of cancer in 2015, but Fairrie had access to Jackie's diaries and was able to interview the author's three daughters as well as Dame Joan.
"I was looking for another film to do, and I wanted to make it about a fabulous woman," Fairrie explains.
When she heard talk of a project about Jackie Collins, she simply said: "She was my sex education."
Fairrie recalled Collins' books being passed around at school.
"We read them in maths lessons hidden under the desks, so I just had this connection to her from my teenage years, that immediately just gave me a really good insight into who she was."
She added: "I was interested in turning the tables and looking at the other side of the public story. The persona that she created."
Collins was born in 1937, and her father was a showbusiness agent. She started writing diaries at a young age, but her first novel, The World is Full of Married Men, was published in 1968, after the author had left an unhappy first marriage.
The book, about extramarital affairs, was banned in Australia and South Africa.
Collins later moved to Los Angeles and published a series of books about her favourite heroine, Lucky Santangelo, including 1981's Chances and 1990's Lady Boss.
Her novel Hollywood Wives, which has sold 15 million copies, was an explicit look at Tinseltown and represented the height of her career in the 1980s.
"When I spoke to Jackie's friends in Hollywood, they said that when the book was published, that there was a queue around the block of all the maids in uniforms outside the bookstores," Fairrie recalls.
"They'd been sent to get the books by the real 'Hollywood wives' who were going to go through it and see if they were in it. Partly they wanted to be in it, but they were afraid of it too."
The documentary, which recently premiered at New York's Tribeca Film Festival, examines how Collins would turn some of her private unhappiness into a fantasy world with feisty heroines who knew how to get what they wanted. This earned her millions of readers.
"Hollywood, Los Angeles, was the dream, it represented the fantasy, and Jackie was always chasing the fantasy," the director explains.
"And I think that that is always kind of such a key part of understanding who she was and the books that she wrote. For her, reality often wasn't the most comfortable place.
"So she wrote books that had these fantasy endings. She'd take a real situation and change the ending to the one that she wanted. She consistently turned the tables on men, she'd consistently write about women, characters such as Lucky Santangelo, who were almost superhuman.
"It was this feminist fairytale world, and she chased that world herself."
Part of Jackie Collins's feminism, Fairrie adds, stemmed from her own experiences in Hollywood when she accompanied her sister Joan as a teenager.
In later life, the author admitted she'd had a brief affair with actor Marlon Brando when she was 15 years old and he was aged about 30.
"Jackie had seen her sister Joan become this incredible success at an early age, and so she was chasing that for herself," Fairrie says.
"She was a wild teenager who wanted to get out there and have these amazing adventures. Joan explains in the film that she just let her loose in Hollywood and let her go to all the parties with her and hung out with everyone from Brigitte Bardot to Marilyn Monroe and Marlon Brando. And she wrote about all of this in her diaries."
Fairrie said what she found most interesting about Jackie Collins was that despite her adventures, she also had experiences as a young woman that "perhaps weren't entirely comfortable" on the casting couch, "in an era where women were expected to look and behave in a certain way".
The filmmaker adds: "She definitely had experiences that weren't always great.
"And she put those stories into her books. Disguises the names, disguises the places. But the tough times are in the books, as well as the outrageous Hollywood stories."
The director thinks Collins "would have loved" the present era of the #MeToo movement.
"Her daughters said to me, 'if only she was here to see this.'" Fairrie says. "I think she'd have loved this time, because it almost feels like her brand of feminism, and her books, really have a place in the world today.
"Her feminism was about sexual desire, freedom to live life in the way that you wanted, freedom to choose the careers you want, the men you want, the sex you want and not to be judged for it, and that's really radical. And in some ways, it still is quite radical."
During the 90s, Collins was "looked down upon and criticised a lot", says Fairrie, who adds: "Today I think people can really celebrate her for the author that she was, and for the fact that she lived her life true to herself."
Lady Boss: The Jackie Collins Story is on release in cinemas nationwide in the UK and Ireland from 2 July. BBC Talking Movies reports on the Tribeca Film Festival and Lady Boss: The Jackie Collins Story is available on the BBC iPlayer.