Gaspard Augé: The French DJ behind the BBC's 'epic' Euro 2020 theme
By Paul Glynn
Entertainment & arts reporter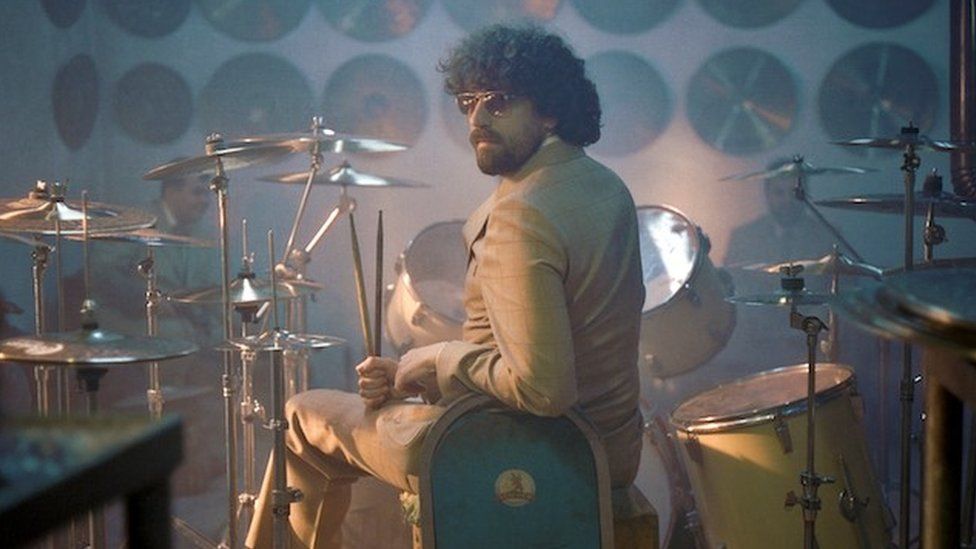 When England footy fans tune in for their side's big Euro 2020 knockout clash with Germany after work on Tuesday, they will be spurred on by the sounds of a Frenchman - whether they realise it or not.
Force Majeure, the cinematic-sounding and typically banging track from Gaspard Augé - aka one half of electronic duo Justice - has been the BBC's official theme song throughout the tournament.
The corporation's choice of tune was music to the ears of the Parisian DJ and producer.
"It was really just the best news for me," Augé tells BBC News, ahead of his country's shock defeat to Switzerland. "Because I made this track with some sort of sporting event - a boxing match or a football match - in [my] head.
"Just this kind of survivor feel to it, something very epic, like when something is about to happen."
He continues: "[I wanted] to create some kind of feeling of invincibility, like when you're walking on the street and listening to a track and you feel really pumped up.
"And I guess it definitely works for the Euros."
The compatriot of Paul Pogba, Kylian Mbappé, Eric Cantona et al admits he doesn't "know much" about le foot, but says he now has "no excuse" not to watch it.
"It's funny because my best friend was never into football since I knew him," he adds, "and now [since the track] he's gone completely crazy about it."
The BBC's football creative director Mark Woodward, who helped to select the song, noted how a major sports tournament "deserves a music track to set the tone, and Force Majeure definitely does this".
"This summer, Euro 2020 across the BBC will be consumed by millions and Gaspard's first single as a solo artist works perfectly alongside our TV output," he said.
The TF1 channel in Augé's native France returned the compliment, selecting Higher Power by England's very own Coldplay as its official theme song.
"Maybe it means Brexit is over," jokes Augé.
"To be fair, to me it just means that the English people have better taste in music."
While the Beeb went for a bit of French electro, soaked in synths, bass and beats, to soundtrack the summer of football, the other UK Euros broadcaster, ITV, did plump for something homegrown - Michael Kiwinuka's You Ain't the Problem.
Earlier this year, Augé and his Justice bandmate Xavier de Rosnay, had more on their minds than football.
The pair made the headlines for sending a cease-and-desist letter to pop star Justin Bieber regarding what they claim is the Canadian's use of their name and signature "cross" logo for his latest album.
The rock 'n' roll DJs lost an emergency request to a French court to prevent Bieber's album and merchandise from being sold. But their lawyers have told us that was a provisional decision and proceedings are ongoing.
"People when they reach that level of fame they feel like they can get away with anything," Augé opines. "And I guess because they can."
The BBC has asked Bieber's representatives for a comment.
'Perfection doesn't exist'
Over the past 15 years, Justice have followed in the footsteps of their now sadly departed countrymen Daft Punk in taking radio-friendly dancefloor-filling remixes, like We Are Your Friends, from the nightclubs of Paris to the world.
Augé decided it was "the right time" to put out his debut solo album this summer in order to break up "the four-year pattern" of writing, recording and touring that the pair have been in since their 2007 debut.
Escapades, which features his Euros theme, took three or four months to complete which he points out is quick when compared with the machinations of his Grammy-winning festival headlining act.
"I guess it was maybe a bit more continuous and probably less perfectionist, but this is what I like about these kind of projects," he says.
"It is good to hone everything, but it's also good to let the music live its own life at some point, because obviously perfection doesn't exist - it's very subjective."
The largely instrumental LP is described as "a modern electronic album heavily inspired by classic film scores of the 20th century" and the short audio-visual offerings so far have certainly had a big screen feel.
Augé is still trying to "think of a formula" for how to perform it live in the UK at some point with an orchestra and a choir, but that's proving pretty tricky right now due to the joint effects of Covid and Brexit.
The music is designed "to give people simple emotions that anybody can enjoy", Augé says.
"Depending on their own life story or musical background they can put whatever they want on to the music. It's a very open record."
England fans will be hoping it proves to be a lucky one, too.
Gaspard Augé's debut solo album Escapades is out now.