How vinyl records are trying to go green
By Jon Donnison
BBC News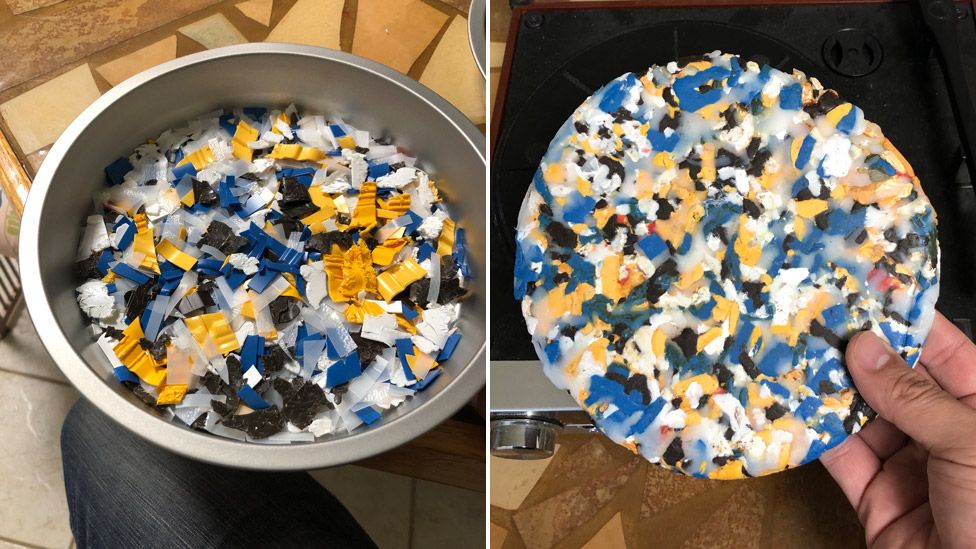 With the vinyl revival showing no sign of easing up, its environmental impact is becoming more of a concern.
There were 22 times more vinyl albums sold in the UK in 2020 than in 2007 - with sales leaping from 210,000 to 4.8 million.
For the first time since the late 80s, the value of record sales in 2021 is expected to surpass that of CDs - although it still lags way behind digital streaming and downloads.
As sales rise, record labels and artists are beginning to look at sustainability issues.
PVC (poly vinyl chloride), the plastic from which records are made, isn't exactly environmentally friendly.
"Vinyl is a form of plastic that is quite difficult to recycle," says Dr Sharon George, senior lecturer in the environment and sustainability at Keele University.
"The C in PVC means chloride (from chlorine) which is quite toxic and difficult to handle. This is one of the reasons recyclers don't really like PVC, so it tends to either go to the landfill or incineration."
That has led some in the industry to begin exploring alternatives.
In 2019, Mercury Prize-nominated singer-songwriter Nick Mulvey achieved a world first by releasing his single In The Anthropocene on what has become known as "ocean vinyl".
"Ocean vinyl was a high-quality playable record made entirely from recycled plastic from the local ocean found in beach combs in the south of the UK," says the musician.
The project was a joint venture with Cornwall-based Sharps Brewery, with all the proceeds going to the charity Surfers Against Sewage.
The record was cut in Florida by Wesley Wolfe, whose company Tangible Formats makes custom bespoke records.
He says the raw materials were challenging to say the least. "We had fishing nets, fishing line, candy wrappers, potato chip bags. It was rubbish. Trash."
It was a long and laborious process.
"I was able to make a disc from collecting and compressing all the different plastics. Using some ingenuity, we ended up with 100 unique pieces of art."
The finished 10-inch single was a swirling collage of colours which "looks and sounds beautiful", Wolfe says.
But only around 100 limited edition copies were made and Wolfe explains that while some small presses are beginning to explore new techniques, mass production using recycled plastics is some way off.
"One thing that would kill a groove is sand, hair or dust. So it creates a whole new step [when] processing the plastic and cleaning it," he says.
"I think the demand would be there for it. It's more about [having] the time and money for already established pressing plants to start adjusting the way they do things to handle this."
Mulvey says the aim of the project was to get people to think about new ways of doing things.
"The spirit of disruption interested me. Kind of disrupting music industry norms and questioning norms about how we consume things and how we treasure plastic, or usually not."
Several other presses around the world have also started to specialise in recycling old records and using vinyl off-cuts.
One major independent record label that tries to push sustainability issues is London-based Ninja Tune.
It was founded in 1990 by the Coldcut DJs Matt Black and Jonathan More. Since then, it has won a string of awards including a Grammy this year for Thundercat's album It Is What It Is through the Brainfeeder label.
Ninja Tune's chair Peter Quicke says methods to use recycled plastics are still in their infancy.
"Making vinyl more sustainable is about first doing lighter-weight pressings, 140g pressings as opposed to 180g," he says. "It's about using PVC that's produced in the most environmentally-friendly way."
He says making vinyl in the European Union, where Ninja Tune presses most of its records, is better than making it anywhere else, because of tougher environmental standards for the raw materials.
"It's using recycled cardboard and recycled vinyl where you can and distributing the vinyl in as sustainable a way as possible."
But might the environmental credentials of vinyl records actually be stronger than you think?
Dr George says what's good about them is they are very much seen as "non-disposable" products.
"One of the things about vinyl in record form is that quite often we have this relationship with it like no other form of plastic," she says.
"Vinyl records come under that category of things that we will keep for years and years and even pass on to our children and grandchildren."
As long as we treasure vinyl and it's priced accordingly, it actually stands up quite well against digital forms of music such as streaming and downloading in terms of sustainability, Dr George adds.
"There's an assumption with electronic [digital] music that there's no carbon footprint. Well of course there is, because that music has to be hosted somewhere, there are servers that have to be cooled. There is an IT footprint."
It's a complex calculation, but she says a rough ballpark figure is you only have to stream an album 27 times before you've built up a carbon footprint bigger than if you had just bought the LP.
"If you listen to something just once then you're probably just better off downloading it and avoiding all the plastic," she says.
"But if you're going to listen to a piece of music over and over and over again, I would invest in the physical version of that and then keep it."
Quicke agrees that vinyl records should be treasured. While he welcomes moves to make the industry more sustainable, he says people shouldn't be discouraged from buying records.
"One of the things about sustainability is it shouldn't be a killjoy. We need to be able to enjoy music," he says.
"You don't want to stop people buying vinyl or to stop people streaming music, because music is such an important part of our lives and our mental health."