British music exports reach a record high
By Mark Savage
BBC music reporter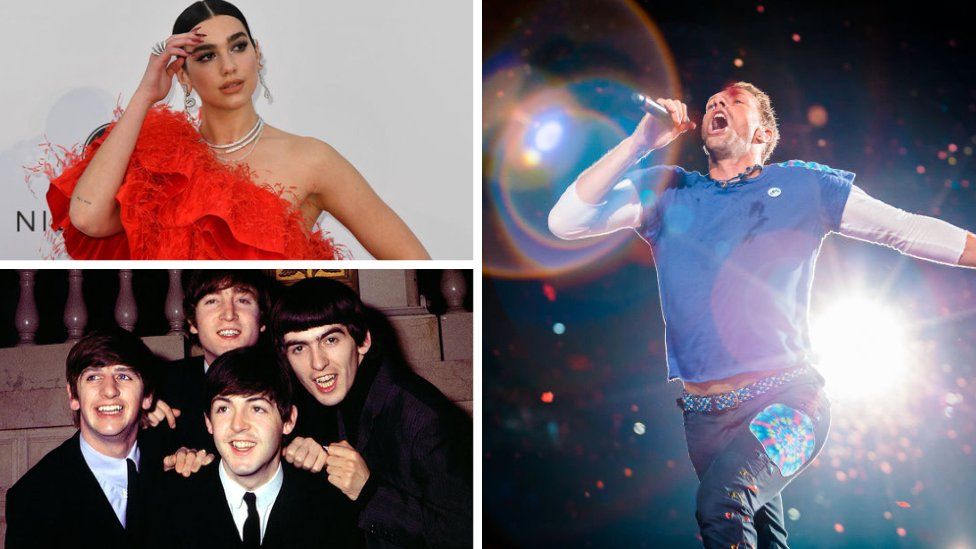 Dua Lipa, Coldplay and The Beatles helped the British record industry earn £519.7m overseas last year, the highest figure on record.
Export revenues for music grew by 6% compared to 2019, aided by the "explosive growth of music streaming", said record label association the BPI.
One in 10 tracks streamed globally hail from the UK, with 300 British artists receiving 100 million streams or more.
Dua Lipa's Don't Start Now was the biggest British hit of 2020.
The club anthem was streamed 1.62 billion times in total, while her Brit Award-winning album Future Nostalgia was the 10th best-seller of the year.
Harry Styles' second record Fine Line did even better - emerging as the world's fifth best-selling album of 2020.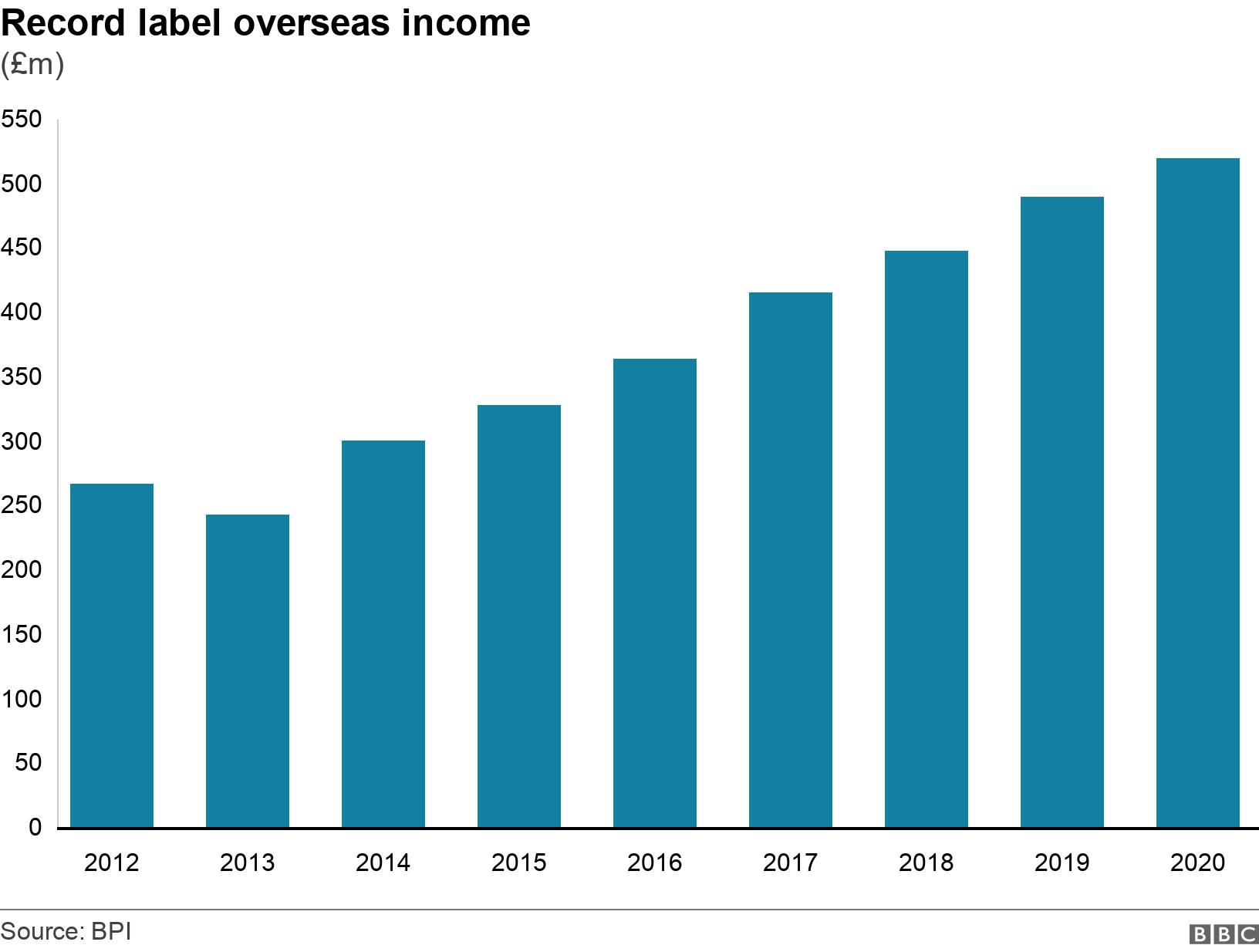 Despite these achievements, there were no British artists listed among the year's top 10 biggest-sellers across all formats - raising questions about the UK's ability to create global superstars in an increasingly competitive marketplace.
Instead, the list was topped by Korean pop band BTS, with the rest of the acts coming from North America - including The Weeknd, Billie Eilish and Taylor Swift.
According to the BPI, the UK is still the largest exporter of music in the world, after the USA - but its share of the global market has dropped from 17% in 2015 to 10% last year.
However, with the exception of Dua Lipa's album, 2020 was relatively quiet for major new releases from British artists. This year could play out very differently - with Adele, Ed Sheeran and Coldplay all working on new albums.
The global popularity of classic acts like The Beatles, Queen, Pink Floyd and The Rolling Stones has also helped sustain the British music industry on streaming services.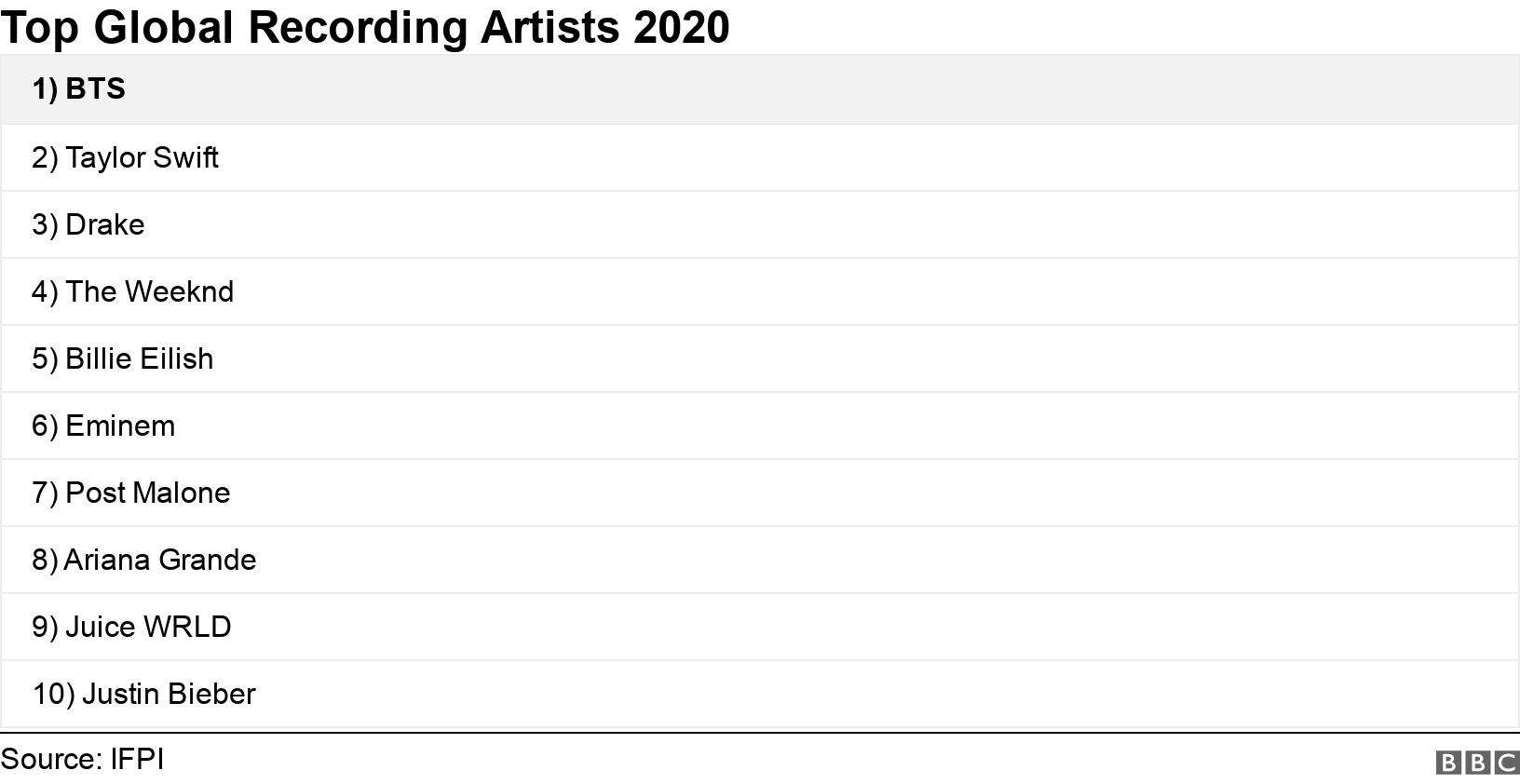 Earlier this year, the BPI announced that total UK recorded music revenue had risen by 3.8% in 2020 to reach £1.118 billion, driven largely by the growth of streaming.
This is the highest total since 2006 (£1.17bn) and the fifth consecutive year of growth.
The figures come as musicians and songwriters stage an increasingly vocal protest about the way streaming revenue is handled.
The Musicians' Union and the Ivors Academy for songwriters and composers told a parliamentary inquiry into the issue that music creators were being "cheated" out of royalties, while record labels reap the rewards.
According to the Broken Record campaign, artists receive around 16% of the total income from streams, while record companies receive around 41% and streaming services around 29%.
However, the BPI has argued that streaming works in artists' favour.
It said that 1,800 artists had achieved more than 10 million streams in the UK during 2020, earned them around £29,400 each.
It also suggested that streaming has made the market more "democratic" - with the top 10 artists accounting for just 5% of all music streamed last year.
When CDs were the dominant form of music consumption in 2005, the top 10 artists were responsible 13% of all sales.