TV reunions: Why we're rarely 'on a break' from our favourite shows
By Alex Taylor
Entertainment reporter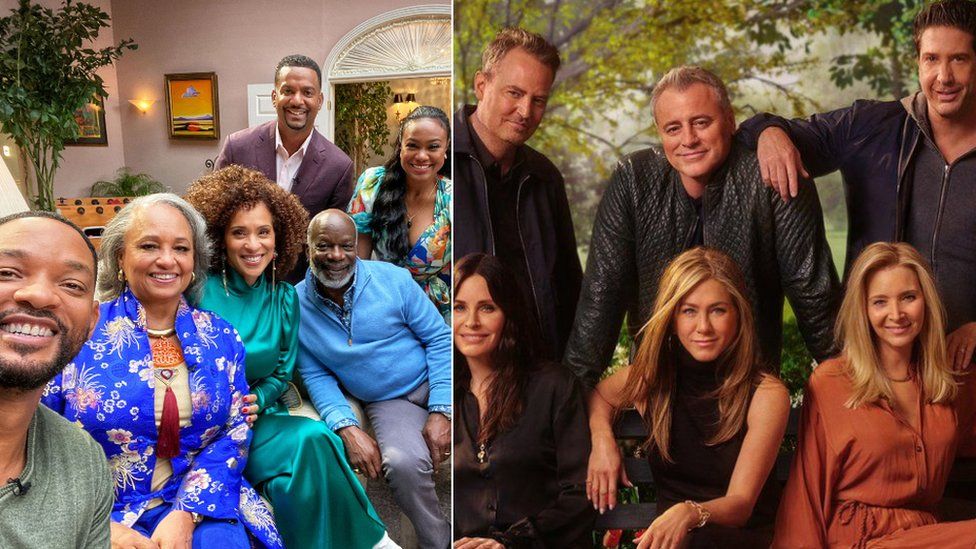 Back in 2002, an episode of Friends saw the gang record a video message for Rachel's daughter Emma to watch on her 18th birthday... in the distant year 2020.
When the future came, it brought a global pandemic in real life - and audiences who were stuck in lockdown looked to the past for the familiar comforts of old TV favourites.
This was reflected in programming itself. Actor Josh Gad's web series Reunited Apart, which launched last May amid the first Covid wave, brought old co-stars of fan favourite shows and films back together (originally through the magic of video calls) to reminisce.
The trend has continued this year. Following high-profile Fresh Prince of Bel Air and Friends reunion specials, streaming service Hayu picked up E!'s Reunion Road Trip - in which cast members from Queer Eye for the Straight Guy, Scrubs and All My Children travelled down memory lane.
The Kardashian clan even began a two-part look back at their reality behemoth on Thursday, a mere week after the final credits had rolled on Keeping Up With the Kardashians.
So, how can we explain the nostalgic rise of the reunion, and what makes one worthwhile?
The appeal of old TV programmes lies as much in the memories and feelings we connect to them as their storylines.
Never was this made clearer than during the pandemic.
Despite The Sopranos concluding in 2011, Sky's Now streaming service reported a 122% increase in UK views of the gangster series last year, while HBO recorded a 200% increase among US audiences.
Elsewhere, original Fresh Prince episodes made a popular return to BBC iPlayer alongside the reunion special, while shows like Midsomer Murders and Only Fools and Horses topped ratings on BritBox, the archive streaming platform from the BBC and ITV. On Netflix, the ever-popular Friends continued to hover around its trending chart.
Constantine Sedikides, a psychology professor specialising in nostalgia at the University of Southampton, says this phenomenon is, in context, not as surprising as it may first seem.
"The pandemic caused psychological discomfort, including uncertainty, fear and loneliness," he says.
"To cope with psychological discomfort, people often resort to nostalgia - a sentimental longing for one's meaningful past. It acts as a corrective, reducing discomfort such as loneliness, and restoring psychological balance."
People find comfort in familiar episodes because, as well as their reliability, they remind us of secure memories and better times.
Nicole Lampert, a TV and arts writer for the Daily Mail and Drama Quarterly, sees the rise in reunion shows as the logical extension of this mindset, especially with much of the industry shuttered by Covid.
"In a TV landscape with hundreds of channels, these are a way of easily ensuring great ratings," she says. "Producers don't have to go to the expense or risk of a new series but can ride that nostalgia wave."
The hype around May's Friends reunion special - which brought the show's much-loved cast back together after almost 17 years - relied on this "huge ready-made historic audience" tuning in.
But a successful reunion requires more than relying on the historic cultural affection for a popular show.
"It needs to feel like event television," says Lampert. "You don't want the brand to be tarnished, so the reunion needs high production values.
"There needs to have been a passage of time, so that people can look at it through a nostalgic lens. The cast, ideally, need to have not been in the same room for decades."
The producers of the Friends reunion recognised these values - delaying filming until Covid restrictions allowed the show's six main stars to sit together in person.
The cast also revisited the original sets and props in situ, alongside an informal table read of memorable scenes, to add to the sense of occasion.
Gatherings that stray from the in-person format can suffer. The All My Children episode of Reunion Road Trip, for instance, celebrating the show's 50th anniversary, only managed to bring four cast members together in one room, leaving others to join remotely.
Beyond logistics, Lampert says a successful reunion "finds out about some of the stories behind the stories, including anecdotes about much-loved and watched episodes".
The Friends reunion contained one such big, unexpected reveal, with host James Corden teasing out that Jennifer Aniston and David Schwimmer actually held strong and apparently unrequited romantic feelings for one another throughout season one.
As much as spilling secrets to viewers, Lampert feels these reunions can equally offer cast members "a good chance to look at a show in a new light - especially as many may not have taken it in at the time".
Janet Hubert, who played Aunt Vivian in Fresh Prince before she was replaced by Daphne Maxwell Reid in season four, used the show's reunion special to tell Will Smith how being branded as difficult to work with by him was the "kiss of death" for her - particularly as a "dark-skinned black woman" in Hollywood.
"Thank you for sharing that with me," said Smith in response. "I didn't know, but when I look back now, it's obvious you were having a hard time. I felt like you hated me. I could not do a 30-year celebration of this show and not celebrate you. Celebrate your contribution to this show and celebrate your contribution to my life."
"Shows are of their time," notes Lampert. "It's fascinating to get that historical perspective of what would be different, how subjects would have been tackled today, and what was important then. Looking back shows us how we have changed as a society."
However, there are limits to how deep reunion specials can stretch, says LA-based TV producer and entertainment journalist Simon Thompson, who describes them as "a bit like the showbiz version of Schrodinger's cat".
"Shows are associated with a moment in time, in pop culture, in careers and in lives - theirs and ours - and sometimes going back isn't such a great idea. Also, once it is done, what then? You can't do it again. You basically get one shot.
"You have to create something that is worth watching, but as a producer, there is also a responsibility, almost a duty of care, to protect the heritage of the show and the cast while still mining for that gold," Thompson says.
This may go some way to explaining why, during the Friends reunion, Matthew Perry's moving comments about how deeply affected he was by some parts of the job, and in particular seeking validation from the show's live audiences to the point of anxiety and depression, pointedly failed to spark a broader conversation about the struggles of fame.
"Honestly, the talent's teams would likely step in if you tried to fuel a fire people didn't want lit," says Thompson. "Unless fireworks were the draw of the show, like Real Housewives, then that's not what audiences will want or expect... People largely flock to this comfort content to feel good and share the love."
So, if reunion specials are exercises in maintaining a show's legacy, commercially and otherwise, does this mean reboots are the inevitable conclusion?
Not quite, says Thompson. "There are only a few cast reunions that have led to reboots or new seasons where the interest or the magic has been sustained. It's rarely awful, but more often than not, it is not the same, however hard people try. You can't force it."
"Even when people are really excited about a show returning, such as Will & Grace, it's hard to recapture or replicate that exact same magic even with a lot of the same pieces. That is no-one's fault, it's just the way it is. Audiences love the idea, they don't always love or commit to the reality when they get it.
"Once you let that genie out of the bottle, you can't put it back in. Ultimately, people want a happy ending.
"There is great power in nostalgia, but with great power also comes great responsibility. The responsibility is to the fans."