Playwright revives 1920s football team for dramatic new fixture
By Ian Youngs
Entertainment & arts reporter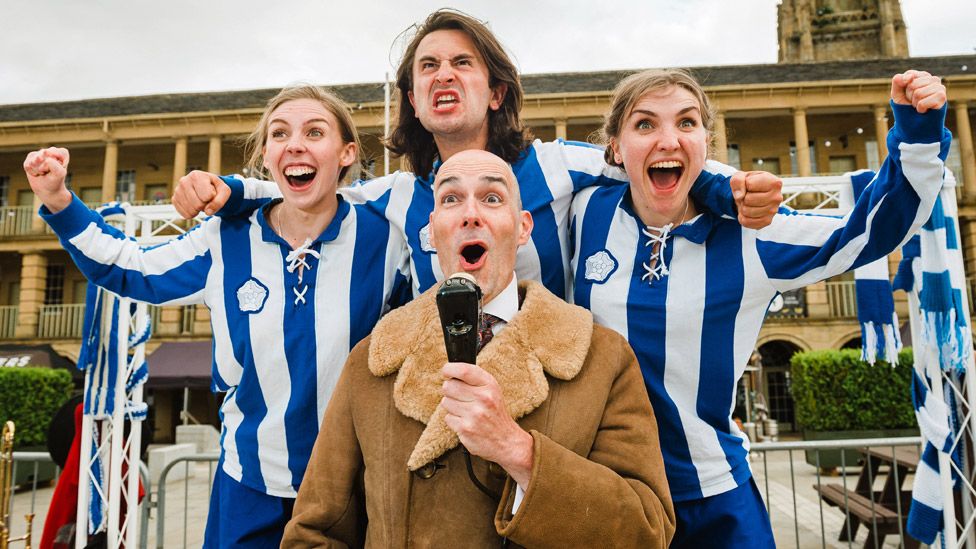 A stage musical is providing an unlikely new fixture for a short-lived team from a golden age of women's football - before females were prevented from playing for decades.
At the age of 11, Amanda Whittington was football mad.
She was the only girl to play in her village children's tournament, and would hang around Nottingham Forest's stadium to get autographs from the reigning European champions.
"I lived about three miles from the City Ground, and if you went down to the ground or the River Trent at a certain time in the morning, you would see the players training, running along the river," she says.
"And you knew at about 12 o'clock, if you went to this particular greasy spoon cafe around the corner, they'd always sit there in the window having bacon and eggs."
Despite their diet, the team won the European Cup in 1979 and 80, making them and manager Brian Clough local legends.
One day, when the young Whittington was waiting for autographs, Clough came out and invited her into the ground with her brother and friend.
"He took us round and he made sure we got autographs from everybody," she recalls. "And it was amazing. When I look back, I realise how incredible that was. We couldn't believe it.
"You cannot ever imagine that happening now, can you, because the world of football is so closed and so corporate. It's like they live on another planet.
"So, really, that was one of the things that made me so passionate about football."
However, as she got older, her passion for playing the beautiful game was snuffed out by people (mostly women) who told her it "really wasn't the done thing" for girls to play football.
"I got that message within the family and I got it at school and I got it from the wider society. It's like, 'You've had your fun, but now you need to let this go and do something else. Go and play tennis or something.'
"I, like most girls, just accepted it because there were no teams, there was no future, there were no role models."
Knowing that men's football was the only game in town made her meeting with her footballing heroes a bittersweet one.
"That really compounded my hurt, the wound of thinking, right, you can be involved in all of this and Brian Clough can take you under his wing for half an hour, but don't think you're going to play on, and don't think you're going to be able to join a team, and never think that you're actually any good at this, because you're a girl.
"That was a really big moment in my life, when I realised what was happening there, and that I was going to have to stop and the boys could play on."
The experience opened Whittington's eyes to injustice and discrimination, she says.
"Looking back, I think it did politicise me. It made me understand the way the world worked. And I think I've been writing about it ever since, in one way or another."
Whittington gave up playing football, but has now revisited those experiences through the career she eventually settled into, as a playwright.
There had been a golden age of women's football in the past. The great Lily Parr and her team Dick, Kerr Ladies, attracted big crowds after World War One, with a record 53,000 watching them at Goodison Park in 1920. Parr scored almost 1,000 goals in total.
Other women's clubs also sprang up at that time. Atalanta Ladies formed in Whittington's adopted home town of Huddersfield, named after the huntress of Greek mythology (just as the men's club of the same name in Italy was). "Just the name was intriguing," she says.
Atalanta Ladies, seen in the above team photograph from 1921, played in front of up to 25,000 fans, turned out at Huddersfield Town's ground, and their players were mentored by their counterparts in the men's professional team. They faced Dick, Kerr's twice - but lost 4-0 and 10-0.
The dramatist has now captured Atalanta's story and the battles they fought on and off the pitch in her new play, Atalanta Forever, with Huddersfield-based touring theatre company Mikron.
"Actually, the underdogs and the team that lost 10-0 is more interesting than the team that won 10-0," Whittington says.
"It gave us an opportunity to, in the great football tradition, root for the underdog, because the women were underdogs in football, and Atlanta were the underdogs in that league, and it was just a gift as a writer to bring that all to life."
Atalanta's existence was brief, however. With men's football restarting after the war, the Football Association declared that football was "quite unsuitable for females" and banned women's clubs from playing on FA-registered grounds.
"They were most concerned about the moral corruption of the post-war generation," the writer says.
"The country wanted the men to come home after that huge trauma of war and the trauma to masculinity and the devastation that had caused. They wanted to rebuild the nation and for the women to go back into the home and be wives and mothers.
"And the threat of the 'new woman', and the flappers of the 20s and the women who had lived through the war and had that independence and freedom and didn't want to give it up - that was a threat to the status quo and the moral health of the nation as they saw it. So football got mixed up with all that."
Like most teams, Atalanta folded. The FA ban lasted until 1971, and it took many more years for it to become "the done thing" for women and girls to play football again.
Whittington says she hopes her musical will remind girls who are playing today or watching the stars of the current women's game that "the right to do that was fought for and won".
"It wasn't given to us. And it wasn't that long ago when we were actively stopped from doing this," she says.
"So I think for young women growing up now who are playing football, it's useful for them to know the history of it, and to know these rights had to be won and fought for, but also there are many battles still to fight.
"And when they come up against that kind of obstacle - men and women, girls and boys - when they come up against obstacles in their life where society's telling them they couldn't or shouldn't do that because it's not appropriate, then they think, OK, I'm not going to take this as the last word.
"I'm going to fight for this if it matters to me and if it's really who I am and what I want to do. I'm going to keep battling on.
"That's what the play is about really, because there are still so many of those battles to fight - and there always will be."
Atalanta Forever is on tour until 19 September.