Hall And Oates: How You Make My Dreams became a streaming colossus
By Mark Savage
BBC music reporter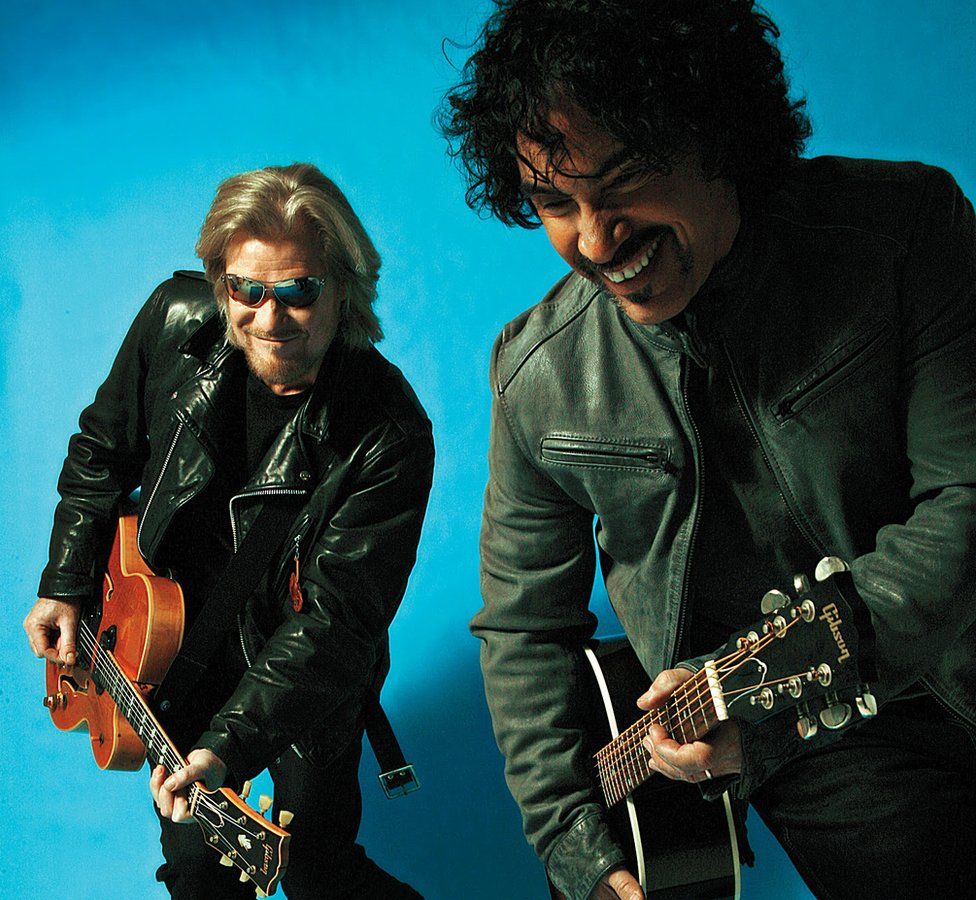 This might come as a surprise, but Daryl Hall and John Oates are the most commercially successful duo in the history of pop - beating everyone from Simon and Garfunkel to Daft Punk.
Formed in Philadelphia in 1970, the leather jacket aficionados have sold more than 40 million records worldwide; and, in the 1980s, they spent 246 weeks in the US charts, more than even Michael Jackson and Madonna.
They're best known in the UK for hits like Maneater and I Can't Go For That (No Can Do) but, in the streaming era, it's You Make My Dreams (Come True) that's become their most recognisable song.
From its syncopated electric piano riff to the soaring chorus, it contains three of pop's most uplifting minutes. And, although it was never released as a single in the UK, the track has notched up more than one billion streams, thanks in part to its inclusion in cult movies like The Wedding Singer and 500 Days Of Summer.
"It's a very unique situation," says Hall. "It wasn't a number one record, but what has happened to that song, and the way the world has embraced it, is absolutely astounding."
To celebrate its 40th anniversary, You Make My Dreams is being re-released as a limited edition seven-inch purple vinyl for Record Store Day this weekend.
We caught up with Hall and Oates via Zoom, to discuss the song's creation, Kermit The Frog's cover version, and their other viral hit - a bizarre 1970s video that recently resurfaced on YouTube.
But first, here's a quick refresher on the song itself.
What do you remember about writing You Make My Dreams?
Daryl Hall: There's other names on the credits, but I pretty much wrote the song. I was by myself, I started playing that riff on a piano and it just felt good to me, so I started writing the song.
The first words that came out of my mouth were: "You make my dreams come true." I thought: "This is no good. This is such a cliché. I've got to think of something a little more provocative." But after a while, I just went with it.
The simplicity of the chorus is contrasted by the verse, where you get into a pretty deep candle metaphor.
John Oates: I can tell you a very funny story about that. When we played the demo to our manager, his reaction was: "Who the hell do you guys think you are, Wordsworth?'"
Daryl Hall: That was Tommy Mottola, who was not known for his sensitivity.
John Oates: And that was his whole reaction: "You guys are getting too freakin' artsy and poetic."
Did the song change much between the demo and the version we all know?
Daryl Hall: Not much, we just went in the studio and worked the background vocals out, which are a really important part of the song. It all sort of fit together like a puzzle. It was a fairly easy song to write.
The call-and-response backing vocals make it a great karaoke song.
Daryl Hall: Yeah, I like that sort of contrapuntal background vocal. It's a trade-off, back-and-forth, and that's sort of a trademark of mine. Listen to No Can Do, and it's the same thing. The backgrounds are working in rhythm against the lead.
That opening piano riff is so distinctive, too. What instrument were you playing?
Daryl Hall: It's a very unusual edition of a Yamaha called the Yamaha CP30. There were very few of them made and it wasn't out for very long. Over the years mine got destroyed [and] I cannot duplicate that sound other than with the actual instrument. So I had to search and search until, quite recently, I found one.
Daryl Hall: No! Nobody wants one! I think it cost me $400.
The song was never released in the UK, and it was only the fourth single to be taken from your album Voices in the US. Did you not realise how big it would become?
John Oates: Daryl and I never realised anything about our singles. We didn't really dictate to record companies: "Hey, you should put out Maneater." We just said: "Here's the album. Go, figure out how to sell it." Then they would canvas radio stations and promoters, and the cream would rise to the top - and those are the records we released as singles. But from our point of view, from the actual creative side, we never paid more attention to those records than any other track on our albums.
Daryl Hall: You know, I don't know why it wasn't released in the UK. Somebody certainly had a distinct lack of vision, that's all I can say.
The song doesn't feature on the majority of of your greatest hits albums from the 80s or 90s - but now it's your most successful song on Spotify. When did you first notice it was becoming more popular?
John Oates: I really believe it was 500 Days of Summer. I knew the song was being used in the movie but I had no idea how. Then my wife and my son and I were walking around California one day, and there was a movie theatre so I said: "Let's go in and see it."
It was the middle of the afternoon, so I remember it was just us and a few teenage girls in the theatre. And as soon as the dance scene began the girls started clapping and cheering. It was a totally spontaneous, emotional response, and I thought: "Wow, this is unusual." So that was an indication to me that something was happening.
And I have to say, to this day I don't think I've ever seen a better marriage of film and movement and music. Well, I'm sure Gene Kelly would argue with me with Singing In The Rain but, nevertheless, it's right up there.
Why do you think people have embraced it since then?
Daryl Hall: There's something very direct and positive about the lyrics, and it never stops. It's relentless. I think maybe that's part of its appeal to people.
Joe Biden played it after delivering his victory speech last year. What did that mean to you?
Daryl Hall: I was very very honoured. I'm a gigantic Joe Biden fan, and I was very happy they chose us to be a part of that.
Are there any other uses that stand out to you? Did you hear Kermit singing it?
Daryl Hall: No, which Kermit? Kermit the Frog?! Really?
Yeah, he sang it on the most recent series of The Masked Singer in the US.
Daryl Hall [laughing]: I didn't know that. I'll have to check it out.
You're re-releasing the song for Record Store Day. How important were record stores to your career?
John Oates: My first record contract was actually with a place called the Record Museum, which was a shop in downtown Philadelphia that specialised in 45s. One day in 1967, my high school band literally walked into the store with a test pressing and said: "Hey, we made a record." And the guy took it, put it on the record player, played it on the crappy speakers and said: "Oh, this sounds great... step into my office."
So we went behind the counter into the back office and signed a contract, which was a portent of things to come, in the great tradition of musicians getting screwed by business people.
The video for one of your other songs - She's Gone - went viral recently, just because it's so bizarre. What's the story there?
Daryl Hall: We were just starting out and we had an opportunity at our local TV station in Philadelphia, who wanted us to do a lip-sync of She's Gone. John's sister was, like, 22 years-old and she was a director for the television station, so we used her. I put on a bathrobe, John had a penguin suit, our tour manager, Randy Hoffman, was dressed as the devil and we just did the song.
It scared the people at the TV station so badly, I wasn't even sure that they were going to put it on the air, but they did.
And then it disappeared into obscurity for decades until someone put it online?
Daryl Hall: Completely. Nobody knew about it. But I'm happy to hear it's gone viral. That's the only video I really ever liked.
It's 15 years since the last Hall and Oates record. Have you any plans to record together again?
Daryl Hall: I was actually starting a project with John when the pandemic hit, so we're on hold right now. But before we can even get into the studio we have a tour booked in the States for August.
What would 2021 Hall and Oates sound like?
John Oates: I would continue down the track we were on when we made the Big Bang Boom album in 1984, which was a very experimental and very probing, technically-advanced record for the time. If we were to do the same thing now, it would be a whole other level of technology. So I'm interested in exploring the possibility of something like that.
An earlier version of this story incorrectly stated that You Make My Dreams did not appear on any of Hall and Oates' Greatest Hits albums from the 80s and 90s. It actually featured on two (out of 13) compilations in that period, including the double platinum Rock 'n Soul Part 1.