A Quiet Place Part II becomes biggest pandemic-era US box office hit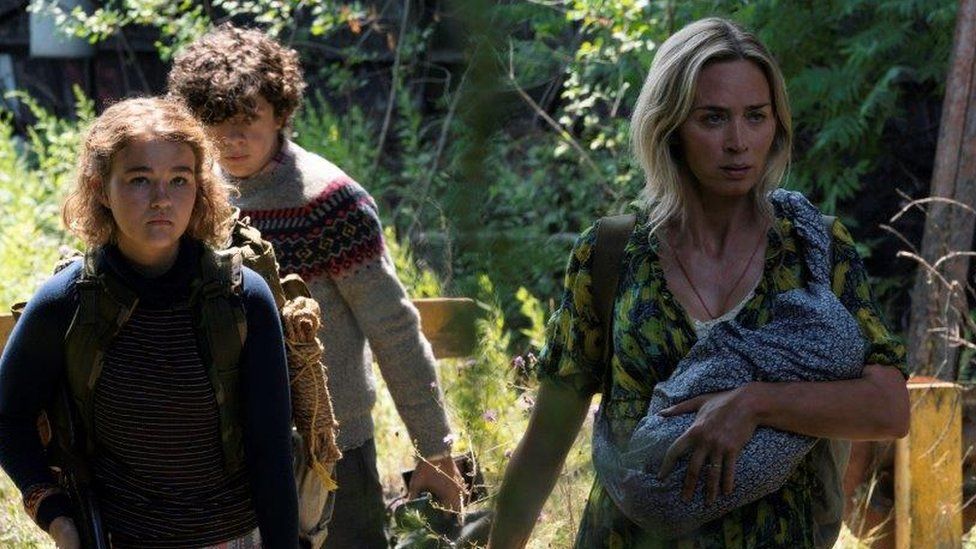 The delayed sequel to the thriller A Quiet Place has become the biggest hit at North American box offices since the start of the Covid-19 pandemic.
A Quiet Place Part II made an estimated $48m (£34m) between Friday and Sunday.
That exceeded predictions and was not far off the $55m that the film had originally been projected to earn in March 2020, according to Variety.
"You can almost hear the collective sigh of relief from studio executives across Hollywood," the magazine said.
US cinemas have been reopening in recent months, many with reduced capacities. There was uncertainty about whether people would want to go back, especially after getting used to the convenience of streaming.
The adverts for A Quiet Place Part II, which sees Emily Blunt and Cillian Murphy trying to evade noise-sensing blind aliens, stress that it is available "only in theatres".
Its $48m takings are the biggest single-weekend figures since Sonic The Hedgehog opened with $58m (£41m) in mid-February 2020.
"This bodes well for the future of the theatrical exhibition and is thus a huge relief for the movie industry at large," Paul Dergarabedian, a senior analyst at Comscore, told the AFP news agency.
A Quiet Place II will be released in the UK on Friday 3 June. Most cinemas in the UK have now reopened, also with reduced capacities.
Meanwhile, the weekend's other major release was Disney's Cruella, which stars Emma Stone as the 101 Dalmatians villain.
It was second in the North American box office rankings, taking $27m. However, Cruella was simultaneously released on streaming platform Disney+ for a $30 fee on top of the monthly subscription.