Luke Combs dissects his lockdown anthem Six Feet Apart, one year later
By Mark Savage
BBC music reporter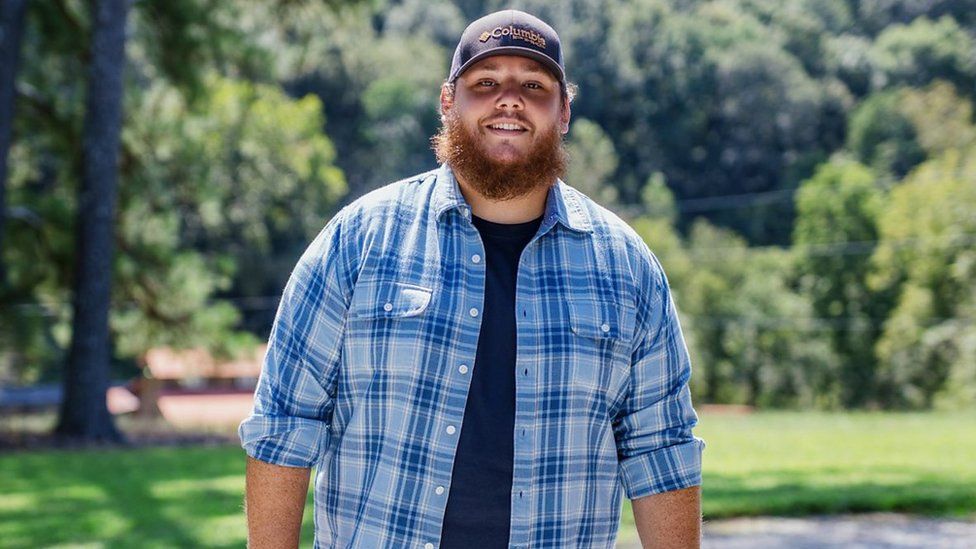 For most of us, the notion of nursing a beer at our local pub has been nothing but a distant dream for the last 12 months.
The US country star might have been under lockdown like the rest of us, but his house in North Carolina has a fully-working bar, complete with pool tables, big screen TVs and a collection of vintage arcade machines.
The converted barn doubles as a studio where, earlier this year, he recorded a special concert with the BBC Concert Orchestra. And it's also from where he speaks to BBC News to mark the 12 month anniversary of his lockdown anthem Six Feet Apart.
One of the first songs to reference the Covid-19 pandemic, it was written over Zoom on 14 April 2020, and gave voice to the uncertainties of the early stages of quarantine.
"I miss my mom, I miss my dad/I miss the road, I miss my band/Giving hugs and shaking hands...There will be light after dark/Someday when we aren't six feet apart."
A top 10 hit in the US country charts, it helped cement Combs' status as one of Nashville's biggest stars - the sort of singer fans not only relate to, but feel like they could hang out with (in his private saloon, natch).
He ended 2020 as America's top-selling country artist, with his second album What You See Is What You Get taking top honours from both the Country Music Association and the Academy of Country Music.
Not bad for someone who first picked up a guitar 10 years ago, aged 21, around the same time he dropped out of a degree in criminal justice.
"I wanted to be a homicide detective and then I realised I wasn't cut out for that line of work," he explains.
From Vine star to chart star
After picking up gigs in bars around his home town, he started experimenting with writing his own songs.
"The first one was called Day Drinking and it was really bad," he recalls. "But a year or two after that, a group called Little Big Town put out a song called Day Drinking that went number one. And so I was like, 'Well, at least I know that was a good title!' So that gave me a little bit of a confidence boost."
In the meantime, he'd built up a following both in Nashville and on the social media app Vine, a precursor to TikTok.
Over time, his lo-fi covers of hits by Sam Hunt, Kenny Chesney and Tracy Chapman gave way to originals, and he scored his first proper success with a song called Hurricane in 2015.
Blending his love of traditional country and southern-fried rock, it sold 15,000 copies on the day it came out.
"But I didn't realise that that was a big deal," says Combs. "In my head I was going, 'OK, well, if I've got 70,000 followers on Vine and only 15,000 of them bought it, then it mustn't be that great!' It was only later on that I realised that it was kind of a lot."
Still, the song generated enough buzz to get him a record deal, and a re-recorded version became his first country hit in 2016.
Four years later, the star was touring his second album when Covid struck - and he nearly found himself stranded in London, where he'd been due to headline the C2C music festival.
"It was a weird time," he says. "My wife threw me a surprise party the day before we went to Europe - but we actually ended up having a tornado in Nashville and so, after the party, I spent an hour in the closet in my house.
"The next day we flew out and played a couple of shows. Then, all of a sudden, I get a call at one in the morning that's like, 'Hey, dude, we gotta get on a plane, because they're going to shut the border down in 48 hours'. It was all just a blur."
That was on 13 March. Six Feet Apart was written four weeks later, but Combs says the anthem almost came about by accident.
"That writing session was already booked before the Covid stuff happened, but my mind had been on it," he says.
"The night before, I texted the guys and said, 'Hey, man, should we do something where we address the elephant in the room?' And they were like, 'Oh, that's perfect because we've got this title, Six Feet Apart'.
"So, somehow, we ended up being on the same page, and I think we wrote it in maybe two hours."
Even when the song was done, the star had misgivings.
"There was some concern, like, 'Man, I don't want to be cheesy'," he recalls. "You don't want everyone to feel like you're profiting off the awfulness of the world, because that wasn't the intended goal."
So Combs tested the water by uploading an acoustic version to YouTube. Almost immediately, it became one of the site's top trending videos, racking up 2.5 million views.
The studio version arrived a couple of weeks later - with Combs and his band playing in separate rooms, wearing masks and wiping down equipment with sterile wipes between takes.
The speed at which it hit the charts would have been unachievable 10 years ago, when pressing CDs and distributing songs to radio took months. "Now you can write something and put it out in two days," says Combs.
"I think that's what people always loved about a show like South Park - they write an episode on a Monday and it comes out the following Sunday, so it's always super-relevant.
"Nothing in TV had ever done that before, and I think we have the opportunity now to do that with music. People can listen to it and say, 'Oh, I'm feeling the exact same way right now'.
"Whereas, if we had wrote Six Feet Apart and put it out this year, it would be like, 'Whatever dude. Get over it'."
A year after the song's release, Combs is taken aback by his optimism. "I don't think we realised how this would last," he laughs.
In fact, as we speak in late April 2021, he's getting ready to record a Zoom performance for the NFL Draft, repeating something he did in the early stages of 2020's lockdown.
"It's even weirder to be doing these things a second time," he says. "Then you're like, 'Man, we really have been in this forever'."
Still, Combs made good use of the intervening 12 months, writing "a tonne" of new songs and improving his guitar picking skills.
In August, he married his girlfriend, Nicole Hocking - and shared footage from the ceremony in the video for Forever After All.
"I've always been real open with my fans, so we wanted them to have an opportunity to see," he says. "Our wedding was really small, and it was really private, which is what we wanted - but to be able to handpick a few things and show them to folks was neat, because it was the best day in my life."
As he talks about a year of hanging out at home, you wonder whether he has reservations about going back to the day job.
"Oh, I can't explain to you how much I've missed playing in front of people and feeding off their energy," he says, adding that he can't wait to get back to the UK.
"A lot of people think of country as music for rural America - but there's a lot of farmers that don't live in America, and people can relate to this music no matter where they are.
"It's love, heartbreak, hating your job and wishing it was the weekend. That's what everybody wishes, no matter what kind of music you like, so I think it's just something that people need to be exposed to a little bit more.
"And if that means I've got to fly seven or eight hours to do that, then so be it. That's what we'll do."