Glastonbury: BBC to screen highlights of live-stream concert
By Mark Savage
BBC music reporter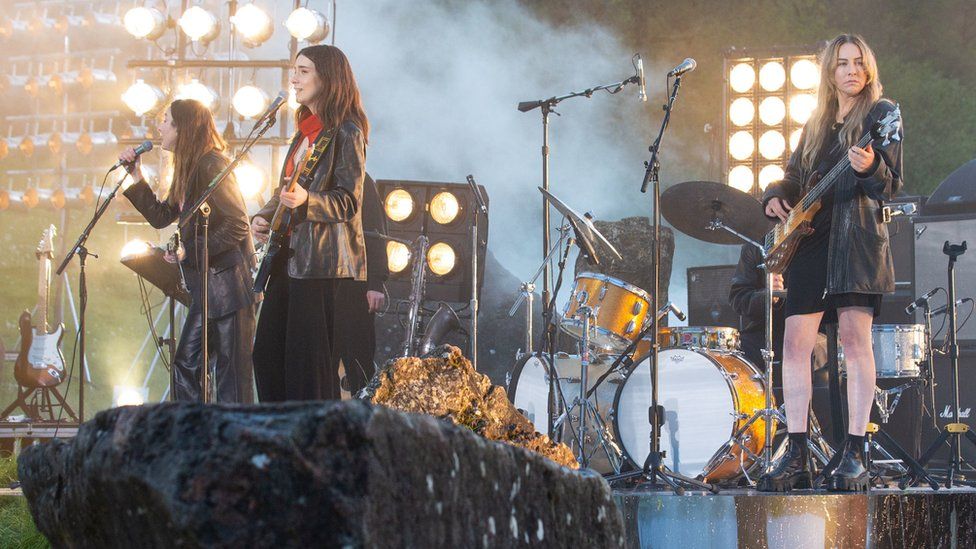 An edited version of Glastonbury's all-star live-stream concert is to be shown on the BBC in the coming weeks.
Featuring sets from Coldplay, Damon Albarn, Haim and Kano, the film will be accompanied by a behind-the-scenes documentary presented by Jo Whiley.
Glastonbury's five-hour show was first streamed on Saturday, but was beset by technical issues that stopped thousands of ticket-holders from watching.
Once the stream came to life, reviews called it a "triumph".
"Getting the experience of being at Glastonbury via a camera is impossible, but the stagings somehow succeed in giving you more of a flavour than anything previously attempted, despite the absence of crowds."
Live at Worthy Farm, for all its technical hitches had proved a triumph in emulating the head-spinning vitality and variety of the wildest weekend on earth.
"By the time it actually got going, Live at Worthy Farm looked every inch the slick affair ticket buyers had been promised," noted Joe Goggins in The I newspaper.
The BBC's own review called it "a bittersweet love letter to the magic of music festivals".
Two repeat showings of the concert film went without a hitch on Sunday; and those who missed it will soon be able to watch highlights across BBC television, radio and online.
Festival organiser Emily Eavis said: "Since the BBC first broadcast footage from Worthy Farm in 1997, Glastonbury and the BBC have enjoyed a brilliant relationship, so I'm thrilled that they'll be showing highlights of our Live At Worthy Farm special".
Radio 2 presenter Whiley added she was "looking forward to showing viewers exactly what went on..."
On Saturday night, after two hours of technical hitches, Glastonbury organisers made the premiere of their live-stream concert free to watch.
Technical issues meant people who had paid £20 to see the virtual gig received an login error, denying them entry.
Even after the replacement stream was launched, viewers could only rewind it by an hour, meaning that performances by Wolf Alice, George Ezra and Michel Kiwanuka were unavailable.
"I am so sorry about the problems," said festival organiser Emily Eavis, adding that she was "gutted" that people had missed out.
Ticketholders were later given free access to repeat screenings of the show, and the offer of a refund.