A Quiet Place Part II: Critics praise delayed sequel to 2018 horror hit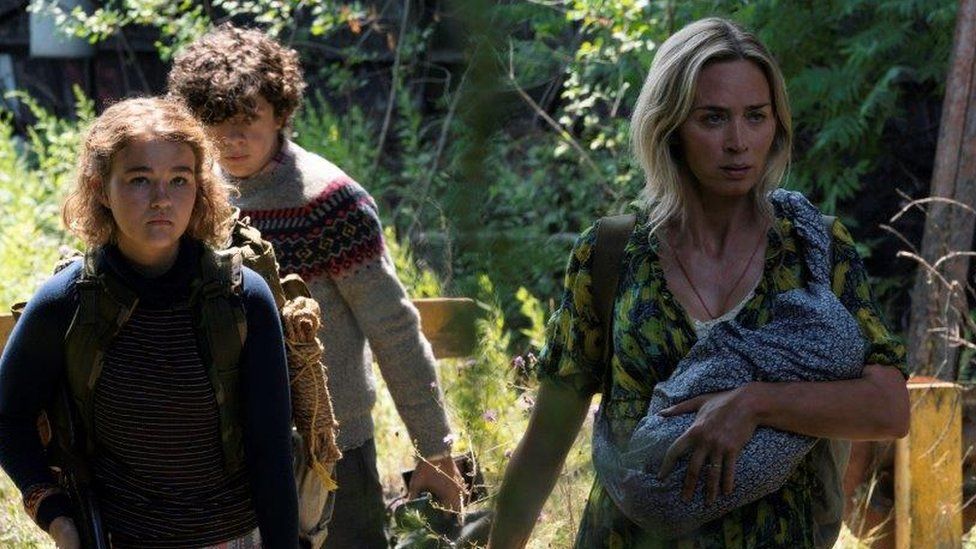 Many critics have welcomed A Quiet Place Part II, the sequel to the 2018 horror hit that has been delayed by over a year because of the pandemic.
Empire also had reservations, giving just three stars to a movie it said lacked the "smarts and novelty" of its Oscar-nominated predecessor.
A Quiet Place Part II has had one of the longest coronavirus-related delays in Hollywood. It was originally due to be released last March, and will now come out in the US on 28 May and the UK and Ireland on 3 June.
Like the original, it is set in a world where humans have been hunted to near-extinction by predatory blind aliens.
Silence is truly golden in this alternative reality, with quietude being the only defence against the fast-moving monsters' keen sense of hearing.
Emily Blunt plays a mother trying to keep her three children safe, while Peaky Blinders' Cillian Murphy portrays a neighbour who comes to her aid.
Krasinski, Blunt's husband on screen and off, reprises his role from the first film in an opening flashback that shows the aliens arriving in small-town America.
Variety praised his "ingenuity behind the camera" and his skill at "drawing out... seemingly mundane sequences for maximum suspense".
Yet its critic had less time for the sequel's "gaping plot holes" and the "glaring inconsistencies" in the alien attackers' behaviour.
The Hollywood Reporter was highly impressed by "another breathless chamber piece, expertly crafted to pack dread into every nerve-rattling sound".
'Captivating' performance
The Telegraph, meanwhile, welcomed what it called "a nerve-shredding treat", calling Blunt "a steely joy" and co-star Millicent Simmonds "entirely captivating".
Simmonds, who is deaf, plays Blunt's teenage daughter Regan, whose own deafness proves pivotal in countering the alien incursion.
Most UK cinemas reopened this week with social distancing, while cinemas are open again in the US, with restrictions in most states.
When the film was first delayed last March, Krasinski turned his attention to spreading positivity by setting up and hosting a hit YouTube series called Some Good News.
His weekly, celebrity-filled bulletins notched up millions of views with their stories of everyday heroism and random acts of kindness.
The most recent, featuring Dwayne "The Rock" Johnson, was viewed almost two million times following its debut in December.