Martin Bashir: BBC religion editor leaves the corporation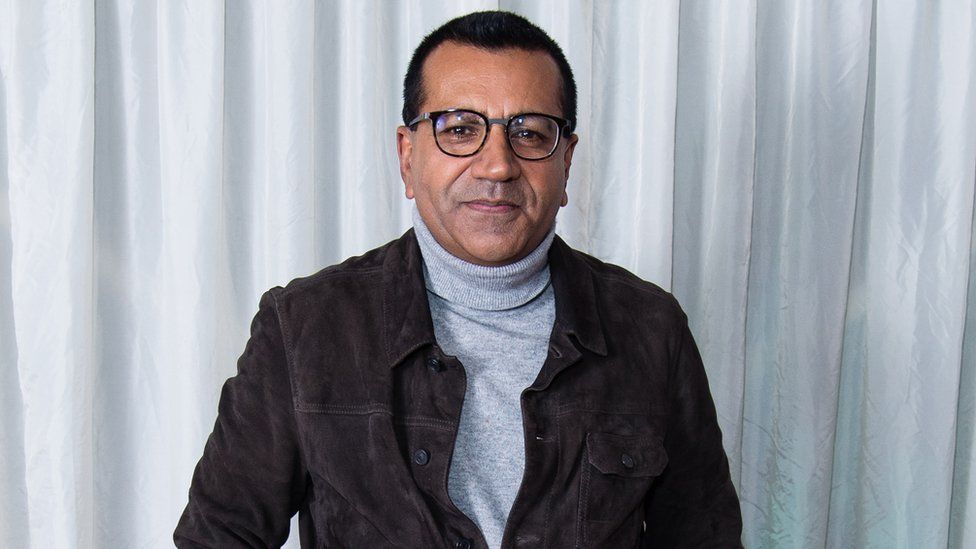 Martin Bashir has stepped down from his role as the BBC's religion editor, the corporation has confirmed.
Bashir, 58, has reported on religious affairs for the BBC since 2016, and previously worked for programmes including Panorama.
The corporation said he was leaving due to ongoing health issues.
His departure comes after questions were raised about how he secured an interview with Princess Diana for Panorama in 1995.
The deputy director of BBC News, Jonathan Munro, said: "Martin Bashir has stepped down from his position as the BBC's Religion Editor, and is leaving the corporation.
"He let us know of his decision last month, just before being readmitted to hospital for another surgical procedure on his heart. Although he underwent major surgery toward the end of last year, he is facing some ongoing issues and has decided to focus on his health."
He added: "We wish him a complete and speedy recovery."
Bashir is one of the most well-known journalists in the UK, having made news headlines for his interviews with Michael Jackson and Diana, Princess of Wales.
It was during her 1995 interview with Bashir that Princess Diana admitted to having had an affair and also spoke of Prince Charles's relationship with the then Camilla Parker-Bowles.
"There were three of us in this marriage, so it was a bit crowded," she told Bashir on Panorama, in a programme watched by millions globally.
However, Bashir had recently come under scrutiny after it emerged mocked-up bank statements had been produced in an attempt to secure the interview with the princess.
The BBC has apologised for the use of the statements, but has insisted they played "no part in her decision to take part in the interview".
Bashir will not face a criminal investigation. But retired Supreme Court judge Lord Dyson has carried out an inquiry into the incident.
A spokeswoman for Lord Dyson said he had concluded his investigation and that the report had been "passed to the BBC for publication in due course".
A BBC spokesman said the report would be published "very soon".
Bashir, aged 58, had been absent from his role in recent months after contracting Covid-19 and undergoing quadruple bypass surgery.
In the first of his two most famous interviews, Princess Diana also talked frankly about her difficulties with post-natal depression and bulimia.
It made headlines around the globe and was watched by 22.8m in the UK, winning Bashir a Bafta TV award.
He was also named Royal Television Society's Journalist of the Year in 1996.
In 2003, Bashir also interviewed pop singer Jackson for an ITV documentary.
The journalist asked him about reports of multiple plastic surgery and the "baby dangling" incident, when the star held his baby son over a balcony to show waiting fans beneath.
The programme, for which Bashir trailed the singer for eight months, was watched by 14m viewers.
Bashir's career began as BBC news correspondent from 1987 to 1992. He then joined the corporation's investigative programme Panorama, and also worked on shows including Songs of Praise and Public Eye.
In a 1998 Panorama programme he interviewed Louise Woodward, the British au pair convicted of the manslaughter of Matthew Eappen, a baby she was looking after in the US.
The exclusive interview, in which she declared her innocence, was recorded after she was released from a US prison, when her conviction was reduced from murder to involuntary manslaughter.
Bashir also interviewed the five men suspected of killing London teenager Stephen Lawrence in 1999, having moved to ITV in 1998 to work on Tonight with Trevor McDonald.
He went on to speak to disgraced Tory peer Lord Archer, Tony Martin the Norfolk farmer who was jailed for killing a burglar and former footballer George Best, as well as making a series of documentary films about the serial killer doctor, Harold Shipman.
Other interviewees included Michael Barrymore and Major Charles Ingram, also known as "the coughing major", infamous for his appearance on TV game show Who Wants to Be a Millionaire?
In 2004, Bashir moved to New York, where he worked on ABC News, and later MSNBC as a political commentator, where he worked until 2013.
He quit MSNBC when he became the controversial focus of attention himself, for remarks he made about former US vice-presidential candidate Sarah Palin.
He then broadcast an apology on his show saying his remarks were "ill-judged".
Bashir returned to the UK and was appointed the BBC's Religious Affairs correspondent in 2016. In 2019, he took part in a celebrity version of ITV's X Factor, which replaced the traditional X Factor series, and was eliminated in the third week.