Woman Sitting Near a Window: Pablo Picasso work sells for $100m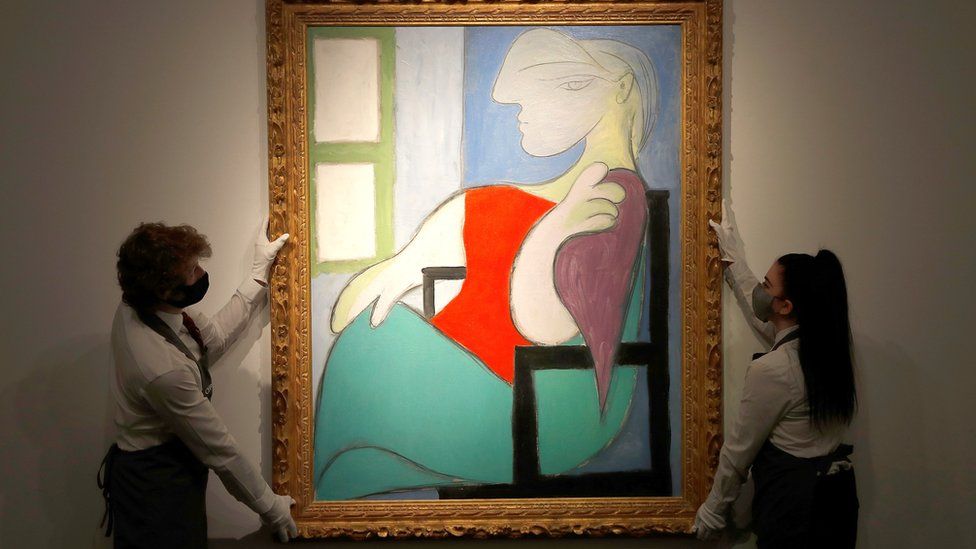 A painting by Pablo Picasso has sold for more than $100m - marking the fifth work by the Spanish artist to sell for a nine-figure sum.
Woman Sitting Near a Window (Marie-Therese) sold for $103.4m (£73.5m) on Thursday at Christie's auction house in New York.
That figure comprises $90m for the painting itself, with fees and commissions on top, Christie's said.
The auction house had estimated the painting would sell for $55m.
The work, titled Femme Assise Pres d'Une Fenetre (Marie-Therese) in Spanish, was sold after 19 minutes of bidding.
The impressive sales figure is a sign of the art market's vitality, which will be a source of relief for the industry after an uncertain year amid the Covid-19 pandemic.
Bonnie Brennan, president of Christie's America, said the success of Thursday's auction "signals a real return to normal and also a message that the art market is really back on track".
It also confirms the continuing significance and popularity of works by Picasso, who was born in 1881 and died in 1973.
The painting, which depicts Picasso's young mistress and muse, Marie-Therese Walter, was acquired only eight years ago at a London sale for £28.6m ($44.8m), less than half the price it sold for on Thursday.
Picasso's fifth $100m sale
Thursday's auction marked the fifth work by Picasso to have sold for more than $100m.
He is one of a very small number of artists to have sold multiple works above this threshold, alongside Jackson Pollock, Vincent van Gogh and Francis Bacon.
The record for a Picasso is $179.4m (£127.6m), which was paid for his painting The Women of Algiers in 2015.
The last painting to fetch more than $100m was Claude Monet's 1890 work Meules, which reached $110.7m in New York in 2019.
This is the first time in two years that a work has broken the $100m mark since an 1890 Claude Monet Meules painting reached $110.7m (£78.7m) at Sotheby's, also in New York.