Film studio sorry for dubbing Laverne Cox's voice with a man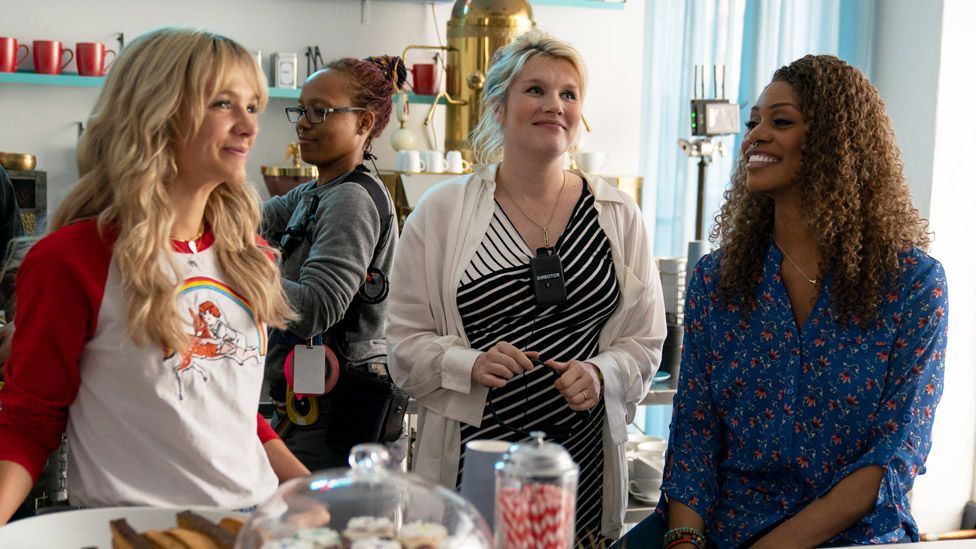 Universal Pictures has apologised for dubbing actress Laverne Cox's character with the voice of a man in some non-English versions of the Oscar-winning film Promising Young Woman.
Cox, one of Hollywood's most high-profile transgender actresses, plays coffee shop owner Gail.
But in Italy, her voice was replaced by that of actor Roberto Pedicini.
Universal said it was "sorry for the pain caused", and was re-dubbing the film for multiple countries.
The choice sparked an outcry on social media in Italy when a clip of the film was posted. The Guardian reported that a similar issue had occurred with the versions in Spain and Germany.
"We are deeply grateful to Laverne and the transgender community for opening our eyes to a bias that neither we nor many in our industry had recognised," Universal Pictures International said in a statement to The Guardian and Variety.
"While there was no malicious intent behind this mistake, we are working diligently to fix it.
"We have begun redubbing Ms Cox's voice with female actors in our international territories and are pushing back release dates to ensure the correct version is available.
"We are sorry for the pain caused but are thankful that we can address the situation on this film and prevent similar mistakes from happening again on future projects."
Cox rose to fame on the Netflix drama Orange Is the New Black, and was the first trans person to be nominated for a Primetime Emmy Award for her acting.
But her character in that show was dubbed for the Italian market by a man, Andrea Lavagnino, who also re-voiced her character in TV sitcom The Mindy Project, according to The Guardian.
Neither Cox nor Promising Young Woman's British writer and director Emerald Fennell has commented.
How Hollywood has got lost in translation
Making changes to characters, their voices and the words they speak when dubbing films and TV shows isn't unusual as a way to make them conform to stereotypes or prejudices in the target markets.
Hollywood's first use of the word "gay" to mean homosexual - by Cary Grant in 1938 comedy Bringing Up Baby - was changed to "mad" for the Italian version.
More recently, gay characters in 1990s Japanese anime series Sailor Moon had their genders swapped for the US through the choice of voice actors and dialogue, meaning same-sex relationships were removed. The uncensored version was finally made available to stream in 2014.
Female characters in shows like Sex and the City and Buffy the Vampire Slayer have been "tamed" by changing their dialogue for countries like Italy and France, according to academics.
However, the German dubbing of 1963 James Bond film From Russia with Love apparently removed sexist and misogynist references in favour of more plot development.
Using a voice actor of a different gender from the character is more common with young male characters, especially in animations - think Bart Simpson, voiced by Nancy Cartwright.
But animations have got in hot water when it comes to people voicing characters of different races. The Simpsons has recast the actors behind some of its black characters, while there was recent controversy when it was revealed that black characters in Disney's Oscar-winning Soul had been dubbed by white actors for some European versions.