John Barrowman video removed from Doctor Who theatre show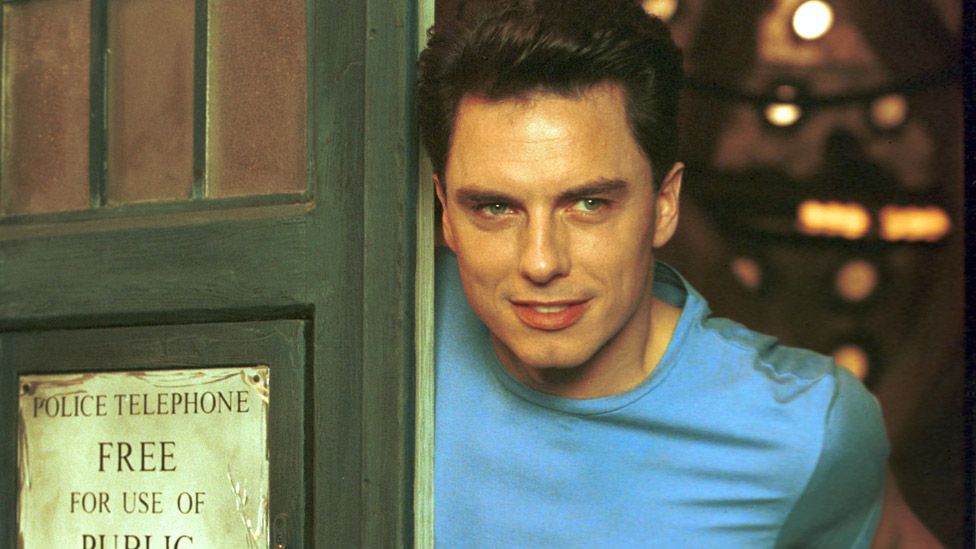 A video featuring John Barrowman is to be removed from an immersive Doctor Who theatre show following allegations about the actor's past conduct.
He is accused of repeatedly exposing himself while filming the BBC show.
Mr Barrowman was to have been seen as his Captain Jack Harkness character in a pre-recorded video to be shown during the Doctor Who: Time Fracture show.
Mr Barrowman has previously apologised for his behaviour but has not responded to the show's decision to drop him.
Mr Barrowman was introduced as Captain Jack in a 2005 episode of Doctor Who and went on to play the character in spin-off show Torchwood.
The popular character made a return appearance in Revolution of the Daleks, this year's Doctor Who New Year's Day special.
Mr Barrowman's conduct has come under scrutiny in recent days in the wake of sexual misconduct allegations made against his former co-star Noel Clarke.
Mr Barrowman's behaviour was reportedly viewed as "inappropriate pranks" and not intended to be or regarded as sexual in nature.
A video of Mr Clarke at a 2015 sci-fi convention joking about Mr Barrowman habitually exposing his genitals resurfaced and went viral earlier this month.
Mr Barrowman apologised in 2008 for exposing his genitals during a live BBC Radio 1 broadcast. At the time he said he "was joining in the light-hearted and fun banter" and had gone "too far".
In a new statement given to The Guardian this month, he said his "high-spirited behaviour" was "only ever intended in good humour to entertain colleagues on set and backstage".
"With the benefit of hindsight, I understand that upset may have been caused by my exuberant behaviour and I have apologised for this previously," he continued.
"Since my apology in November 2008, my understanding and behaviour have also changed."
Mr Barrowman was to have been seen alongside fellow Doctor Who cast member David Bradley in videos to be shown during Doctor Who: Time Fracture.
In their statement, the producers said they would "continue to include content that pays tribute to this brilliant show that is Torchwood so as not to disappoint its fans."
The interactive production, which has cast of more than 40 live performers, is scheduled to begin performances at a venue in central London on 26 May.
Earlier this week ITV declined to confirm if Mr Barrowman would continue as a judge on Dancing On Ice, saying decisions about the next series' line-up had yet to be made.