Abba: Why the UK gave the Swedish band 'nul points' at Eurovision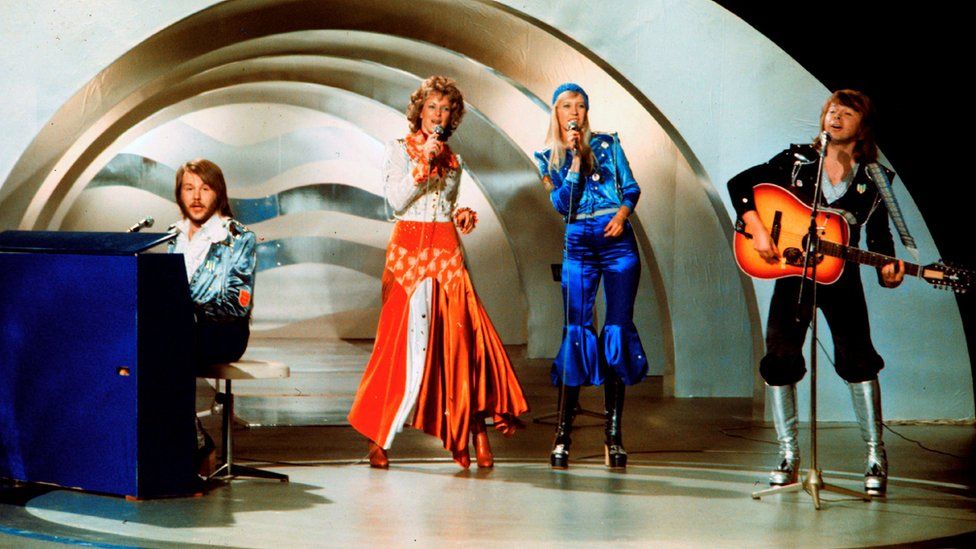 Cast your mind back to the spring of 1974, if indeed you were around to remember those days.
The UK is hosting the Eurovision Song Contest, and the word on the street around the event's venue the Brighton Dome is that their representative Olivia Newton John has a fair old chance of winning.
Victory for her track Long Live Love would give the Brits their third victory in the kitschy-cool international song contest, which began in 1956.
However, a little-known Swedish pop group, formed in Stockholm only two years ago, are about to spoil the host's party, with a memorable performance of what would go on to become one of the most popular recordings of all time.
Abba's Waterloo is ultimately crowned as the winner, despite having received a bitter so-called "nul points" judgement from the UK panel.
Reflecting on the win 47 years later, Abba songwriter Björn Ulvaeus suggests the UK might have given his group the lowest possible score (by not allocating them any votes at all) as they viewed them as the biggest possible threat.
"It certainly could have been," he told BBC entertainment correspondent Colin Paterson on BBC Breakfast. "Because the Brits were the first ones to embrace us after winning, so the jury could have been as cunning as that - [it's] very likely actually.
"Because it's kind of strange they would give us zero points. It sounds like they were trying to do something cunning."
So has he ever spoken to Olivia Newton John about what happened that night?
"Frida (bandmate Anni-Frid Lyngstad) is a good friend with Olivia. She says that Olivia knew that we would win," he says.
"We certainly talked that night, but I don't remember that, it was such chaos I hardly remember anything other than waking up the next day and finding myself and us being all over the globe suddenly.
"[We had] gone overnight from this obscure Swedish band to world fame... so unreal."
'The plight of the songwriter'
For Ulvaeus and the rest of Abba, the victory was a life-changing moment, and soon after, he says, "the royalties came pouring in".
It afforded them space and time to establish themselves as proper professionals, able to fully focus on producing future hits including Dancing Queen, and Gimme! Gimme! Gimme! (A Man After Midnight).
Space and time are luxuries rarely afforded to burgeoning musical talent s in this age of streaming, he notes - especially during a pandemic.
In recent months we've heard how some hit songwriters have become Uber drivers to make ends meet, and how others have been pressured into surrendering their songs.
Elbow frontman Guy Garvey, who worked in Manchester bars on the long road to success, recently told a DCMS committee inquiry into the music streaming market that the way artists are paid for audio streams is "threatening the future of music".
With all that in mind, the Abba star has just published a new report entitled Rebalancing the Song Economy. The report, conducted in collaboration with MIDiA Research, focuses on the devastating impact of Covid-19 on the global music industry, and aims to offer potential solutions to the current issues around streaming models.
One suggestion is the introduction of a more fan-centric model, which would see a larger percentage of each listener's subscription fee go directly to their favourite artists and the ones they listen to the most.
Ulvaeus says 2020 was so awful for singers, with most music events cancelled, that they've now realised what songwriters have known for many years - and that could be the impetus for real change at last.
"It's been really, really difficult," he continues. "Ever since the pandemic started last year, the artists stopped touring, and there were no performance royalties coming in from the touring.
"But funnily enough, the fact that the artists got stopped from touring made them realise how little they were actually making from streaming. They had made 70% perhaps from touring and merchandise and all of that stuff, and suddenly they had to survive on streaming.
"And I thought, 'Welcome to the world of songwriters' - because that is how [it is for] songwriters usually... they are always in that situation. And I think the pandemic has been very, very bad in many, many ways, but it's been good in putting the spotlight on the plight of the songwriter I think.
"There is a movement building up on both sides of the Atlantic - the UK, continental Europe and America, Canada - that I hope is unstoppable.
"It could make 2021 the year of the song, that's what I hope for."
The 75-year-old, who confirms that his band are set to release five long-awaited new songs of their own later this year, says he will not be selling the rights to their back catalogue anytime soon - as the likes of Bob Dylan, Neil Young and Paul Simon have done.
The reason being that they have been having far too much fun with projects including the Mamma Mia films and theatre musicals, and going back to the future in an upcoming Abba avatar tour (the band haven't performed together publicly in real life since 1982, turning down some big money offers to do so).
While he refuses to offer any precise details about their digital doppelgangers, the original Ulvaeus says he would not be putting his name to any official biopic either, despite the success of recent examples such as Bohemian Rhapsody and Rocketman.
"I don't think we would want that actually," he says. "I certainly know myself I wouldn't want an actor - not while I'm alive - to play me on the big screen. And I don't think the others would like that either.
"There have been proposals, of course. I don't think we will do that."
Abba have never officially split, but Ulvaeus did from bandmate and subsequent ex-wife Agnetha Fältskog in 1980 - the same year she sang vocals on their break-up anthem The Winner Takes it All. The marriage of the other two Abba stars Anni-Frid Lyngstad and Benny Andersson ended around the same time.
So while it may be bad news for fans of music flicks that there will be no Abba biopic anytime soon, Ulvaeus feels it's for the best.
"It would be very sad, wouldn't it?" he suggests.
"Unless of course, the avatars hint at another ending! A happy ending, perhaps."
Watch the full interview with Björn Ulvaeus on BBC Breakfast on Monday 19 April from 06:00 BST.