Bafta Film Awards 2021: Snobbery, pianos and other takeaways
By Neil Smith
Entertainment reporter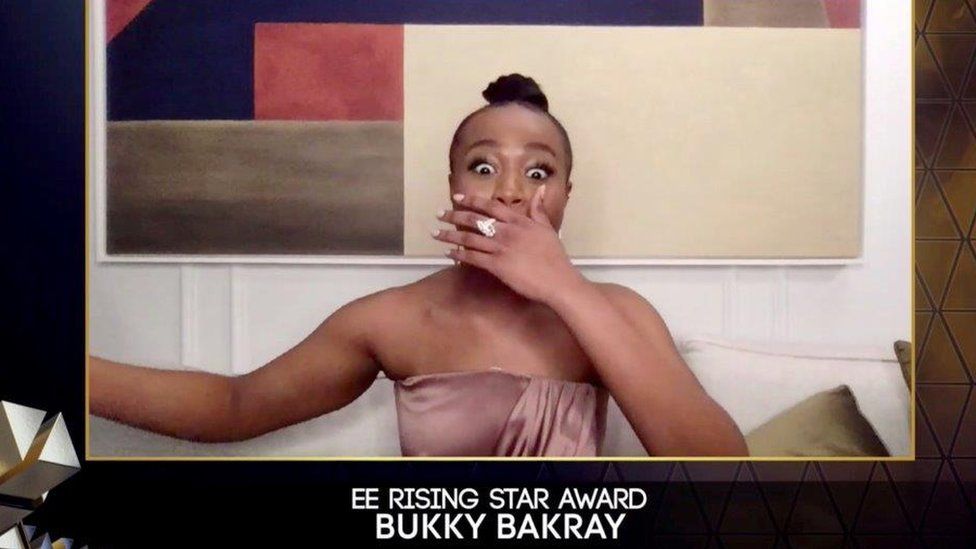 With the nominees on Zoom, only a few stars in attendance to open the envelopes and a Royal Albert Hall as empty as your local picturehouse, it definitely wasn't business as usual at this year's British Academy Film Awards.
Yet even with coronavirus restrictions and social distancing in place, there were still enough moments of humour, glamour and surprise to make the event a memorable one for the people watching at home.
Nomadland was the night's big winner, picking up awards for best film, director, lead actress and cinematography. Chloe Zhao's film can move on to the Academy Awards in two weeks' time confident of yet more success.
It was also a big occasion for Sir Anthony Hopkins, whose unexpected win in the best actor category over the hotly-tipped likes of Riz Ahmed and the late Chadwick Boseman saw him receive his third Bafta film award at the age of 83.
Here are five things we took away from this year's largely virtual ceremony.
1) Brits are snobs... in a good way
South Korea's Yuh-Jung Youn was thrilled to be named best supporting actress for her role in Minari, but her description of the British as "very snobbish people" was a curious way to convey her gratitude.
The 73-year-old said she felt privileged to have been acknowledged by Britain, a country she has visited many times, including a trip to Cambridge 10 years ago. "It felt snobbish, but not in a bad way," she told reporters after her win, going on to praise the UK's "long history and sense of pride".
Snobbery can be good, then, if it means - as she seems to have intended it - simply having high standards and discerning taste.
Youn is also up for an Oscar for her role as a grandmother transplanted to rural Arkansas, although she would not be drawn on her chances. "Don't ask me, I don't know anything," she sighed. "I'm famous domestically but not internationally."
2) A piano makes a great Zoom backdrop
If there was a Bafta for the most glamorous setting from which to accept a Bafta, Emerald Fennell - whose debut film Promising Young Woman won both best original screenplay and outstanding British film - would win hands down.
Zooming from a hotel suite that was far from the "simple, poky hotel room" she later attempted to pass it off as, the actress, writer and director had a grand piano behind her so impressive that it was remarked upon by ceremony co-presenter Edith Bowman.
With a chocolate Bafta mask melting in her "sweaty" hand, Fennell gave thanks to her film's lead actress Carey Mulligan - "the greatest actress" - while wishing she had prepared a better acceptance speech in advance.
"Everyone did [the film] pretty much for a packet of crisps," she said as she accepted her second prize of the evening. "I want to go to all your houses and kiss you, which I'm not allowed to do for various reasons."
Speaking of pianos, it turns out that Daniel Kaluuya - winner of the best supporting actor prize for Judas and the Black Messiah - is currently learning how to play one.
The British actor said he might celebrate his win by tinkling some ivories, taking a walk and having a bath. "I'm chill, man," he told reporters. "I take every day as it comes."
It is not the first time this awards season the Get Out star has accepted a prize from his home, giving viewers another glimpse of his bookcase and impressive pipe collection.
3) Everyone loves a family member cameo
Hearts melted around the world earlier this year when Minari director Lee Isaac Chung accepted his Golden Globe for best foreign language film while holding his young daughter in his arms.
It was just as touching on Sunday when composer Atticus Ross gave his own daughter a hug as he accepted the best original score Bafta for animated film Soul.
There were also hugs from overjoyed family members for Rocks star Bukky Bakray as she won the EE Rising Star Award, the only prize of the evening decided by the public.
"I don't know how to articulate my feelings," the "hyped" Londoner told reporters after her win. "I thought 100 people would watch the film, max. I didn't think it would have this reach."
One family member who sadly could not be present to celebrate was Thomas Vinterberg's daughter Ida, who was killed in a car accident at the age of 19 in 2019.
As he accepted the Bafta for best film not in the English language, the Another Round director said his film about a group of heavy-drinking friends had been made in her memory.
"She was more enthusiastic about this project than anyone else, so the honour granted by you Bafta voters means more to us than you could ever imagine," the Danish film-maker explained.
4) Don't let time zones stop you celebrating
It may have been morning for Nomadland director Chloe Zhao, but she seemed determined to celebrate her film's Bafta success in Los Angeles.
"Tomorrow morning I will be very hungover," she revealed, saying she intended to drink some orange juice "with a little bit of something in it", adding: "It's never too early to be drunk in California."
Zhao was one of four female film-makers up for the best director award, something she described as "great". "It's about time," she told reporters following her win. "Let's have some more."
Like many of this year's winners, she also expressed a wish to return to cinemas as soon as possible "to undo some of the damage done" by the worldwide pandemic.
"The whole point of film is to share emotions with audience," agreed Florian Zeller, winner of the best adapted screenplay Bafta for The Father. "I can't wait for cinemas to open."
Londoner Remi Weekes, winner of the outstanding British debut prize for his horror film His House, expressed similar sentiments, saying he was "looking forward to going to my local [cinema] in Dalston".
5) Even virtual ceremonies have no-shows
With nominees required to do little more than Zoom in from their living rooms, there wasn't much of an excuse for not being in virtual attendance.
Despite this, neither best actress Frances McDormand nor best actor Sir Anthony Hopkins were able to be on camera when their wins were announced.
To his credit, Sir Anthony - who was nominated for his first Bafta in 1969 and who received the Bafta Fellowship in 2008 - did make amends by taking questions from the press afterwards.
Speaking from his current residence in Wales, the Silence of the Lambs star said he had been quietly painting when cheering from another room alerted him to his triumph.
"I thought they were watching a football match," he admitted, describing his fourth competitive Bafta win as "a fun bonus" to the happy experience of making The Father.
Sir Anthony said it had not been a challenge to play an elderly man suffering from dementia in the film version of Florian Zeller's play. "I didn't have to act old - I am old," he explained.
He also likened the experience of dementia to the difficulties the world has faced during the pandemic, saying both involved "losing your senses and anchors".
"It is a mess and it is scary for billions of people," the actor continued. "I hope it helps us to pay attention and to not take everything for granted.
"But hopefully we'll come through it," he went on. "I hope we all come through this with a sense of triumph and hope for the future."