Dragons' Den: The hits, misses, and why investments fall through
By Steven McIntosh
Entertainment reporter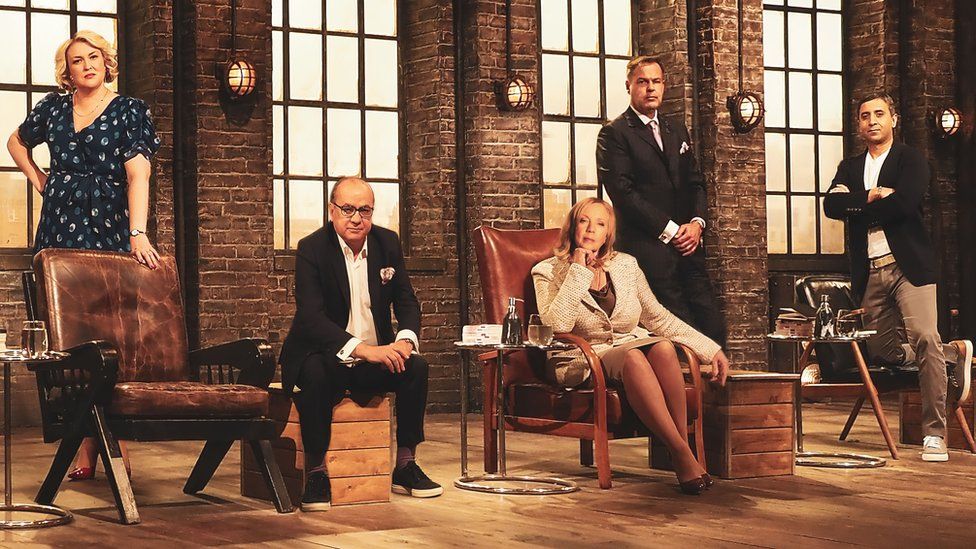 There can't be many people who bring wads of £50 notes to their office every day, on the off-chance they'll want to invest in a metal construction tool called the Wanger-Flange.
But then again, most people don't work in Dragons' Den, the long-running TV series which sees hopeful entrepreneurs pitch their business ideas to industry leaders in an effort to secure investment.
The show has been running on BBC Two since 2005, regularly attracting more than three million viewers. But the new series has been promoted to a prime Thursday night slot on BBC One. That will result in even higher ratings, but it's very much business as usual for the Dragons (and their £50 notes).
"The minute you walk on set until the minute you walk off set, you're in competition mode," says Peter Jones, the only Dragon to have remained on the show since the first series. "You are going into an arena, and as soon as you walk through those doors, you go, 'Right, game on.'"
He recalls: "A couple of times last season I ended up getting a deal, and one of the Dragons said, 'I didn't see that coming,' and was so upset they didn't speak to me for 40 minutes. But then they were like, 'Alright, alright, I admit, that was good.' So we're all friends, but there's still an edge."
"It can get really tense in the Den," agrees Sara Davies, who became a Dragon in 2019. "We can really go hammer-and-tongs at each other, trying to win an investment, or massively disagreeing in the Den.
"But then," she adds, "we go through to the green room and stick the kettle on and have a brew, and we can either chew the cud on [the pitch we've just heard], or talk about politics or the weather that day and get on really well."
The format of Dragons' Den originated in 2001 in Japan, where the show was called Tigers of Money. Other spin-offs include the brutal US version, Shark Tank, which lives up to its name. The Sharks interrupt and shout over one another, making the British Dragons look actively polite.
Although the UK line-up has changed several times over the years, the show's foundations remain the same. The pitches are packaged up into digestible hour-long episodes for viewers, but those mask a gruelling production schedule.
"We aim to be on set for 10am, and there aren't many days where we finish before 9pm," explains Davies. "So it's a long filming day, and the pitches can be up to two hours long each. We do 18 filming days for a series, which gets us 14 episodes. We don't see anything beforehand, we know nothing about the business, so you're getting our genuine reactions."
The series has been running long enough that many products pitched in the Den over the years have gone on to significant success. One of the most high-profile examples is Reggae Reggae Sauce, invented by Levi Roots (and highly recommended on pizza).
But just as interesting as the hits are the Den's misses. In 2007, one Dragon told the inventors of Hungry House the public don't turn to a website when they want to order a takeaway. That was true at the time, but perhaps showed a lack of foresight. More than a decade later, Just Eat, Deliveroo and Uber Eats have changed the face of takeaways.
Jones acknowledges that, sometimes, great businesses slip through the net. "There are occasions where you get things wrong. For me, Tangle Teezer was a miss," he admits, referring to the now-hugely-popular detangling hairbrush which has since made its inventor more than £100m.
"I should've started to think about my real life, which is, I've got four daughters, they've all got long hair, what am I thinking?" he says. "Sometimes you've got to not be driven by your head, but sit back and reflect, which I always like to think I do well, but I didn't on that occasion."
The Dragons' missed opportunities are regularly the focus of articles written about the show, but Jones points out that that doesn't necessarily mean they made the wrong call. He cites Trunki, the successful rideable children's suitcases, as an example.
"You read about so-called misses the Dragons have made, and the reason there's no real retaliation from us is, in terms of Trunki, that wasn't a miss at all," Jones says. "Basically the company, when he pitched it, he overvalued the business, that was the main issue there. Had we invested what he was asking at that point, the business wasn't even worth that many years later."
Another recurring point of controversy is how many deals fall through outside the Den. It's previously been reported that nearly half the money pledged by the Dragons on screen went un-invested after the cameras stopped rolling.
But both Davies and Jones put this down to post-Den scrutiny. Often, they explain, when the small print is examined, it transpires that an entrepreneur may have inflated their sales figures or provided other wrong information during their pitch.
"There's a period of financial due diligence," explains Davies. "So basically, everything you've claimed in the Den, is it all true? The BBC does some due diligence, but we want to check it all ourselves as well." The Dragons check over business plans and have legal teams draw up new contracts.
"You go through it with a toothpick… that's where these things fall down," adds Jones. "I'm not saying the entrepreneur is trying to tell us things that aren't true, but through excitement or being unprepared, their numbers maybe got a bit mixed up in their head."
He continues: "That's 90% of the reasons why things in the Den fall through, but there's another part of it. Sometimes people come into the Den, get a deal, and think, 'We're on TV, that'll be great for my product,' and they drag out the due diligence."
In other words, some inventors want the publicity, and, once the episode has been broadcast, aren't actually interested in following through on the deal they were offered. "They're thinking that if they can get their product on air they'll get fame, and maybe won't even need a Dragon, which is disappointing, but does happen," says Jones.
Critics were broadly positive about Dragons' Den in the early years, but some have said the format has become tired more recently.
"At times, it was must-see TV. Informative on one hand and watch-through-your-fingers funny on the other," wrote The Guardian's Gavin Newsham. But, he added: "Dragons' Den has long since become a predictable parody of itself, with each episode a carbon copy of the last."
This is a common criticism, although while the format remains the same, there is at least variety in the businesses being pitched. And it's not as if the ideas are running out. As society changes and technology advances, new possibilities spring up.
For example, the new series sees a particular focus on sustainability, several natural and organic products, smartphone apps, and businesses based on monthly subscription models. Coronavirus has had an impact too, with two entrepreneurs pitching a natural hand cream primarily aimed at NHS workers whose hands become cracked or sore due to constant washing.
"We've seen quite a few topical things that I think are pandemic-specific," says Davies. "What I've really enjoyed about this series is seeing how people have created opportunities from adversity. Whatever is being thrown at them, they've looked to see how they can make that an opportunity."
Jones adds: "If you look at the world today and the pandemic we've seen, the only way we can come through this recovery is for entrepreneurs hopefully creating success across the whole economy."
Dragons' Den begins on BBC One at 20:00 BST on Thursday 1 April.