Celeste: How the UK singer made a 'secret' Oscars film song
By Paul Glynn
Entertainment & arts reporter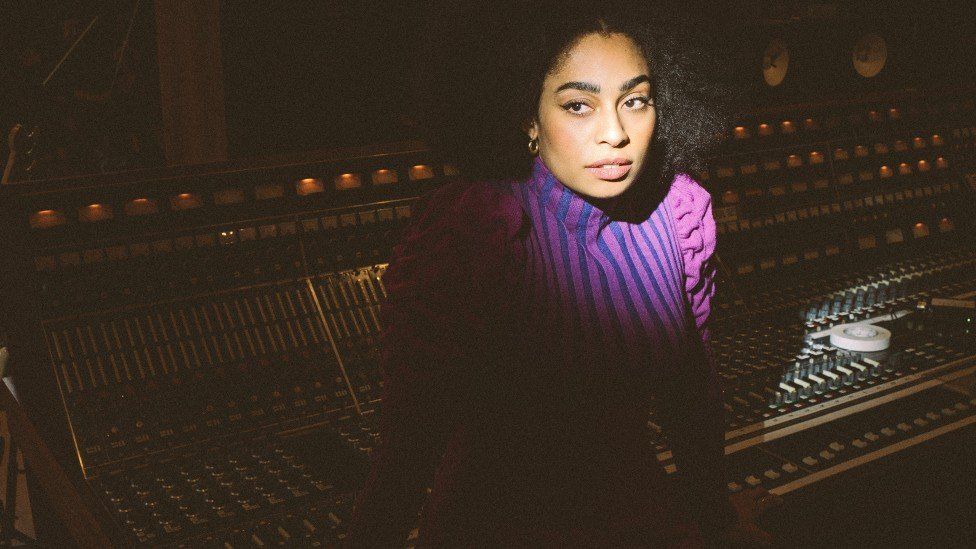 When the Academy Awards nominations drop on Monday, fans of British singer Celeste will have a keen eye on the the best song category.
Her poignant and soul-stirring ballad Hear My Voice appears at the end of director Aaron Sorkin's historical legal drama The Trial of the Chicago 7. The track has already made the (rather long) shortlist of this year's potential nominees, as well as receiving Golden Globes recognition.
But it almost didn't make it into the movie at all, let alone the awards season.
Until the end of post-production last summer, Sorkin, it transpires, was totally unaware the film's composer Daniel Pemberton had been scheming with Celeste behind his back... in the best possible way.
"Aaron wanted a song for the closing credits and he wanted to use a Beatles song," Celeste explains to the BBC. "I think it might have been Here Comes the Sun.
"And Daniel was set on writing an original song for the closing credits. So he secretly, without the director knowing, approached me and said, 'Do you want to write this song together for this film?'
"I kind of knew it was a bit dodgy because we were doing little bits then sending it, and I was like, 'Whatever, I may as well do it and see where it leads'."
At this stage the singer, whose debut album topped the charts last month, still hadn't seen the film as she wasn't officially on the payroll. She'd read around the subject, though, and Pemberton had sneaked her some clips on the sly.
"They [the filmmakers] were in the edit suite doing the final scene, then they played the Beatles song, and for some reason Aaron just didn't think it felt right," she continues.
"I think he called Daniel in a bit of a panic, thinking he needs to finish the film and the song isn't sounding right. And Daniel said to him, 'Well I've done this track with this girl Celeste - what do you think?'"
The rest, as they say, is cinematic history.
The Netflix drama, whose ensemble cast includes Sacha Baron Cohen, Mark Rylance, and Eddie Redmayne, won best screenplay at the Globes and is expected to be in the running for a host of awards on Oscar night.
It follows the plight of a group of anti-Vietnam War protesters, who were put on trial after a demonstration turned violent. Along the way, it exposes discrimination, police brutality, racial injustice and corruption in the justice system.
Although the events took place long before Celeste, 26, was born, the themes resonate with her today.
Her exit music for the film carries the refrain: "Hear my voice / Hear my dreams / Let us make a world / In which we believe".
"Something I get frustrated and annoyed about in England is feeling like we have a government that doesn't really protect and honour the interests of the majority of people," she says.
"It just seems they don't have a realistic view on what it's actually like to live a life as a normal person, and they're not really doing the right things to help people.
"It's annoying because a lot of those people don't always have the means or the literacy or the mobility to actually speak up and be heard by those people in government."
She adds: "So when we were writing this song, that's more what I was drawing on rather than thinking about 1969, because I guess I don't have that much emotional connection to that. But then I do draw parallels with how those societies were not that different to what we experience now."
If Celeste's song does land an Oscars nomination, like it did at last month's (virtual) Globes, she might have another long night of streaming ahead of her.
She watched the latter on her own in a London hotel room after a hard day's work at a Gucci photoshoot. Or at least she watched it until 3.30am, when she discovered she hadn't won and then shut the laptop and went to bed (who wouldn't have done the same?)
The Academy has yet to confirm whether this year's nominees will be invited to the belated event in Los Angeles in April.
But whatever happens, part of the city will always be in Celeste's blood - as that is where she was born.
'Glamourous life from the womb'
Her freewheeling mum brought her back from LA to Dagenham as a baby after splitting up with the performer's Jamaican dad, and they settled in Brighton.
"I've had a glamorous life from the womb" she laughs. "I can see the allure [of LA], but I also see the seedier side of it."
This time last year, she was back on the West Coast, working on her album when she found herself "chilling" with the likes of her friend and producer Kwez, rapper ASAP Rocky and one of her musical idols, Tyler, the Creator.
A week later, back in the UK, Celeste gave an enchanting performance of her breakout song Strange at the 2020 Brits - where she was also accepting the Rising Star award.
Tyler, who she admits to having been a "fangirl" of, also happened to be picking up an award himself that night.
"I wonder whether he knows it's the same person?" she ponders. "Or whether he cares!"
The absence of such actual entertainment events of late due to the pandemic means Celeste is missing out on some key schmoozing time.
An impromptu meeting backstage at the Brits with another famous Californian, Billie Eilish and her mum and brother/producer Finneas O'Connell led to Celeste collaborating with him on the track I Can See The Change.
She thinks her "sombre dark tones" appeal to the Eilishes.
Soon after that eventful evening, "everything went zumph!" as Celeste puts it - as the UK entered its first lockdown.
'Spontaneity and freedom'
Putting normal life on pause allowed her to step off the "accelerated" ride that her life had become in the preceding few years.
"I'm glad I've had the year to live a bit, even though we've had the barriers," she says. "I felt quite a lot of spontaneity and freedom."
The songwriter sympathises with her peers, many of whom who she knows have been "really struggling" due to the lack of gigs - but have perhaps felt pressured into keeping up "the facade" that all is well online.
The time off also gave her chance to perfect her debut album, Not Your Muse, working in some "jazzy-tinged, and soul-sounding" material alongside the pop-infused singles her label felt were more likely to bother the charts.
"Now that the album has gone to number one and, say, nine of the [12] songs were songs that I really loved, I think it's given me a bit more leeway to take it further in those realms, the next time around," she suggests.
Aside from accolades and big movie moments - she also sang a Curtis Mayfield cover over the credits of the Pixar/Disney animated film Soul - Celeste's voice has been heard widely of late on a John Lewis advert and at half-time during the Super Bowl.
Winning an Oscar so soon after bursting on to the scene would make her "really proud", she says. But she's also worried she's "not that deserving yet". Like France footballer Kylian Mbappe winning the World Cup at 19 - where do you go next?
"I feel there's more merit in me proving myself as a singer and a songwriter, than there is in winning an award," she says.
While Hear My Voice has already been recognised as one of the best on-screen songs of the year (on a shortlist featuring the likes of Diane Warren and John Legend), we wonder what Celeste would select as the best film song ever?
"The one that really stuck with me from when I was younger was in Death Proof - that Quentin Tarantino film," she answers.
"Where the lady does the dance in front of the jukebox and they play a song called Down in Mexico, which is like an old sort of 50s rock'n'roll song.
"Those Tarantino films just really stuck with me because probably my friends thought those were like the coolest films and the coolest characters."
Not My Muse is out now, and Downtime Symphony with Celeste is available on BBC Sounds. The Oscar nominations will be revealed at 13:00 GMT on Monday.