Hitman's Wife's Bodyguard: Film sequel slated by critics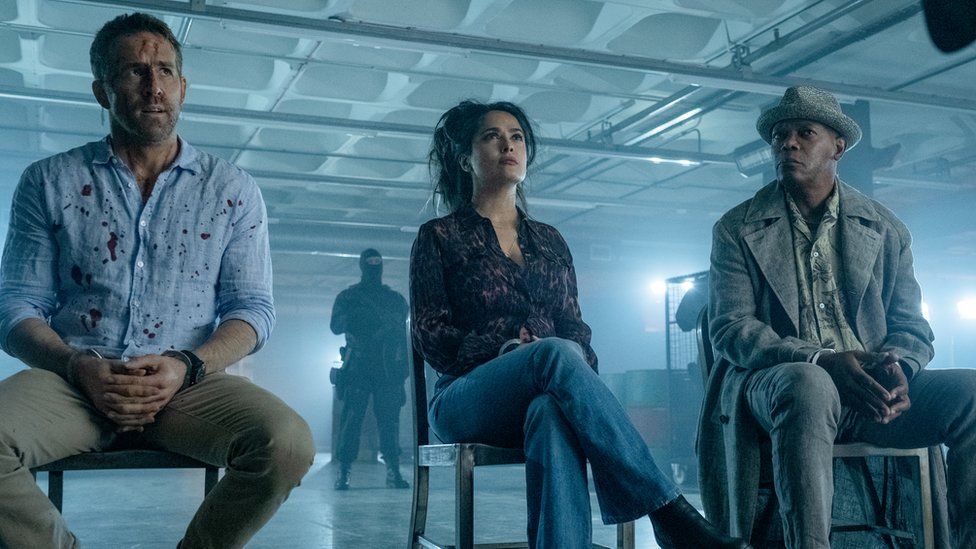 Hitman's Wife's Bodyguard has received a pasting from film critics ahead of its cinema release next week.
The movie is a sequel to The Hitman's Bodyguard, which was a surprise box office hit in the summer of 2017.
But while some critics acknowledged the film isn't meant to be taken too seriously, most were still unimpressed.
The sequel sees Samuel L Jackson, Salma Hayek and Ryan Reynolds reprise their roles alongside new additions to the cast, including Morgan Freeman and Antonio Banderas.
"Hitman's Wife Bodyguard is a comedy with not one legitimate laugh, and an action movie where cars keep blowing up while the A-listers yell at each other, as though that were inherently amusing or entertaining," he said.
But despite the poor reviews, the film could still do big business at the box office. Its predecessor performed above expectations, taking nearly $177m (£125m) worldwide despite its late August release date in 2017.
It told the story of a top bodyguard Michael Bryce (Reynolds) who is called upon to protect the life of his enemy, a notorious hitman Darius Kincaid (Jackson).
This time around, Kincaid's wife Sonia (Hayek) takes centre stage, as the trio come up against a Mafia kingpin Aristotle Papadopolous (Banderas), whose sinister plot threatens to leave Europe in total chaos.
The Hollywood Reporter's Jon Defore said: "[The screenwriters] display no interest in how credible characters - even cartoonishly exaggerated comic ones - might really behave under circumstances like these, which wouldn't be so bad if the movie were funnier.
"But its occasional laughs drown in a sea of action-comedy tropes that have been stale for decades. These actors deserve much better, and so do their fans."
In his review for Slant, Smith added: "The sequel is as clunky as its title... It rests its laurels on the performances of its three leads, each of whom coast on their established personas."
There was a slightly more positive spin from Deadline's Pete Hammond, who said: "As escapist summertime fodder, and a reason to chomp down some popcorn, you could do a lot worse. I only wish it was a lot better.
"Nevertheless, this dynamic trio gives it their all, are guaranteed a nice payday and accordingly fire on all cylinders. For those who want to submit to this brand of mayhem, our stars make it more fun than it should be."
Collider's Matt Goldberg had a similar take, describing the film as "passably entertaining and instantly forgettable". But, he added: "If you're having fun while watching it, does it really matter if it's nothing special?
"The film's priority is getting laughs, and to be fair, it elicits a consistent chuckle if not anything particularly memorable," he continued. "Not every movie has to be a lasting classic or even leave much of an impact. Sometimes it's about having a good time."
Hammond also paid tribute to the filmmakers and distributers for waiting until cinemas were open to release the movie. "Shout-out to Lionsgate for putting this exclusively in theatres on 16 June. As an excuse to help wake up the multiplex, we welcome anything," he said.
Peter Rabbit 2, Cruella and A Quiet Place Part II have already made strong box office debuts. Other major titles scheduled for release this month include In The Heights, Fast and Furious 9 and the Oscar-winning The Father.
"Even by action-comedy standards, the villain's plan is pure nonsense," he said. "It involves a deep-sea drill, a computer virus, and the notion that all of Europe's data is stored in a single, highly protected hub."
He added: "What the set pieces have in common with everything else in this dunderheaded, insultingly mechanical franchise hopeful is the overwhelming feeling that everyone involved said 'good enough' at every turn."
He described the film as a "winking bash of wretched excess", adding: "The story scarcely pretends to add up to anything plausible or logical, and the 'relationships' often feel like they've been shaken and stirred in a blender of comic-book nonsense."
"No one will ever confuse this for a good movie," said David Erhlich of IndieWire. "It lacks any evident aspirations of goodness, as if returning director Patrick Hughes made the best thing he could while strapped to a bomb that would explode if its Rotten Tomatoes score ever went above 50% Fresh."
He continued: "Terrible green screen, globs of digital blood, and record-scratch sound effects in place of actual jokes are only potholes along the road for a summer movie that knows what it is, and is slightly less afraid to embrace that than its previous iteration was.
"The film is held together by the centrifugal force of watching its famous cast bounce around Europe and shoot anyone who gets in their way."