Kingsley Ben-Adir among Bafta Rising Star nominees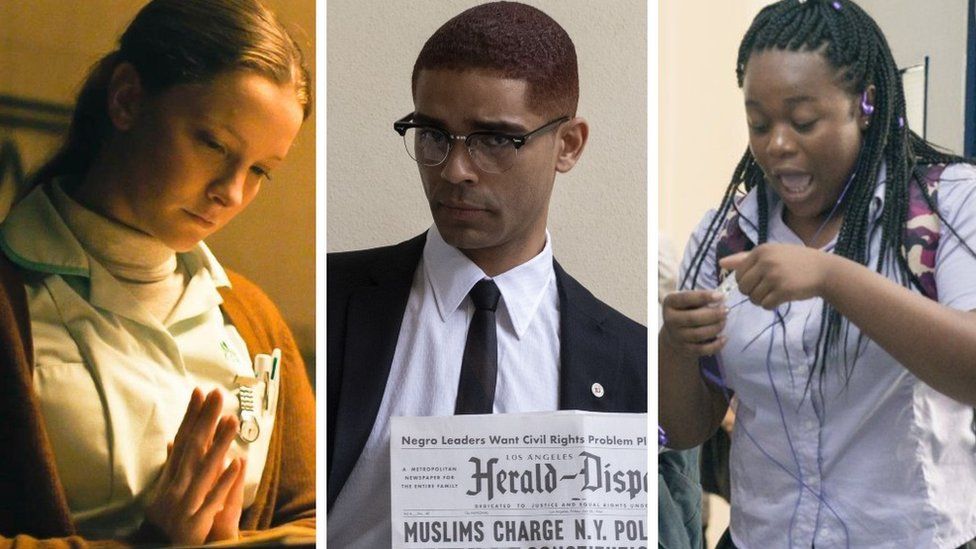 Kingsley Ben-Adir, who plays Malcolm X in Regina King's One Night in Miami, is among five actors to land a nomination for this year's Bafta Rising Star.
The London-born actor is joined by Morfydd Clark, who plays the title role in another film creating a buzz around awards season - Saint Maud.
Rocks actor Bukky Bakray and Ṣọpẹ́ Dìrísù, who starred in The Huntsman Winter's War, also made the cut.
Conrad Khan, who plays the lead in County Lines, rounds out the list.
The winner will be announced at the Bafta Film Awards ceremony on 11 April. Previous winners include Micheal Ward, James McAvoy, John Boyega, Letitia Wright, Kristen Stewart and Daniel Kaluuya.
So what do you need to know about these five up-and-coming stars?
Ben-Adir hails from north London - Kentish Town to be precise - and taught children with special educational needs at his old school before starting drama school and building stage sets to make ends meet in between theatre roles.
Now he's starring in one of this year's most talked-about films: One Night in Miami.
The title is also the plot. Regina King's directorial debut focuses on the night Mohammad Ali - then known as Cassius Clay - won the heavyweight title against Sonny Liston in 1964. After the fight, Malcolm X (Kingsley) Ali (Eli Goree), NFL player Jim Brown (Aldis Hodge) and singer Sam Cooke (Leslie Odom Jr) all wind up together in a Miami motel room - where they engage in some very heated debates on race, politics and fame.
But it's not the first time Kingsley has played a real-life character. He's also known for his portrayal of Barack Obama in Showtime's mini-series, The Comey Rule.
Indeed, as this year's oldest rising star nominee, at the age of 35, he's already enjoyed a varied career so far, mostly in TV. His credits include Netflix's The OA and Hulu's High Fidelity but Brits may recognise him from his recurring role in Vera opposite Brenda Blethyn and his turn as Colonel Ben Younger in Peaky Blinders.
One Night in Miami definitely marks his leap into the big league though and it's won him some huge plaudits. Not to mention Regina King rushing to his defence when criticism of casting British stars playing famous US characters emerged.
If it's good enough for Regina, it's good enough for us.
Speaking on Tuesday morning Ben-Adir said he was "so surprised" to be nominated. "I was at home, and my publicist called me. It was a pretty surreal phone call to receive."
Welsh actress Morfydd Clark, 31, has been attracting fulsome praise for her first lead film role in the psychological thriller, Saint Maud.
When she was 16, her mum suggested that she give acting a try and she soon found herself not only making the cut for the National Youth Theatres of both Wales and Great Britain, but the Welsh National Youth Opera.
Morfydd moved to London to attend drama school and she soon found herself landing high-profile theatre roles including Juliet opposite Freddie Fox's Romeo at Sheffield's Crucible and Cecile in Liasons Dangereuses with Dominic West at London's Donmar Warehouse.
Her career really took off last year when she took two roles in Armando Iannucci's film adaptation, The Personal History of David Copperfield - playing both Copperfield's fiancée and his mother. But many didn't realise it was the same person.
"That few people realised she was playing both parts is testimony to how immersive she is in each role", Iannucci told The Guardian.
Her other roles include Sister Clara in the BBC adaptation of Philip Pullman's His Dark Materials and she is currently filming the Lord Of The Rings TV series in New Zealand. She'll be playing the elf Galadriel, who was memorably portrayed by Cate Blanchett in Peter Jackson's film trilogy.
"You have imposter syndrome with every job you get, and at times you have to be like, 'Look, I'm not being rational, I do deserve to get this job,'" she told Empire. "But I think with this, not having imposter syndrome would make you mad, because it is so ridiculous for it to have turned out this way."
Speaking about her Bafta nomination on Tuesday, Clark said: "I didn't believe it, but I think lots of us have had news that's had news that's mind-blowing while alone in our houses, so it was a strange but small moment."
Bukky Bakray is the youngest nominee this year, at 17. In fact, she had never acted professionally until she was cast in the critically acclaimed Rocks, director Sarah Gavron's film about a group of school friends in East London, two years ago.
Bakray plays the title role of schoolgirl Olushola "Rocks" Omotoso, who fears she and her little brother Emmanuel will be forced apart if anyone finds out they are living alone. Her friends help her evade the authorities while she goes on her own emotional journey.
Bakray was discovered after the film-makers auditioned around 1,300 students in her hometown of London - many of whom had no professional acting experience.
However, after making Rocks, she changed her mind. "Now that I am in the industry, it seems so silly to think a career in the arts is taking a risk when everything in life is," she says.
Her next feature film is set to be Self-Charm, about a young girl struggling with self-harming issues.
Reacting to her Rising Star nomination, Bakray said: "When my agents first told me [I was nominated] I told them 'you're lying!' And I really believed that they were. But I just remember my brothers telling me 'The game is yours, let's go champ'."
Despite the trials of the pandemic, 2020 was a good year for Ṣọpẹ́ Dìrísù, thanks to his critically acclaimed turn as Elliot Finch in Sky Atlantic's Gangs of London.
His performance in the action-crime series - about the warfare between rival gangs and other criminal organisations in present-day London - was applauded as "scene-stealing" and "superb".
Dìrísù, 30, grew up in London with his Nigerian parents. As a student he excelled at acting and later went on to join the National Youth Theatre before heading to university to study economics.
Still harbouring ambitions to become an actor, Dìrísù successfully auditioned for the Royal Shakespeare Company's Open Stages programme and his first role was as Shakespeare's Pericles. Since then he's also had roles at The Young Vic and the Donmar Warehouse.
Dìrísù made his big-screen debut in 2016, starring alongside Chris Hemsworth and Charlize Theron in The Huntsman: Winter's War and has also featured in Sand Castle alongside Nicholas Hoult and Henry Cavill. His other films include Criminal, starring Kevin Costner and Gary Oldman.
In addition to Gangs of London, Dìrísù's TV credits include Next of Kin, Black Mirror, Undercover and Humans.
And in 2016, he was listed as one of Screen Daily's Stars of Tomorrow, alongside fellow Rising Star nominee, Morfydd Clark. Oh, and a couple of other names you might recognise - Golden Globe and Crown star, Josh O'Connor, Jodie Comer and Florence Pugh.
Recalling the moment he heard he was Bafta nominated, Dìrísù said: "I just couldn't believe it... I called my family straightaway, and it was all prayers and singing, and it was lovely."
Conrad Khan is best known for his starring role in in the movie County Lines, a gritty drama inspired by true events, in which he plays the 14-year-old Tyler who is groomed to transport drugs across the UK, with devastating consequences.
"I spent eight months working through the script and explored each tiny thing about Tyler's life. It was one of the most gripping scripts I'd had the pleasure of reading, and it oozed with honesty and excitement," he said of the role ,which he took while studying for his A-levels.
Khan, 20, grew up in London, the son of parents from Pakistan and Germany. He bagged the lead in his school play Charlie and the Chocolate Factory, then spent a few years with the Arcola Youth Theatre, and had parts in commercials, short films and TV.
He went on to star as a young Chris Hemsworth in 2016's fantasy blockbuster The Huntsman: Winter's War and featured in HBO's musical drama pilot Virtuoso.
In 2019, the young actor took the lead in Roland Kennedy's short The Passenger, and a supporting role in the Black Mirror episode Smithereens, opposite Andrew Scott. Last year, he played a part in the BBC drama series Baptiste.
At the end of 2020, Khan began studying film at Queen Mary University of London but hopes his academic career won't prove a hurdle to his acting.
"With the exposure from County Lines, I hope there's an opportunity to go far. I'm excited for what the next few years hold," he told Screen Daily.
OnTuesday, Khan said he was in a "state of disbelief" over his Bafta nomination.